Who doesn't love a deal? And you can't get too much better than ONE DOLLAR! That's why dollar tree can be a great spot to go for all kinds of things! I especially love to get some of my random craft supplies there.
My top 10 Dollar Tree craft must haves are always a good idea to grab while you are there. You never know when you'll need them and they are only $1!
PIN THIS SO YOU HAVE IT HANDY NEXT TIME YOU ARE HEADED TO DOLLAR TREE!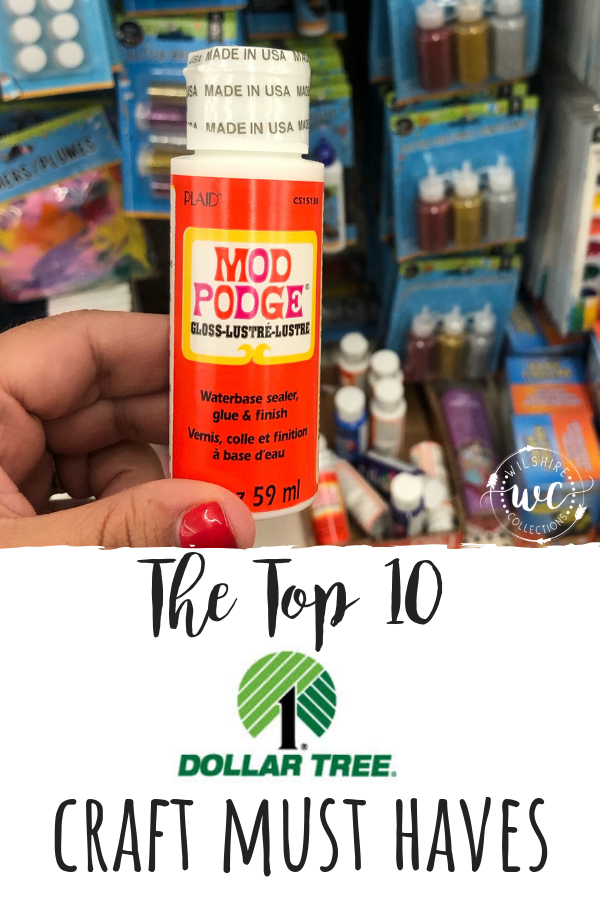 So, check out this list and then head to Dollar Tree and start grabbing some! Add them to your craft stash!
Jute- I love that they have this thicker jute cord there! I always like to have it on hand, but they do sell the smaller size too!
 Spanish Moss- perfect for tons of projects, I especially use this a lot in the Spring/Summer time
Raffia- So many projects are cuter with Raffia!! 
Coasters- you know I love a good coaster project! 
Mod Podge-I tend to buy mine by the gallon (haha) but if you don't need a ton, this is a great place to snatch a little one.
Wood numbers and letters- I ALWAYS have random wood letters and numbers on hand. These are great! 
Picture frames- Paintable and craftable- get ya some!
 Floral foam- perfect for wreaths or floral arrangements!
 Clear glass vases- Lots of potential with these cuties!
Floral stems- you do have to kind of pick and choose here, because some are not great. But you can find some decent ones if ya dig hard enough!
What did you think of my round up?! Anything you buy here that you would add to the list? Be sure and click here to check out this DIY section of my blog and you will see a TON of projects using these very supplies! 
I've always said that I'm not a 100% dollar tree girl, which basically just means that not everything in my house comes from the dollar tree BUT I do appreciate a good deal and love to go there when I can and come up with crafts!
Who knows what I'll come up with next!
Until next time…
Stacey