It's about that time of year, time to start busting out the pumpkins and all things FALL!
My warm and cozy fall living room is giving me all the fall feels and I hope it inspires you and gives you some ideas too!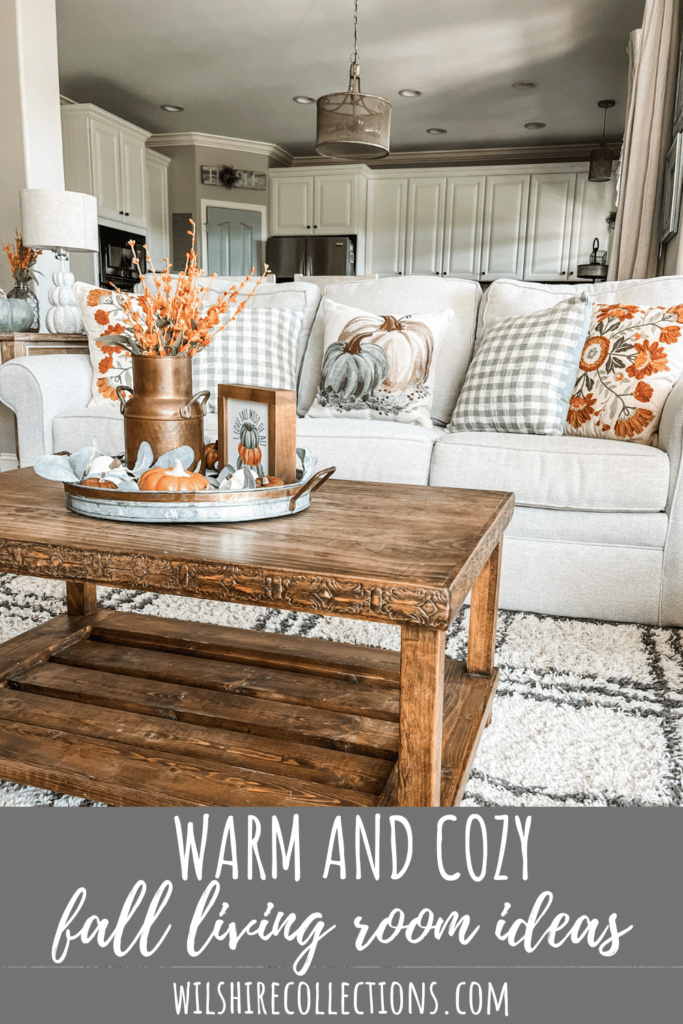 I'll be honest, I'm not typically a huge orange person. It's just not my favorite color. However, I walked into Kirkland's this year and saw a rusty orange pumpkin and fell in LOVE! It sparked this whole new love this year for that warm orange tone…and I just spiraled from there!
I was so excited to pair it with some of the sage green that I had used in the past. Doesn't it all look so pretty together?!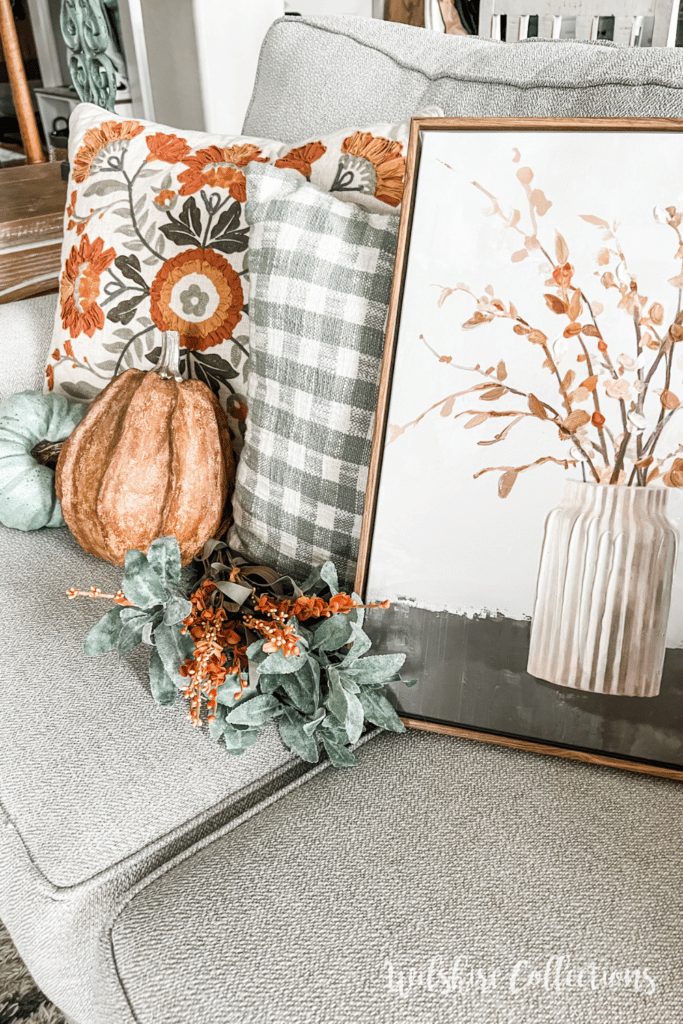 I of course (shocker) had to get a couple new pillows! The floral ones are from Kirkland's here, and the plaid ones I had from Hobby Lobby last year. The pumpkin one in the middle was Big Lots last year! (Oh and the adorable pumpkin lamp is from HomeGoods)
The pumpkin one on the chair is from Target, and the other one was home goods. I am also using one of my fall pillow covers on another chair, that you can find here! Pillows always add cozy fall living room vibes!
You know I always LOVE decorating trays! I of course had to use one of my brand new Infinity Frames on the tray! The orange and green in the fall sign were just PERFECT for my vibe! You can get this interchangeable Infinity frame on my site here!
The shelves of my media console are ALWAYS fun to decorate! I used several things I've had for years, and incorporated some new things and DIY too! The sign is a printable that you get in my fall workshop here!
These ADORABLE printable pumpkins are the bonus craft that we will be making this year inside my Fall for Crafting workshop! If you haven't signed up or seen the MAIN project, click this button below to read all about it and join us!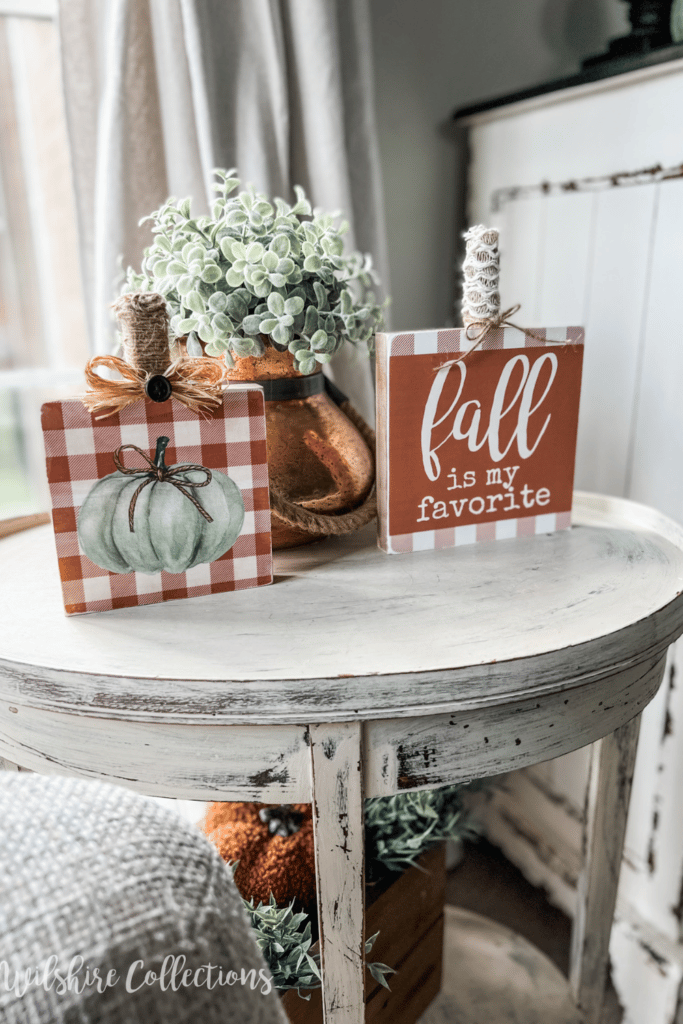 Last but not least, the FIREPLACE! One of my favorite areas to decorate forever and always! I think bringing these warmer tones in this year just instantly added the cozy fall living room vibes I was wanting! I love how it all came together!
The change sign is from Hobby Lobby, the art is from Kirkland's, I've had the mirror for years, vase Old time Pottery and Pumpkins Kirkland's and Target!
Down below the cute pillow and throw from Target and that adorable orange pumpkin is from Target too!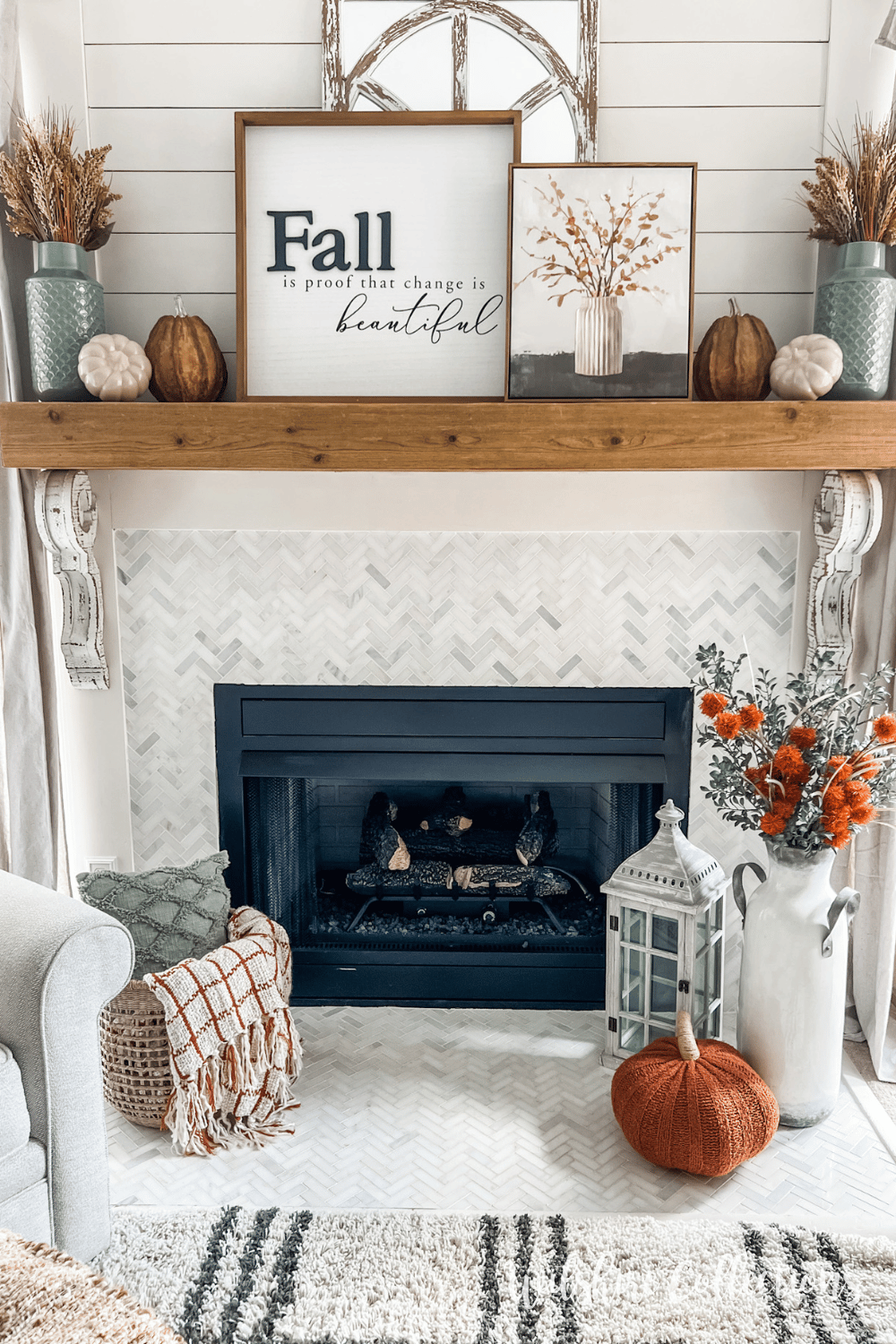 I hope you love these warm and cozy fall living room ideas and they inspire you for your own home this Fall!
Until next time…
Stacey
SOURCES: These are things I'm able to link for you. You can shop many of them at the button below, and I'll also link them individually!
Infinity frame with sign inserts