Hey, I'm Stacey…owner of Wilshire Collections where I love all things decorating and DIY! I've been running my business 100% out of my home for 9 years…until now! Grab a cup of coffee or your favorite beverage and let me tell you a story!
My Wilshire place story is one I never want to forget, so I am documenting it here for myself and for all of you!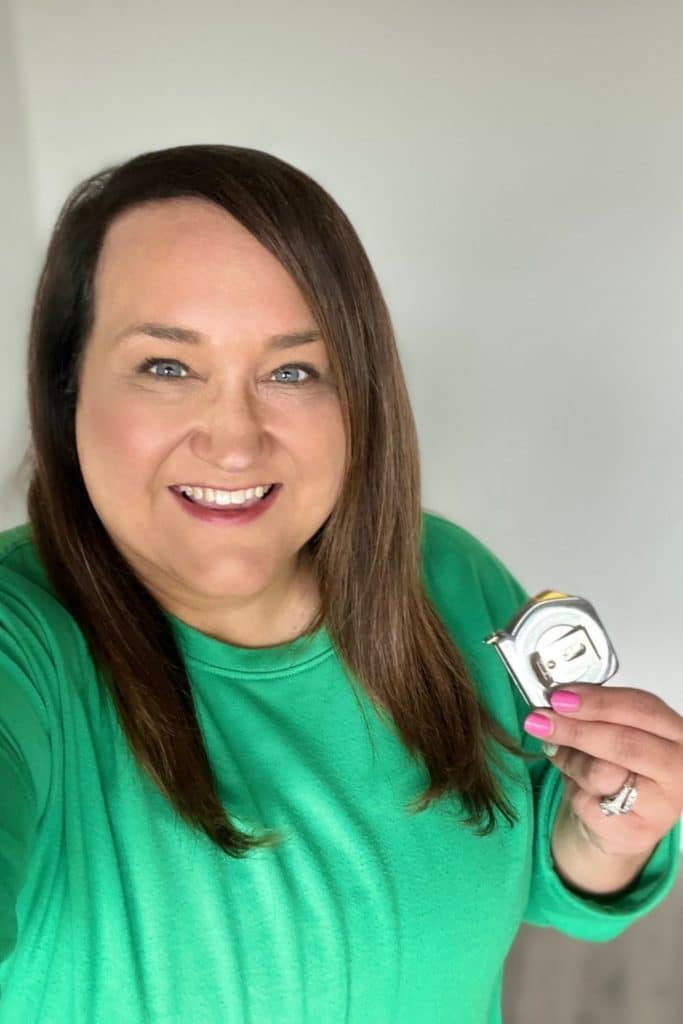 You see, over the past 9 years of owning Wilshire Collections my business has looked a lot of different ways. I started off as a furniture painter, which meant I was painting furniture in my garage for years and hauling stuff all over town to different booths, customer homes, etc.
Over time, I began to shift more to the online space and really lean into my love for decorating and DIY! Many shifts, pivots, wins, fails and years later…here I am! 100% in the online space, with over 300k followers across all of the social media platforms.
SAY WHAT? Never thought those words would come out of my mouth, but I am truly SO blessed to be able to say it. As Wilshire grew, so did my needs. I went from crafting at my kitchen table, to crafting in a spare bedroom, to crafting AND working in an office we made over. All of those worked great for their season….but I was starting to feel totally overwhelmed and stressed in my own space.
Wilshire was taking over not only my office/craft room, but every inch of the house in one way or another. Don't get me wrong, I love sharing everything with y'all…but often I would find myself pulling things off a tray to redecorate it to show y'all something I made, and leaving the mess of the old tray items laying there. Picture this times 100 in SO many areas of my home non stop.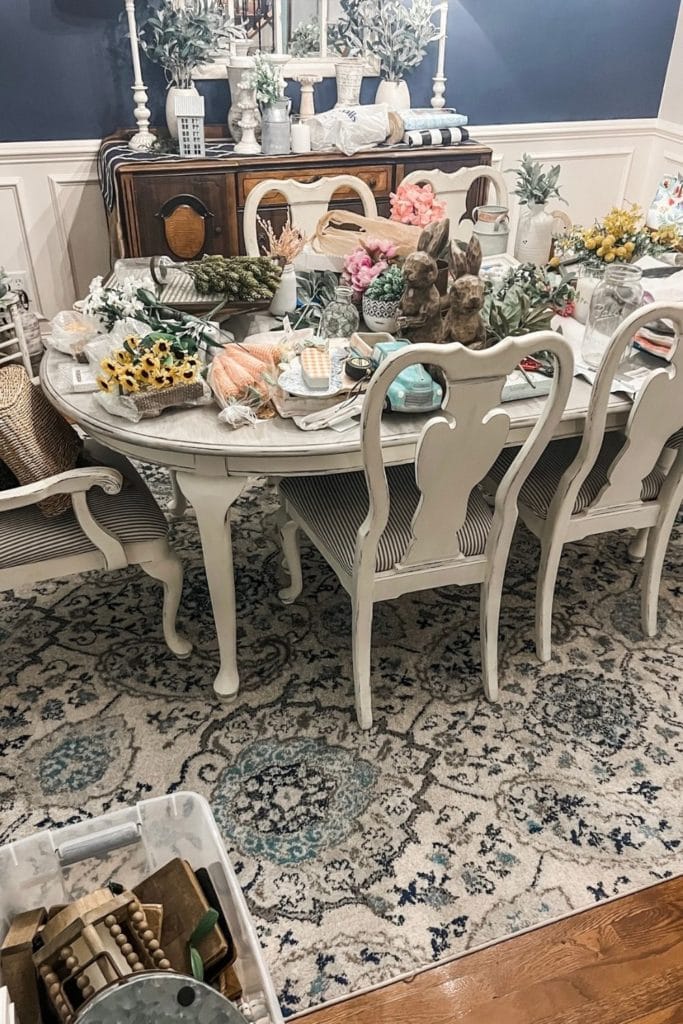 I'm not a real clean person in general (Ok, I DO NOT LIKE TO CLEAN AT ALL)…so this was a constant! When I would be sitting in my office trying to do computer work, zooms, etc. I was surrounded by messes of all kinds and just didn't feel focused or "zen" in my space.
At the beginning of 2022, I started to feel a nudge and a pull to get a space for Wilshire outside of my home. I tried to push that thought back down inside, and I didn't tell anyone that I was even thinking about it. Not even my husband Anthony. For whatever reason, I was convincing myself that I was crazy and I had a perfectly good home to work out of. But, it was on my mind A LOT!
Flash forward to March 2022 when I'm having a meltdown from overwhelm to my husband and he looks at me and says "You know what? You need a space. You need to find something you can rent where you can have a place to go to work and do what you need to do each day." CUE WATERWORKS! I cried like a baby because I couldn't believe he took the desires of my heart (without knowing them) and just validated for me that I wasn't crazy to be thinking that afterall.
Of course I confessed that I had been thinking about it for a few months myself. I began looking myself and also texted my friend Kristan that's a realtor to be on the lookout. It was dead end after dead end, because commercial space is just not real easy to come by in my town. A little discouraging, but I knew something would come along eventually.
However…I had NO IDEA what was about to come along and that God was about to give me even more than my heart desired or was praying for! Isn't he awesome like that?!
One night my friend Kristan texted me a link to what is now Wilshire Place and it changed everything!
A work/live townhome? Zoned for commercial? Meant to work downstairs and live upstairs? I had never heard of such a thing, let alone dreamed I would rent one one day. I immediately saw potential and ways I could use it, but I wasn't sure if they would rent to me since I technically wouldn't be living upstairs. But I knew we had to at least go LOOK!
Well, you know what happens when you look. You fall in love. lol. I knew from the minute we walked in this is where I wanted the next chapter of Wilshire Collections to take place. I could visualize EVERYTHING! Kristan could picture it too! I then brought Anthony and the boys back and it was instant for them too. Without hesitation, Anthony told me this was it and we had to make it happen!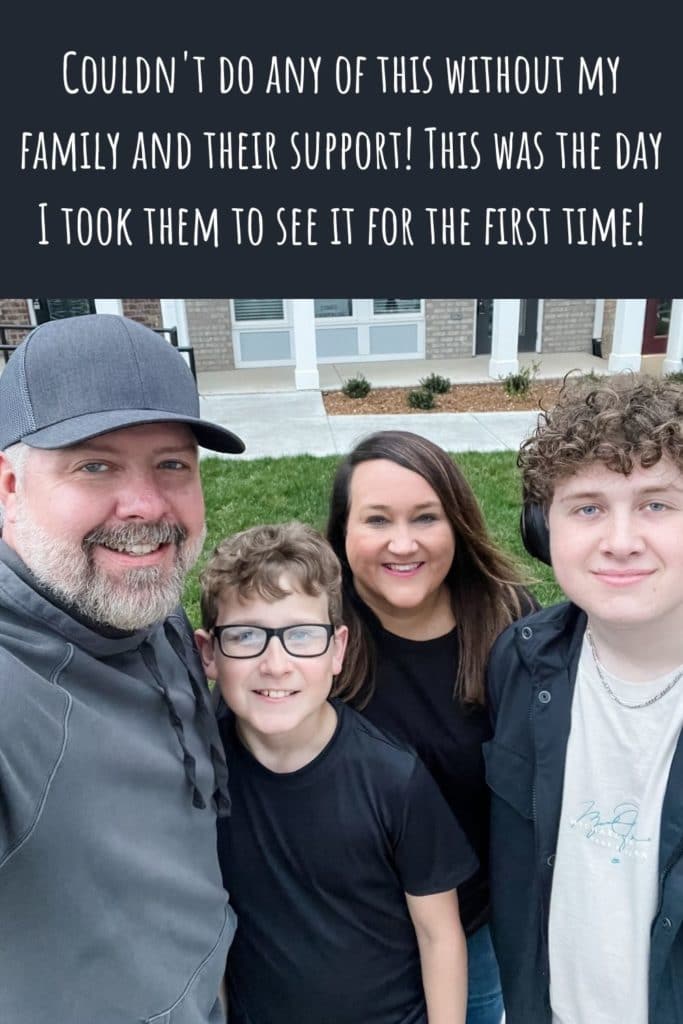 And y'all…it HAPPENED!! I found the perfect unit for me and Kellie the realtor/property manager completely understood my vision for the space and how I was going to use it. Luckily, the owner did too when she explained it to him and before you knew it I was signing a lease and getting the keys!
Truly (more than) a dream come true and such a blessing! I have big plans for how I will use the different spaces, and it will of course take time to get it all set up. But, that is half the fun!
Here's what I do know and some pictures of the "blank canvas" to show you too!
The downstairs area will be devoted to crafting, creating, content creation, etc. With my craft desk, bathroom, closet and a garage for storage! This is just part of it!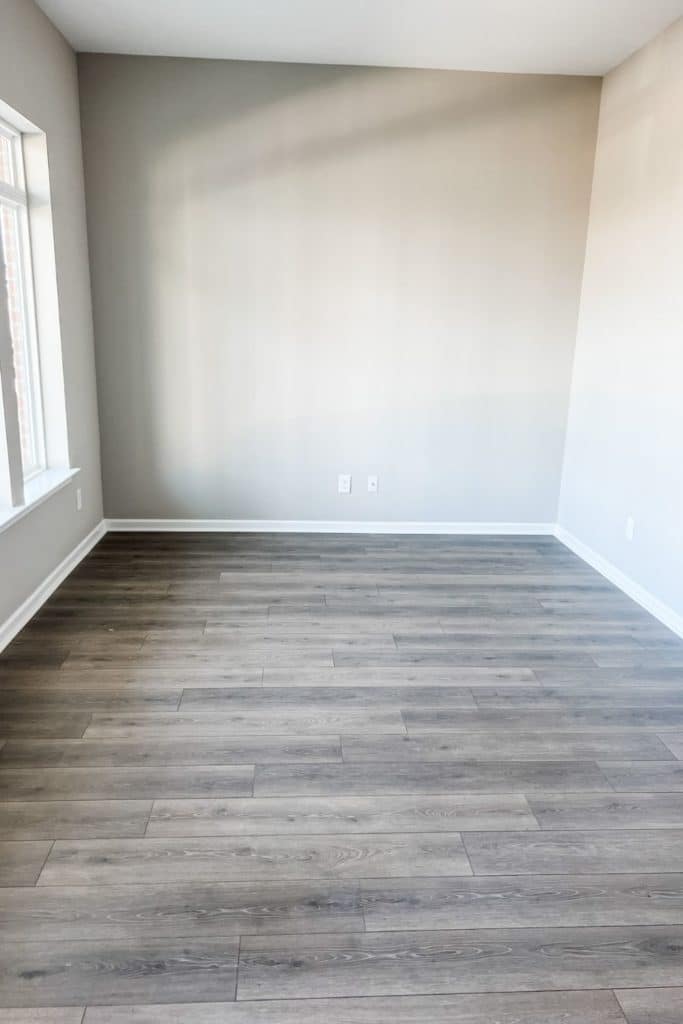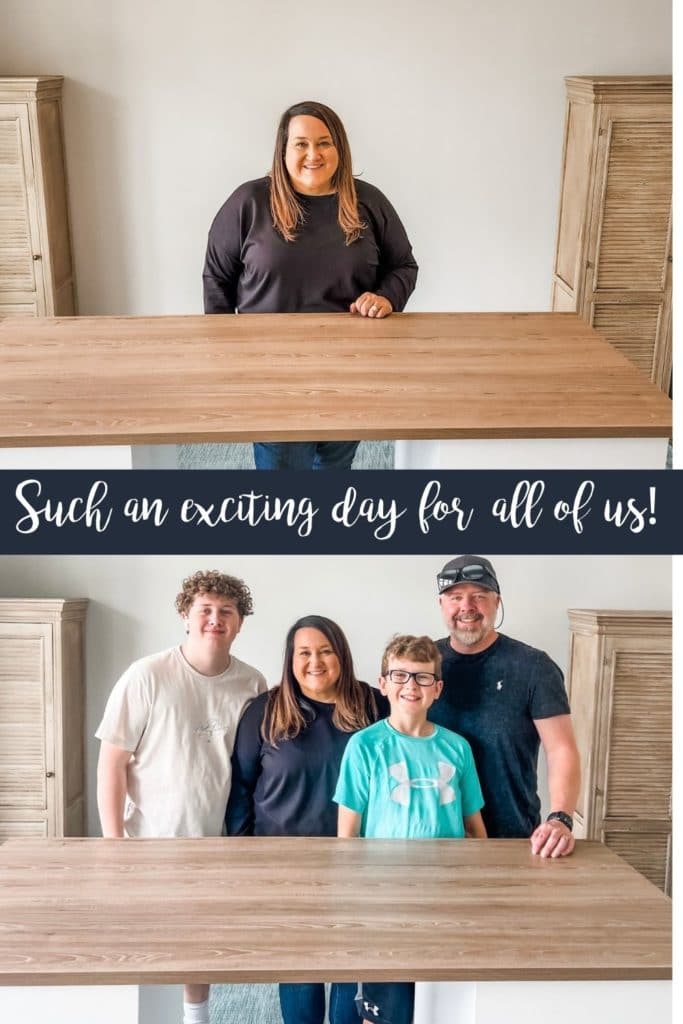 The next level is going to be used for many different things, but this is where I could picture myself working at my desk (Writing blogs, doing zooms, computer work, emails, etc) AND having spaces for furniture to do decorating tutorials/videos, stage decor and craft items, etc. SO MANY OPTIONS! And I just LOVE the kitchen…the big island that can have barstools is something I wish I had at my own home lol!
This is going to be AMAZING for the live decorating videos and tutorials I do with my DC Fam inside my decorating and creating community too!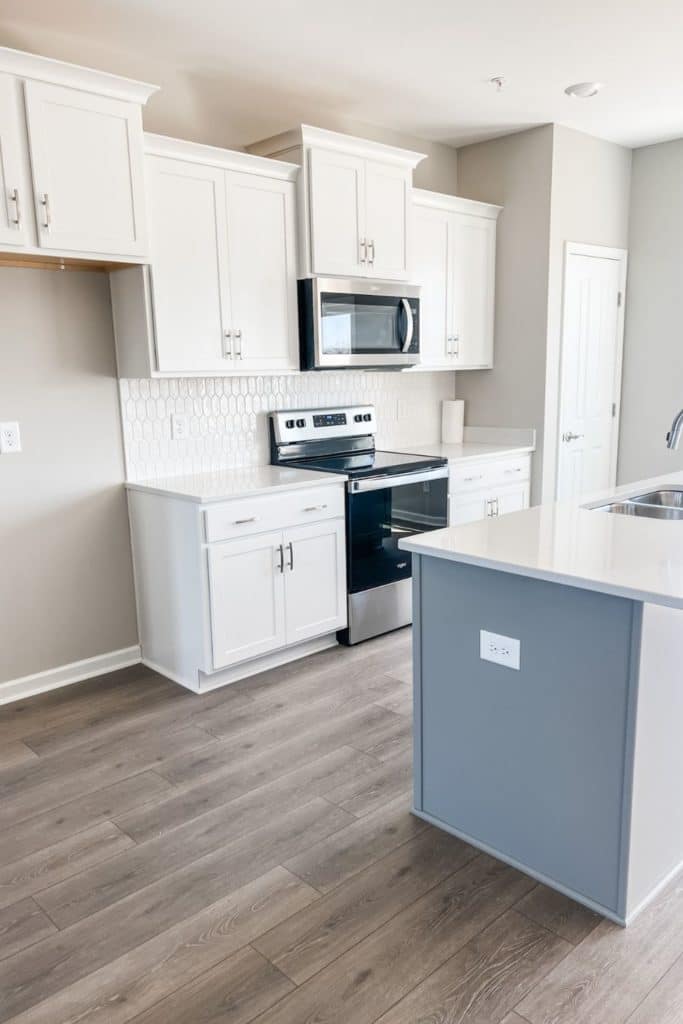 I will always still decorate my own home and share that with y'all, nothing will change there. But it won't have to be a constant turnover and I will be able to separate work from home a bit by being in the new place. Basically, I'm going to play with decor and crafts over here and mess up this place instead of messing up my own house. Haha! For real though, I'm very excited about all the potential here for crafting, working and decorating!
The unit also has 2 bedrooms, which is more than I needed…but it's also going to be great for some things I have planned down the road too! They will be the last spaces that I focus on, but I will definitely share more once I do!
My heart is honestly so full right now and this all just seems super surreal. I have worked so hard for 9 years in my business to get to this point, and it feels like such a reward to be in this space doing what I love every day. And…to be able to share it with all of you is the icing on the cake!
The love and support you have shown me through this has just blown me away. To think that there are thousands and thousands of people cheering me on and being so genuinely happy for me is truly humbling. I have the BEST community and I just love y'all to pieces and am so glad you love me right back. So, THANK YOU!
I truly have to thank God for all the blessings in my life and for allowing me to live out this calling on my life and be able to do something I love so much every day. I don't take it for granted for a second. And of course…the love and support of my family which I have mentioned here too! Blessed all around!
This was my first day working at my new Wilshire place!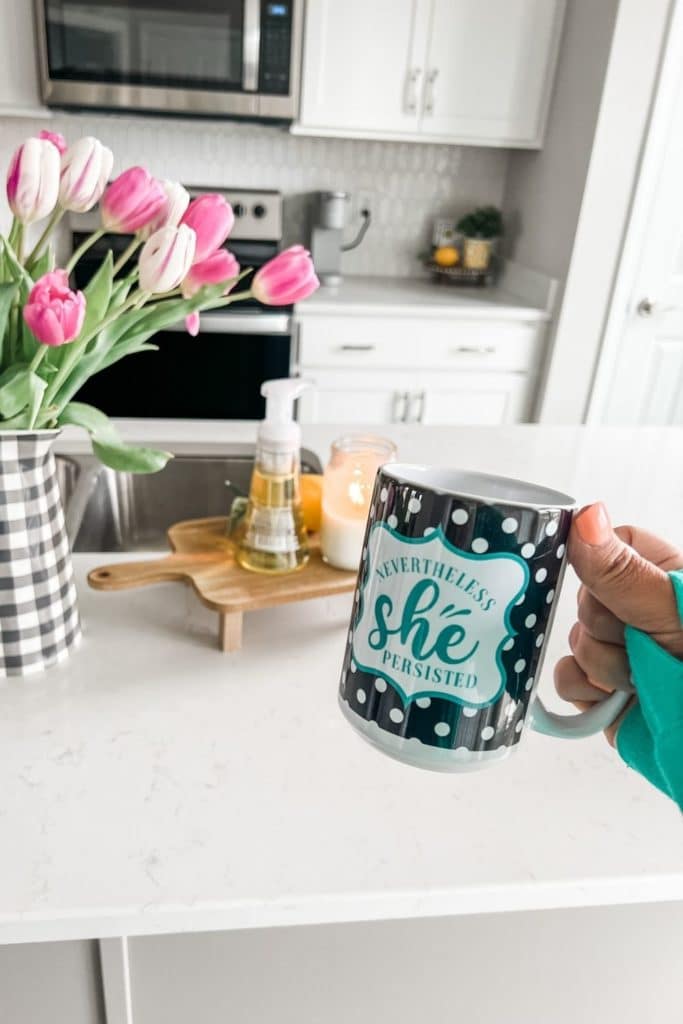 And this was the first craft I did from the new crafting area- I can't wait to find the perfect spot to hang it at Wilshire place! You can see the replay of the video here!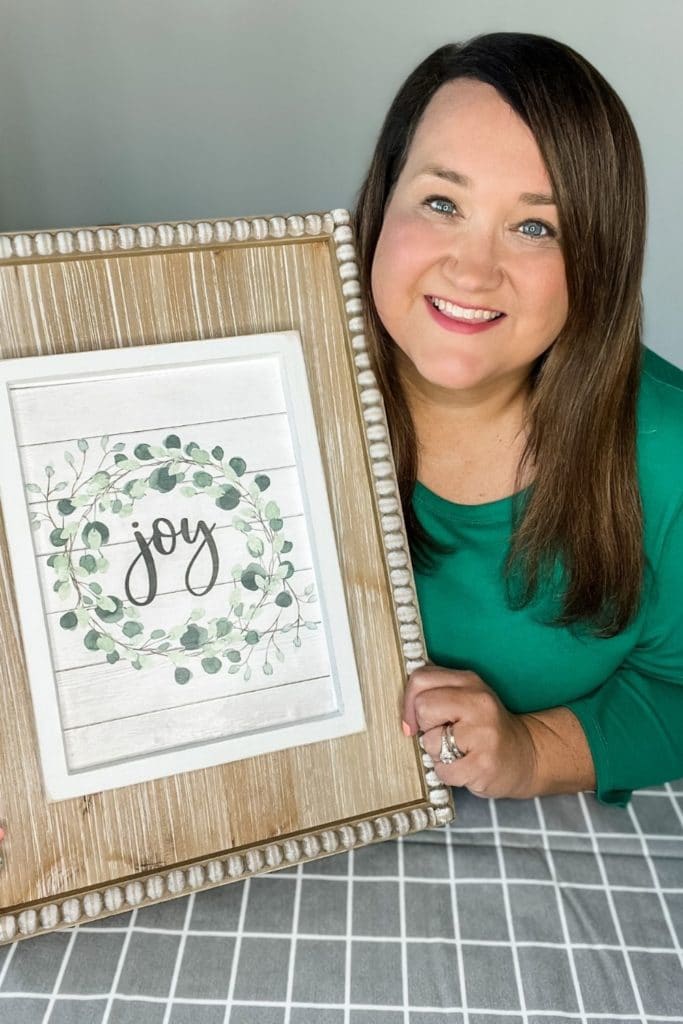 My mission is to spread joy through decorating and DIY (and funny stories hehe), and I have no doubt that I am going to be able to spread even MORE joy from this new Wilshire place of mine! So, thanks from the bottom of my heart for being here and I hope you'll stick around for all the fun to come!
Until next time…
Stacey