It's March which means I'm officially ready for warm weather and all the Spring things! Including some decor in my home of course!
I hope these 3 Spring decorating tips for your home inspire you and help you come up with a plan that's easy to implement!
After the holidays, I took my living room back to a neutral clean slate that you can see here. I have truly loved it, but Spring weather calls for a refresh of this space and I want to share with you the top 3 things I do each time I'm making a switch like this.
Pick your color scheme for the room. This is SUPER important and will guide the rest of your decisions about the room. For me, often I see one thing while out shopping that sparks my color choice. This year, it was a pillow from Marshall's and I knew I wanted to use this seafoam green color (with pink accents).
Make a list of what you'll need. This is a good time to "assess the situation" and go through your current Spring decor to see what will work with your color scheme, what you could maybe paint to MAKE it match, and what you might need to buy or DIY. This will help you know what you're looking for when you are out shopping.
Set some of your everyday decor to the side. I'm a firm believer that in order for your seasonal items to truly shine, you need to pack away some of your everyday decor for a bit so the seasonal stuff is the star of the show. It is of course fine to leave some of your everyday items out and mix them in with the seasonal, but instead of setting a bunny in front of a little everyday sign you have, try replacing it with the bunny! This makes a huge difference and makes it feel like you truly have a "new room" for the season! I set my stuff to the side, see what I want to incorporate in and what I don't use gets packed in an everyday storage bin for a bit.
Once you implement those 3 Spring decorating tips, you can start PLAYING with your decor…which is the most fun part if you ask me!
For me, I always love to add pillows to go with my color scheme (shocker, I know)! Mine came from Marshall's and Target over the years, and the plaid one on the chair was from At Home. Plaid Target pillow can be found here
I was super excited to find this big sign on my mantel on green tag clearance at Kirkland's! Since it was so big, I wanted to do something on each end with "substance" so these Olive buckets I've had for years were perfect. I filled them with various stems and florals and just love them!
(Bunny on the floor was Marshall's and everything else I already had on hand)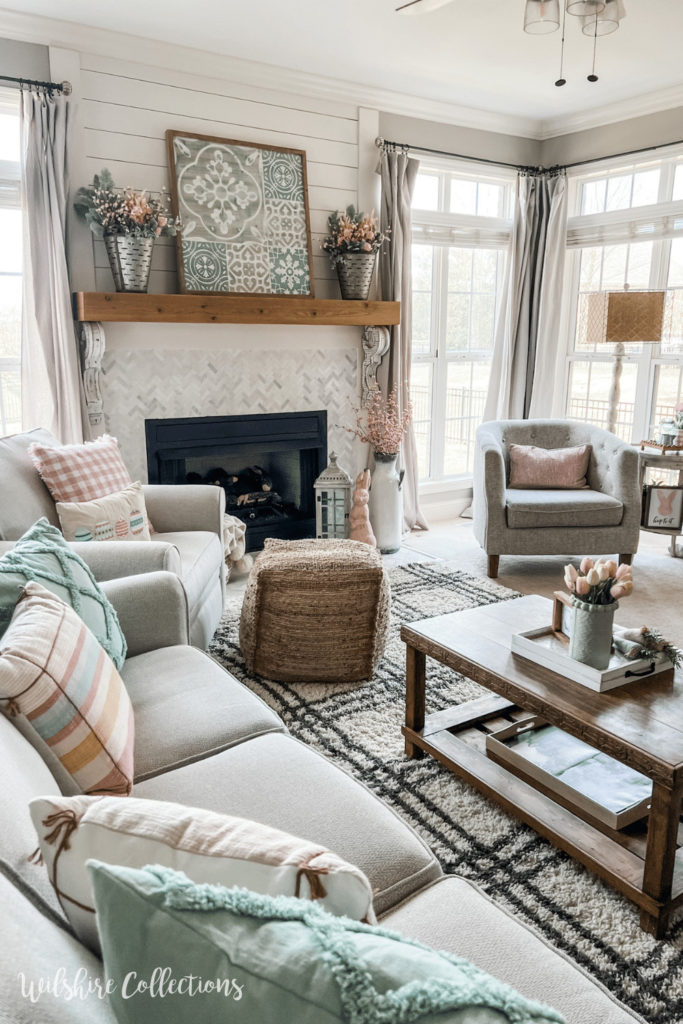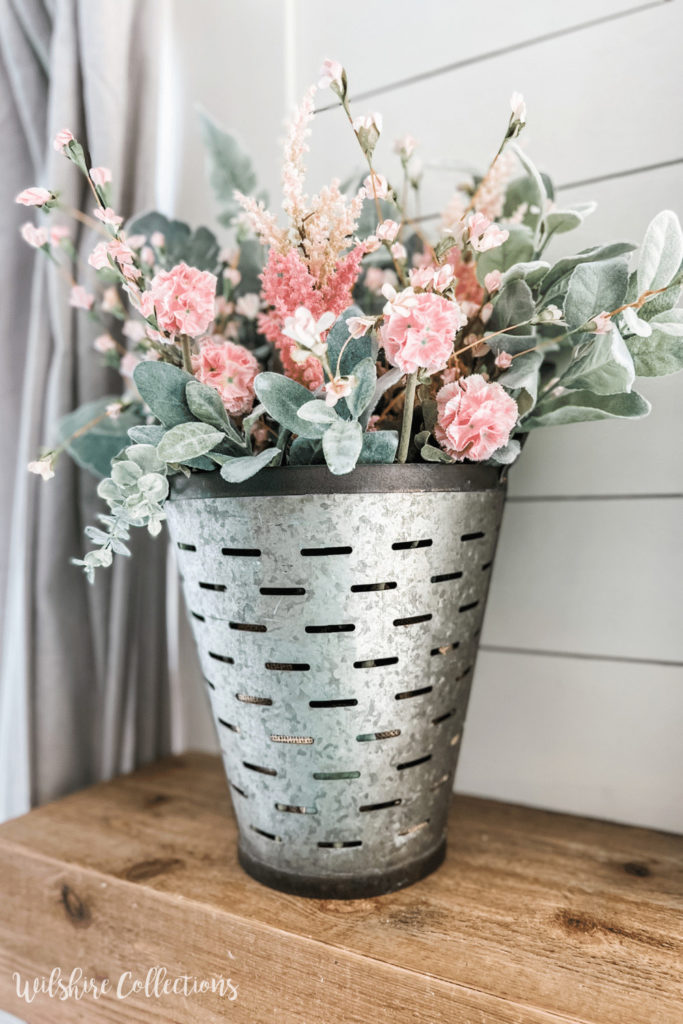 You'll notice here on my little media console shelves that I REPLACED a lot of my everyday items for Spring items instead of just cluttering and mixing them in with other stuff.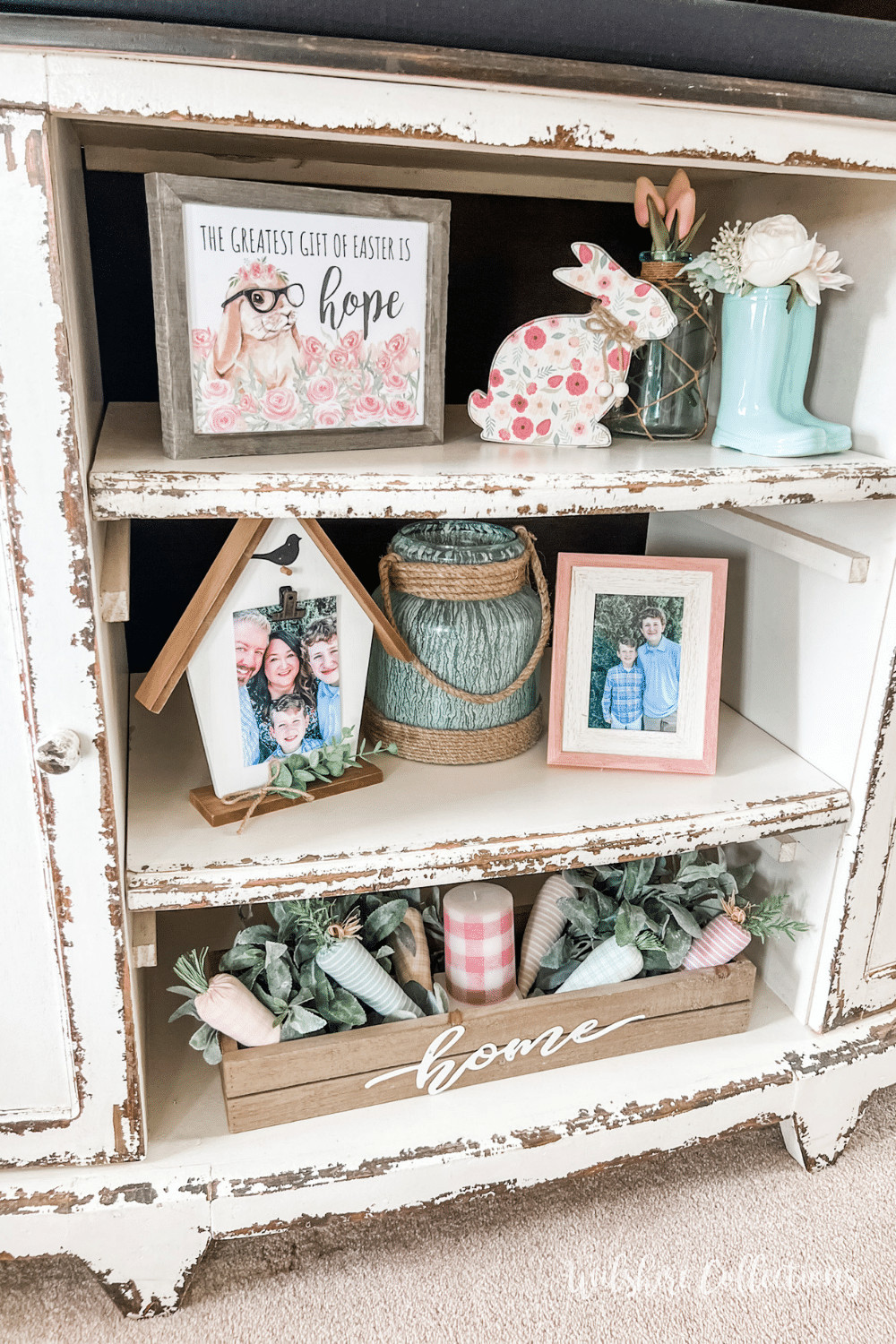 My ladder was fun to update with some Spring throws (Marshall's and TJmaxx over the years). Of course I had to use my cute tray I made in one of my recent workshops on my coffee table too!
For even more of my best decorating tips and tricks, be sure you check out my Ebook on how to decorate your home with confidence. This will be your GO TO decorating guide for all those finishing touches of your home!
Hope you found these 3 Spring decorating tips helpful and I hope you were inspired by what I've done this year in my living room! It looks bright and fresh and ready for a new season!
Until next time…
Stacey