A few years ago, I didn't do anything really Christmas related in our master bedroom. I slowly started adding touches in, and last year for the first time I even put a tree in there. I have to say…I'm hooked!
These cozy Christmas bedroom decor ideas are simple, yet will give you ideas to add just the right amount of holiday cheer this year!
You know that I am soooo in love with my new King of Christmas tree that I'm using in our Christmas bedroom this year! You can get one here and use the code WILSHIRE_COLLECTIONS to get 10% off. Mine is the 6ft pre lit prince flocked tree.
SEE THE POST HERE ON THIS TREE TO GET ALL THE DETAILS! 
I probably could have stopped right here, but I'm no quitter. Haha! I knew I wanted to keep going and just a few more touches.
One simple way to add in Christmas bedroom decor is of course with holiday pillows! The plaid ones came from Kirkland's and the stripe one with the truck is from Kohl's. I just used those with our "everyday" pillows.
I did get a little creative because I wanted to hang this sign above our bed, but I knew it wasn't big enough to be alone. So, I managed to tie it up with some twine and some shipping tape. haha! It hasn't fallen our heads yet, so I guess I did ok!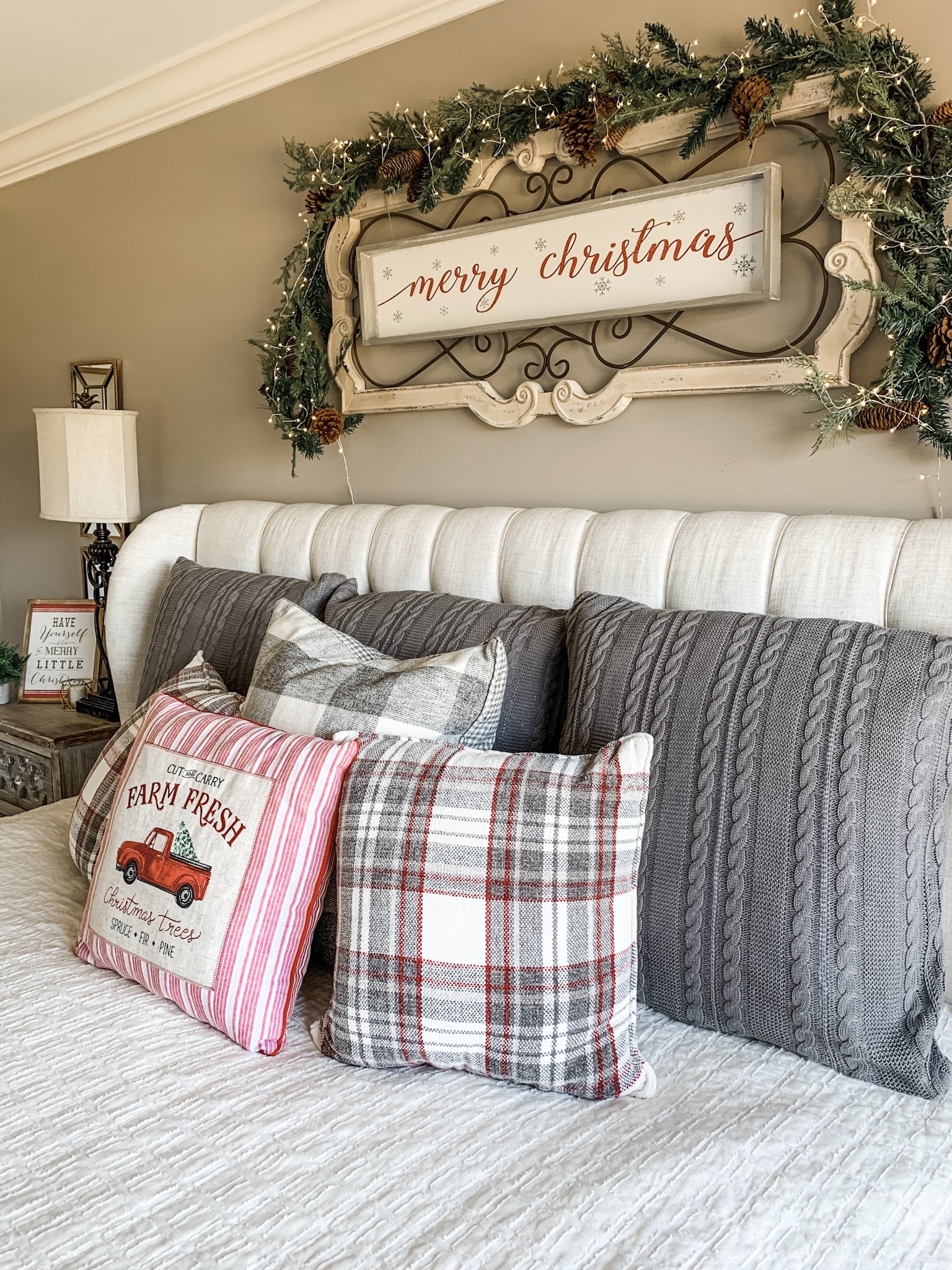 I also got this garland from Walmart and added some battery operated lights to it! I think this gave this area just the punch it needed and I'm in LOVE with the twinkle of the lights at night! 
On my little bench at the end of the bed, I of course had to add a few Christmas bedroom decor pieces too! The little bucket came from Walmart last year, and the sled was from Target last year. 
A couple of cute knick knacks on the nightstands, and that was all the Christmas bedroom decor we really needed! The other part of my room is currently trashed with piles of laundry, so I strategically shoved it to the side to take these pics (REAL LIFE TRUTH LADIES)
You know, the thing is…no one ever sees our room (well, except THOUSANDS of you on the internet. haha!) So, some might say why "waste money" on that space? But, I truly feel your bedroom should be a place of retreat and rest! 
SO…if the twinkle of the lights makes you happy too, I say GO FOR IT! Even if it is a small little tree, or just some garland with lights. Twinkle on, sister! It's the most wonderful time of the year afterall!
Tell me…do you do anything for Christmas in your room?! I would love to know!
Until next time…
Stacey
PLEASE SEE THE SHOP MY HOME SECTION OF MY WEBSITE FOR MORE BEDROOM SOURCE INFO! 
This post does contain affiliate links. Please see my full disclosure page for more details.