I'm so excited to share this space with y'all today! Last year was the first year I put a tree in our master bedroom and I was SO glad that I did. The twinkling of those lights at night just can't be beat! So, today I'm sharing…
My flocked Christmas Tree decor on my new King of Christmas tree in the master bedroom! I used gray, white and red in here and I'm seriously in love!
PIN THIS FOR LATER, PLEASE!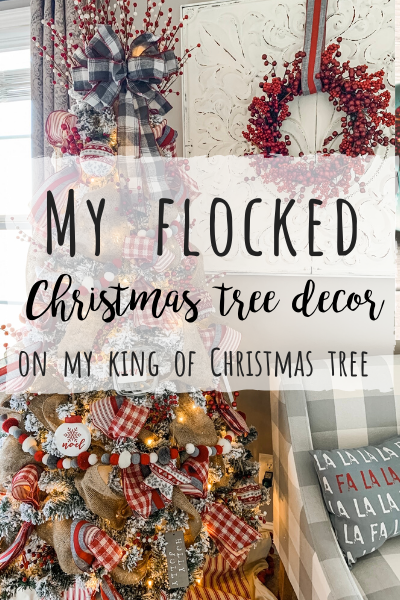 Let me start by saying that I have admired King of Christmas Trees for a couple of years now and oooohed and ahhhhed over them! (Possibly some drooling involved too). So, when they reached out to me about partnering up this holiday season…you can only imagine my excitement! (This post does contain affiliate links, but all thoughts and opinions are my own. Please see full disclosure page for more info)
I decided I wanted a new flocked tree for the master bedroom, so I went with their 6 foot pre lit prince tree. You can shop their trees by clicking here! I knew it would be just perfect for the space and it IS!
I am SUPER impressed with the quality of this tree. If you are wanting a good investment tree that will last for years to come, I really do recommend these! It's so full and was super easy to put together.
Here it is in it's natural beauty before decorating. Honestly, you could stop right here and it would be beautiful. That's the nice thing about a flocked tree.
You know I had to take my flocked Christmas tree decor up one (or two or three) more notches though, so I of course added ribbon! I used what I had from last year, but I took one away and added this gray with red stripe that I just loved. All of my ribbon came from Hobby lobby and ornaments from a variety of places. (Be sure to check out my ribbon buying guide here!)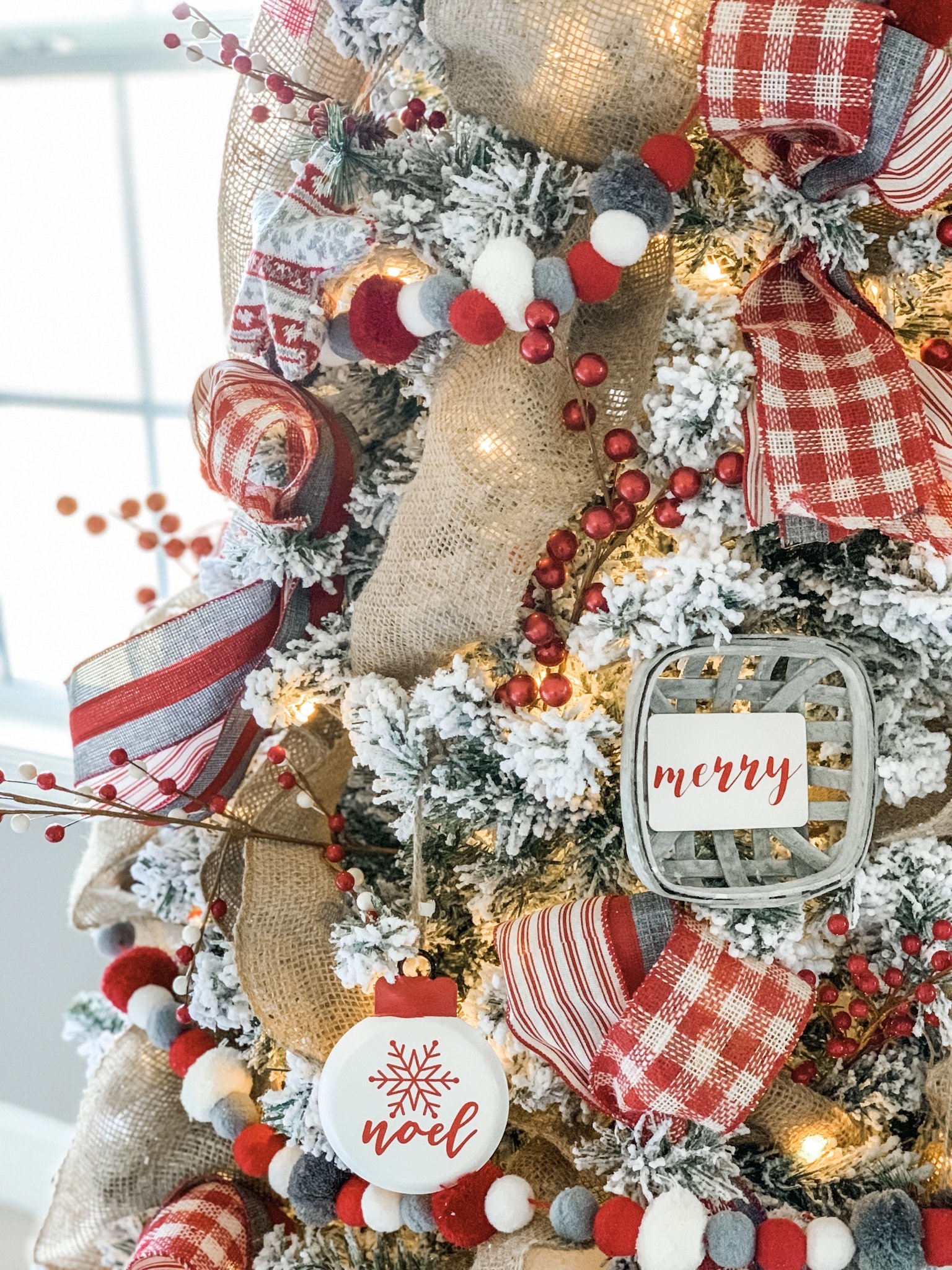 I used some of the same techniques that I teach in my tree tutorial video seen here! The main difference is that I left off one "layer" that I did on my big tree since this one is smaller and I didn't want to totally overpower it. 
The bow up top came from Walmart just like this. When I saw it I was like SCORE because I can't make a bow to save my life. The colors were perfect!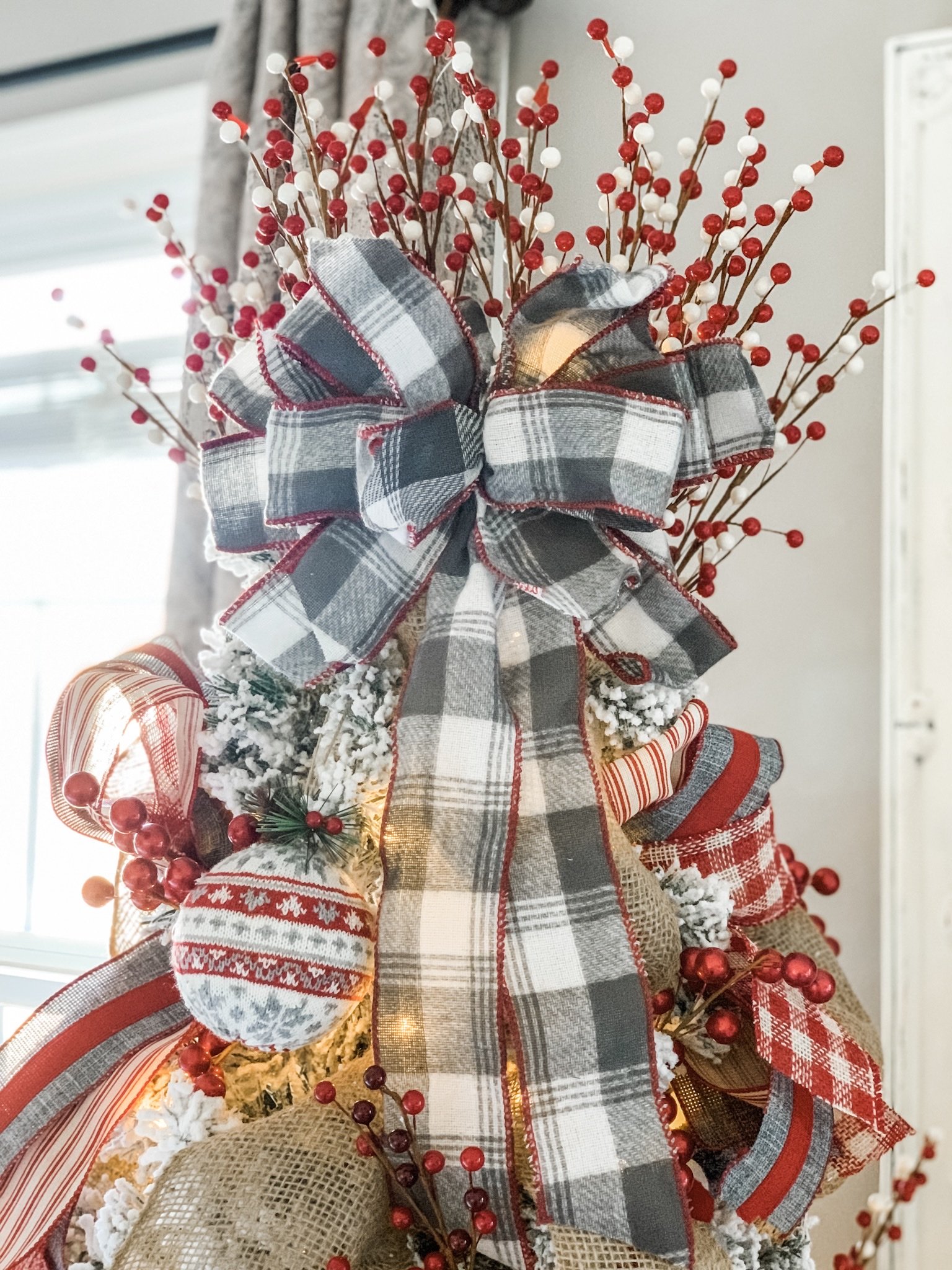 Last but not least, my adorable new tree skirt came from Target. It matches perfectly and I love the pom pom detailing. You can get it here.
Chair is from Kohl's online (seen here) and the wall piece came from Hobby Lobby years ago and I painted it. Wreath is from Target and table decor is from who knows where over the years 🙂
Let me know if YOU put a tree in your master bedroom too?! Even if it's a small table top one, I truly recommend it!
Can't wait to hear what you think of this one and show you the rest of the room soon! Don't forget to shop King of Christmas trees here and use that code WILSHIRE_COLLECTIONS to get your 10% off!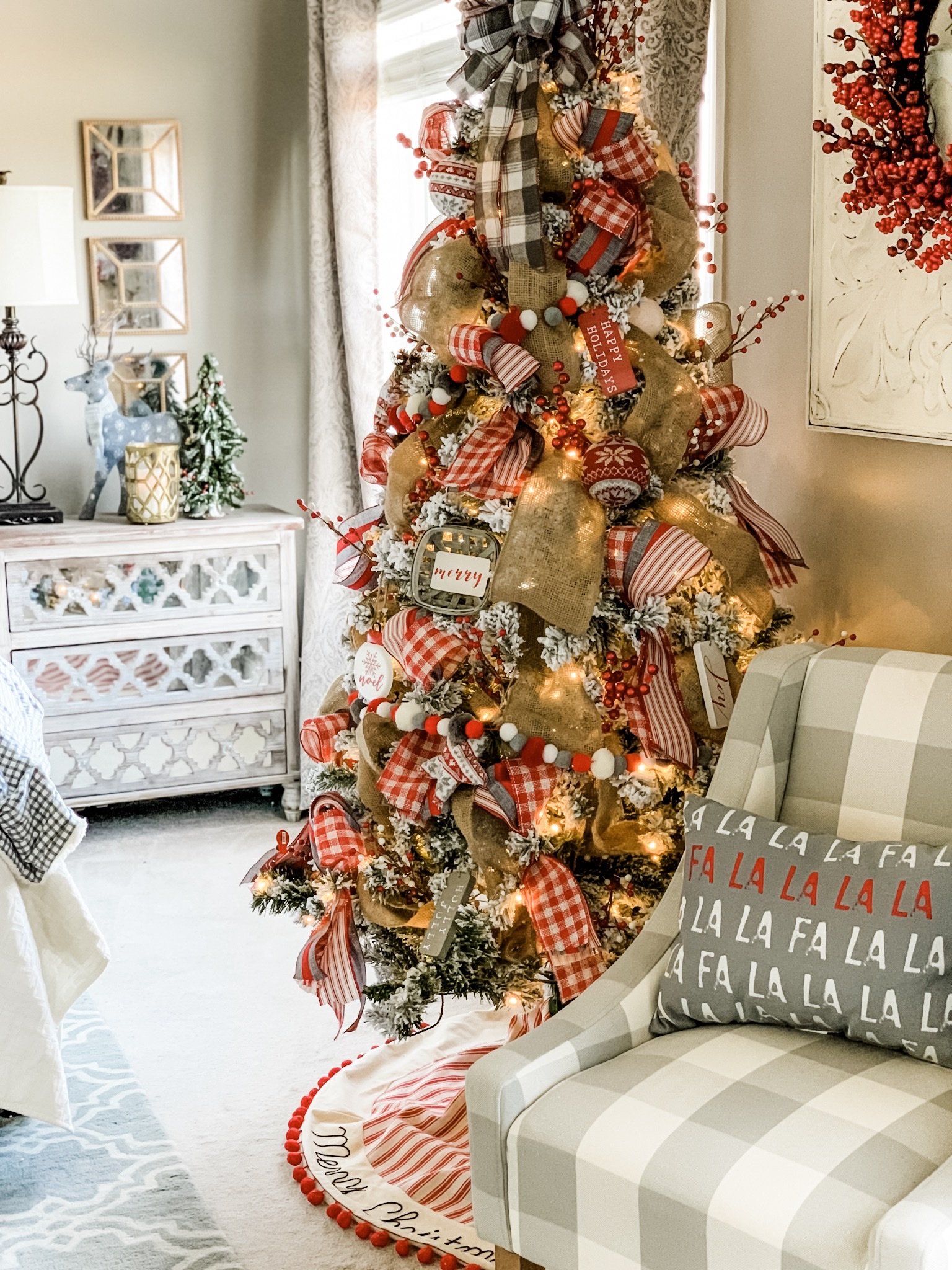 Until next time…
Stacey