It's the million dollar question! The one I get asked more than ANYTHING else during the holidays. HOW MUCH RIBBON DO I NEED TO BUY FOR MY TREE?! So….
This Christmas tree ribbon guide will help you determine approximately how much ribbon you might need for your tree this year!
GET THE FULL TREE TUTORIAL HERE!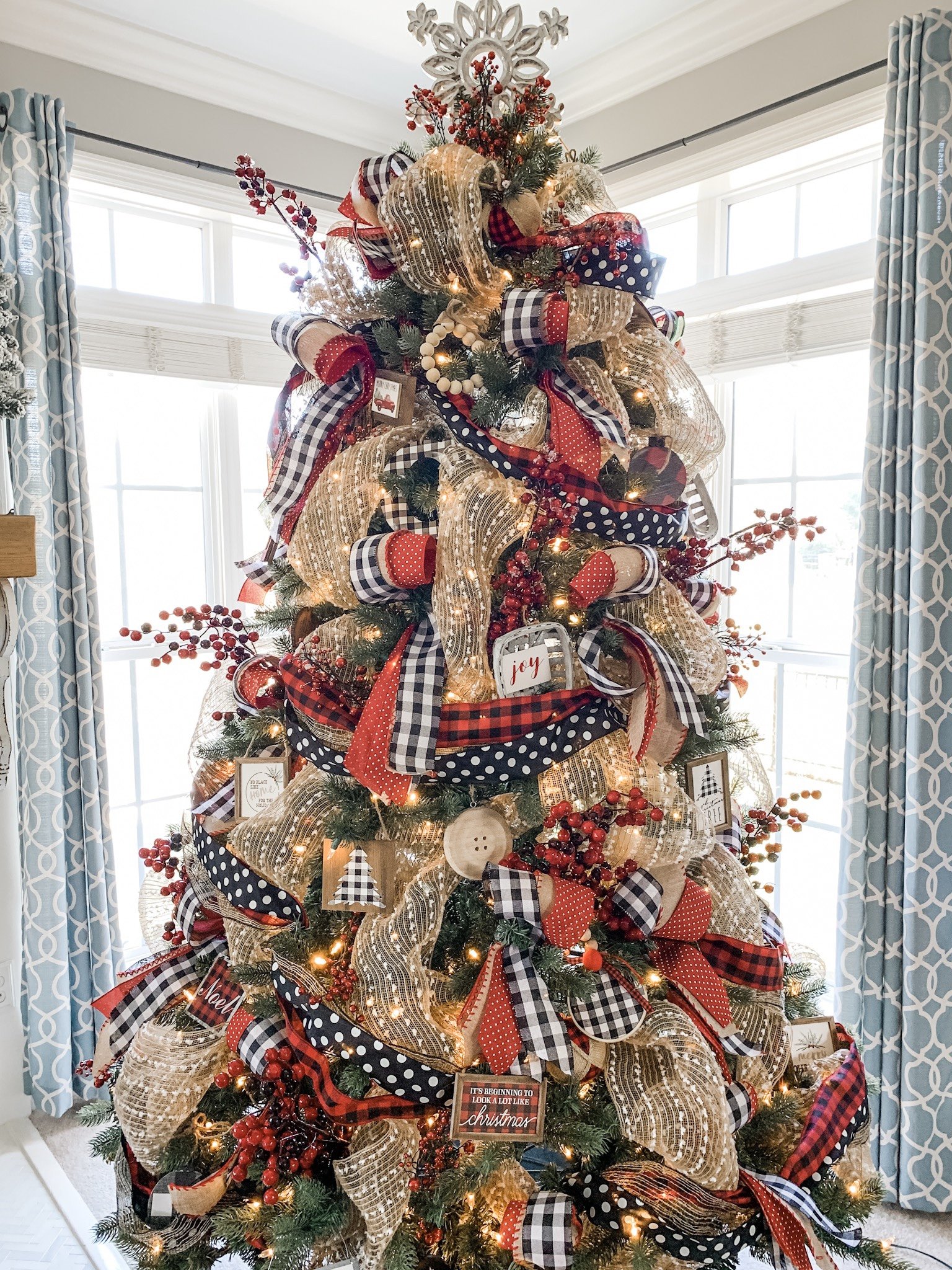 Let me start by saying, this is a SUPER hard question to answer. There are so many factors and variables that go into this. How tall is your tree? Is it pencil or full? What length is the roll of ribbon? Do you want a lot of ribbon or just a little? You see where I'm going here…so many factors!
All I can do is tell you about how much I used for MY tree and from there you can determine how much you might need.
As you might know, I got all of my ribbon from Hobby Lobby this year for my tree. You can see my tree reveal here! Obviously there are lots of places to buy ribbon, so you don't have to go there. But, I do suggest buying it early because it WILL get picked over! 
QUICK PRO TIP: DO NOT JUST SHOP IN THE CHRISTMAS SECTION FOR RIBBON! BE SURE TO ALSO CHECK OUT THE FLORAL AND FABRIC SECTION!! 
Also- you can see my full tree tutorial here where I teach you HOW to put ribbon on your tree to make it look like a pro did it. Ok…moving on to the topic at hand.
I have a 7.5 foot tree in my living room that is a full (not pencil or slim tree). The past few years I have decorated it with a lot of ribbon, ornaments, fillers etc. So if you like this full look- great! If you want it a little more minimal, you can do that too.
Here is what I used on my 7.5 foot tree…all from Hobby Lobby:
BASE RIBBON-
6 rolls of 10 yard mesh (found in the floral section)
ACCENT RIBBONS- (all of mine are 2.5 inches wide. Wired works best, but is not required)
1 roll of 75 foot black and white buffalo check ribbon (Christmas section)
1 roll of 75 foot red and black buffalo check ribbon (Christmas section)
3 1/2 rolls of 30 foot natural with red border (Christmas section)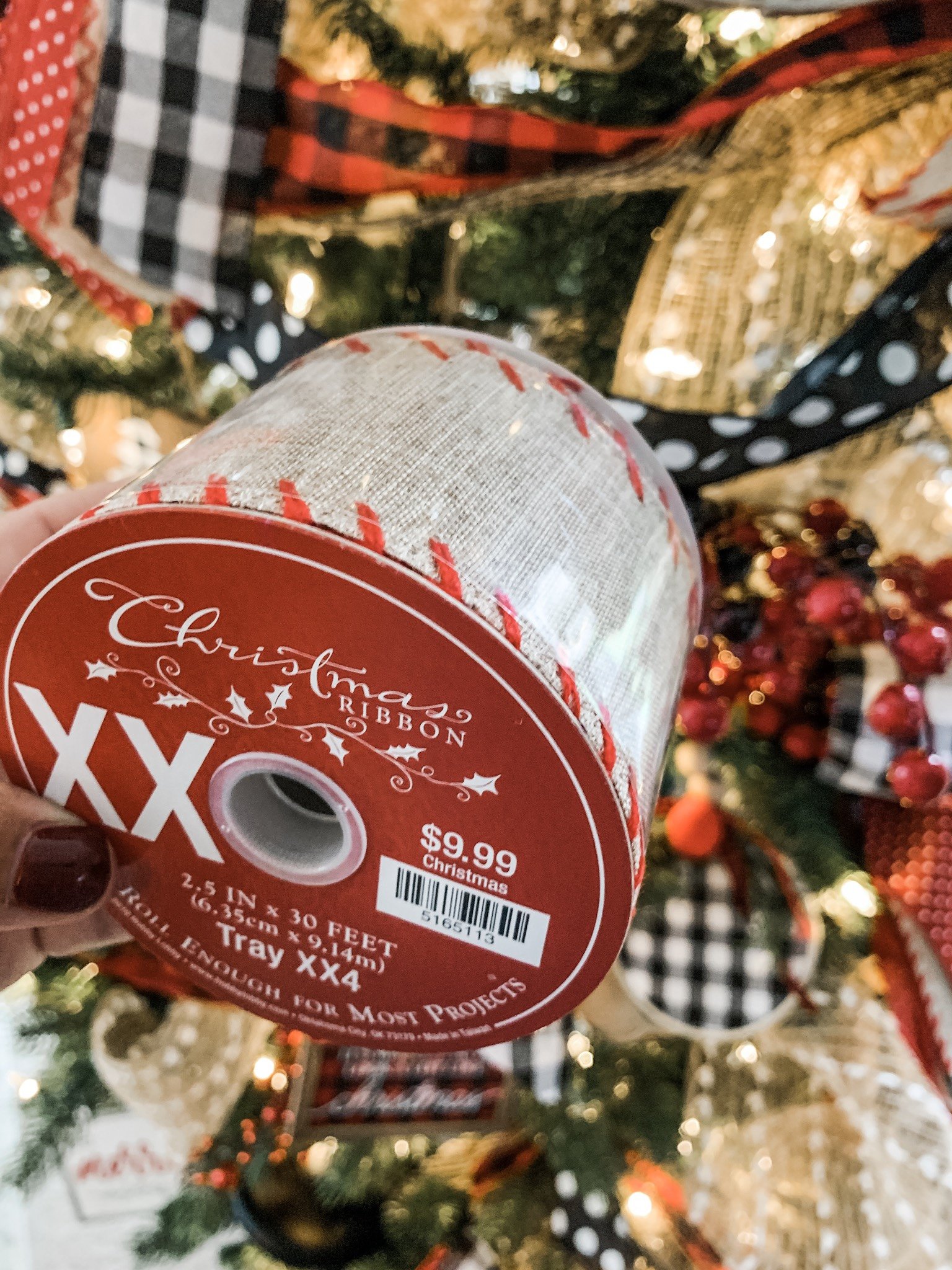 4 rolls of 18ft black and white polka dot ribbon (floral section)
5 rolls of 12 ft red and white polka dot ribbon (Fabric section)
4 rolls of black and natural ribbon (floral section from last year, so don't remember the length of the roll)
So, for a 7.5 foot tree around my same size…I recommend getting 6-8 rolls of the larger base ribbon (mesh or burlap). Then get 4-6 rolls of each accent ribbon you wan to use on your tree! That should have you pretty well covered. If your tree is smaller, you will need less ribbon and if it's larger…you will need more!
I ALWAYS recommend buying more than you think you will need! There is nothing worse than being mid tree decorating and not having enough and having to go back to the store. Save that receipt and return what you don't use.
Here's a 6 foot tree that I decorated at my live event. I used burlap as my base and a lot less accent ribbon on this one (do not have exact amounts). This is just to show how different each tree can be! This is my new King of Christmas tree that will go in my bedroom this year. I LOVE IT! You can check out all their trees here and use code WILSHIRE_COLLECTIONS to get 10% off!  Code WILSHIRE_COLLECTIONS for 10% off!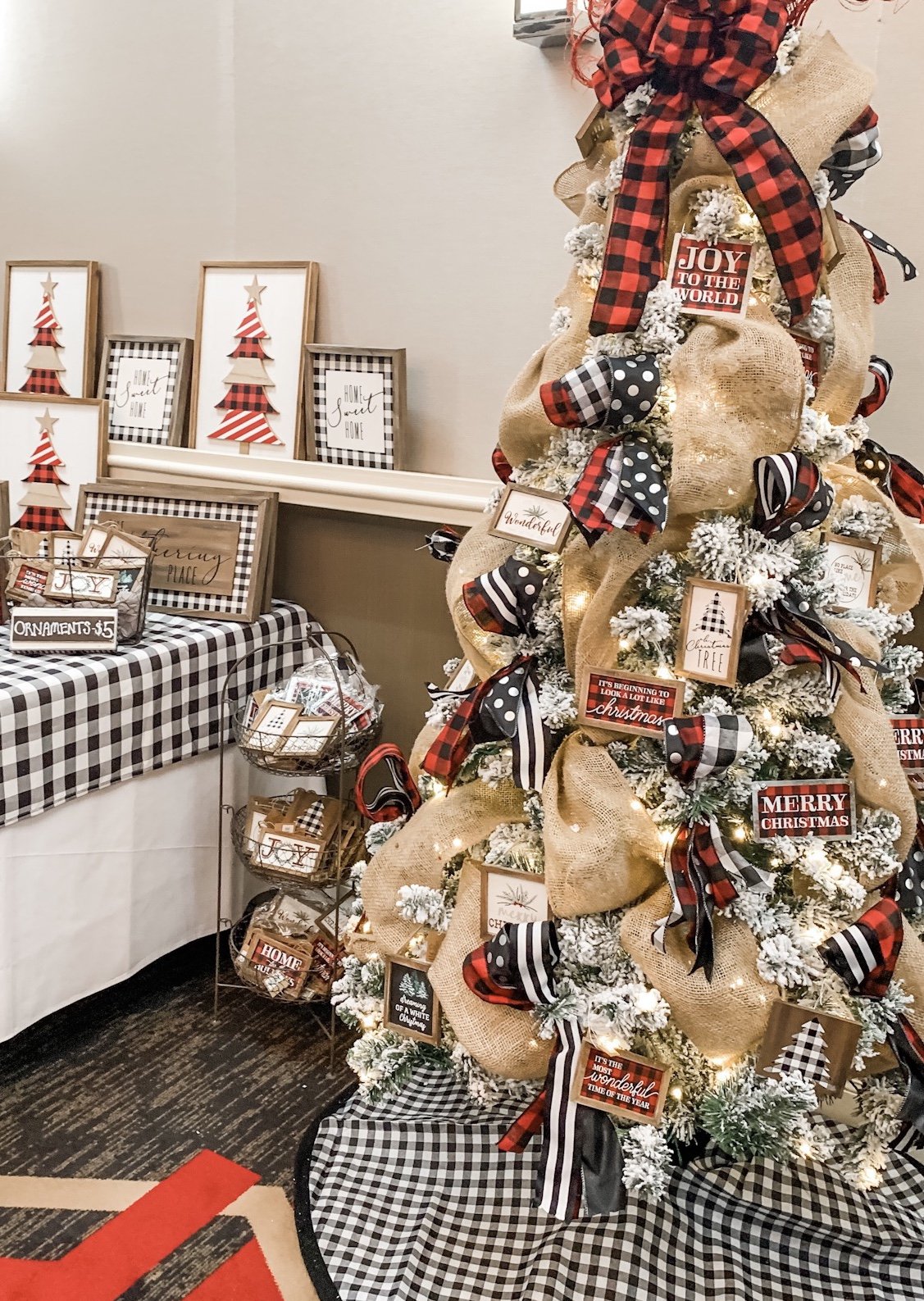 I hope this was a helpful quick reference guide. Please hear me when I say this is not going to be exact. This is a general guide and each tree is different…just like each roll of ribbon is different. You do what works best for you and your tree!
I go into more detail on ALL of this in my tree tutorial as well. If you are looking at this and thinking, "Well, that's great Stacey…but how do I get my ribbon to look like that on MY tree?" Then….this is exactly what you need! I've helped HUNDREDS of women over the years transform their trees and I break it down to make it easy to do for anyone! BUY THE TUTORIAL HERE!! 
Until next time…
Stacey