Hi, my name is Stacey and I'm obsessed with trays! If you know me at all, then you know this about me. I always say they are like little homes for your decor.
These are Christmas tray ideas for inspiration this holiday season! Get creative and decorate a tray or two…you'll be glad you did!
PIN THIS FOR LATER!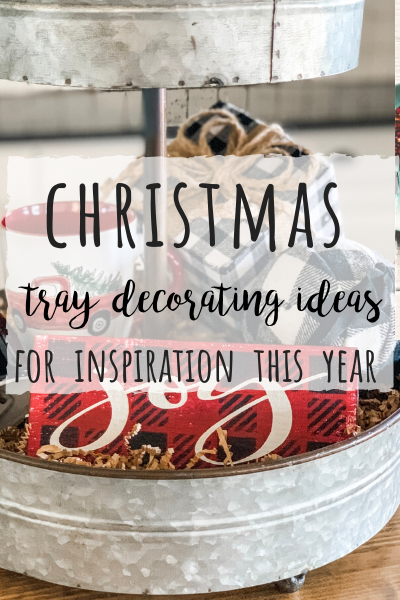 First up is my little corner kitchen tray that I always have on my counter! I used items from the Wilshire Christmas mystery box as well as some others I already had! I love the way this little guy came together!!
YOU CAN GET A TRAY SIMILAR TO THIS ONE HERE!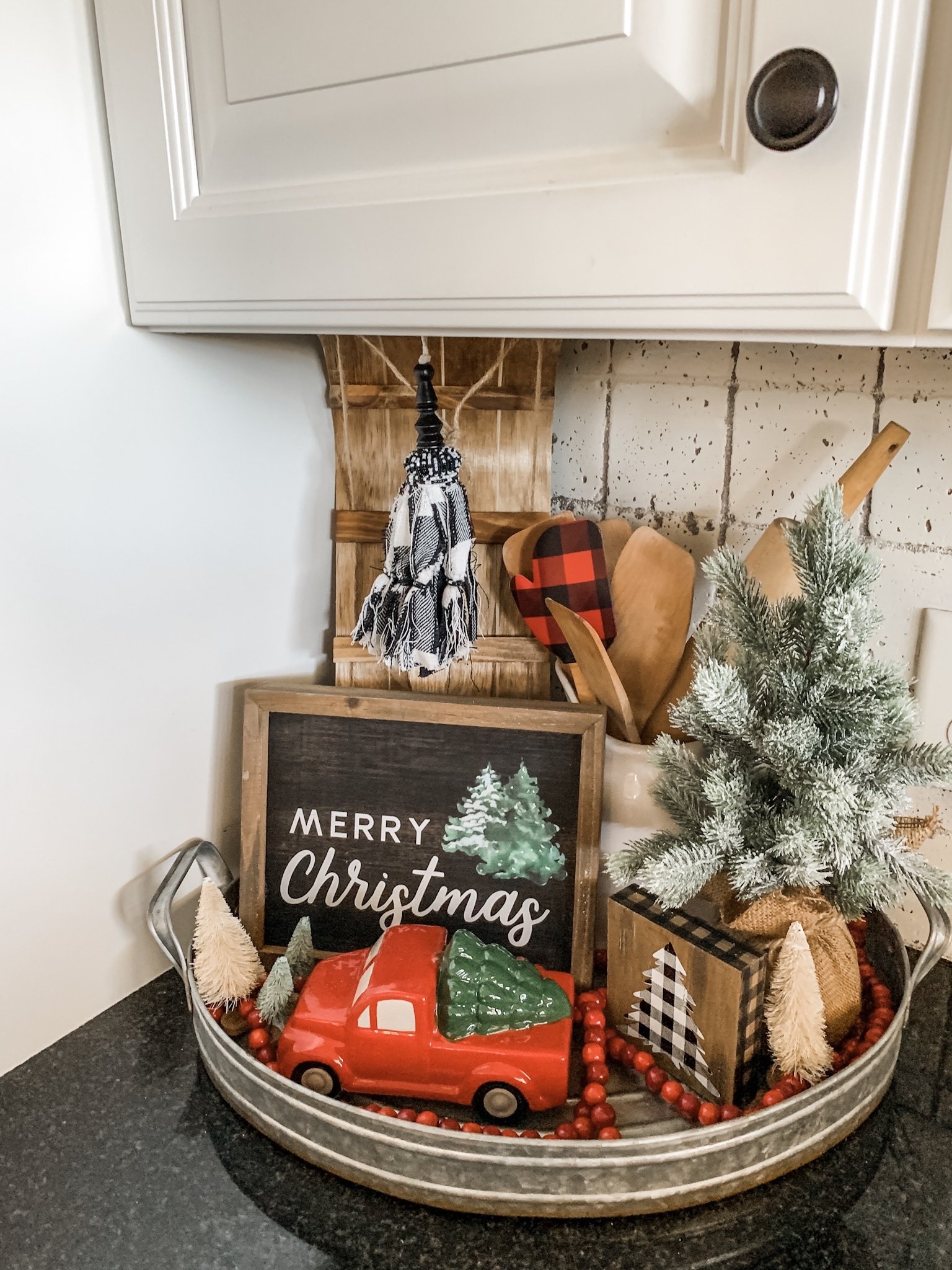 Next is my ever so popular tiered tray that you've seen me decorate at least 99 times by now. I truly have fun with these and I decorated this Christmas tray one on a live with my Christmas group girls which was so fun!
YOU CAN GET MY EXAXT TIERED TRAY HERE!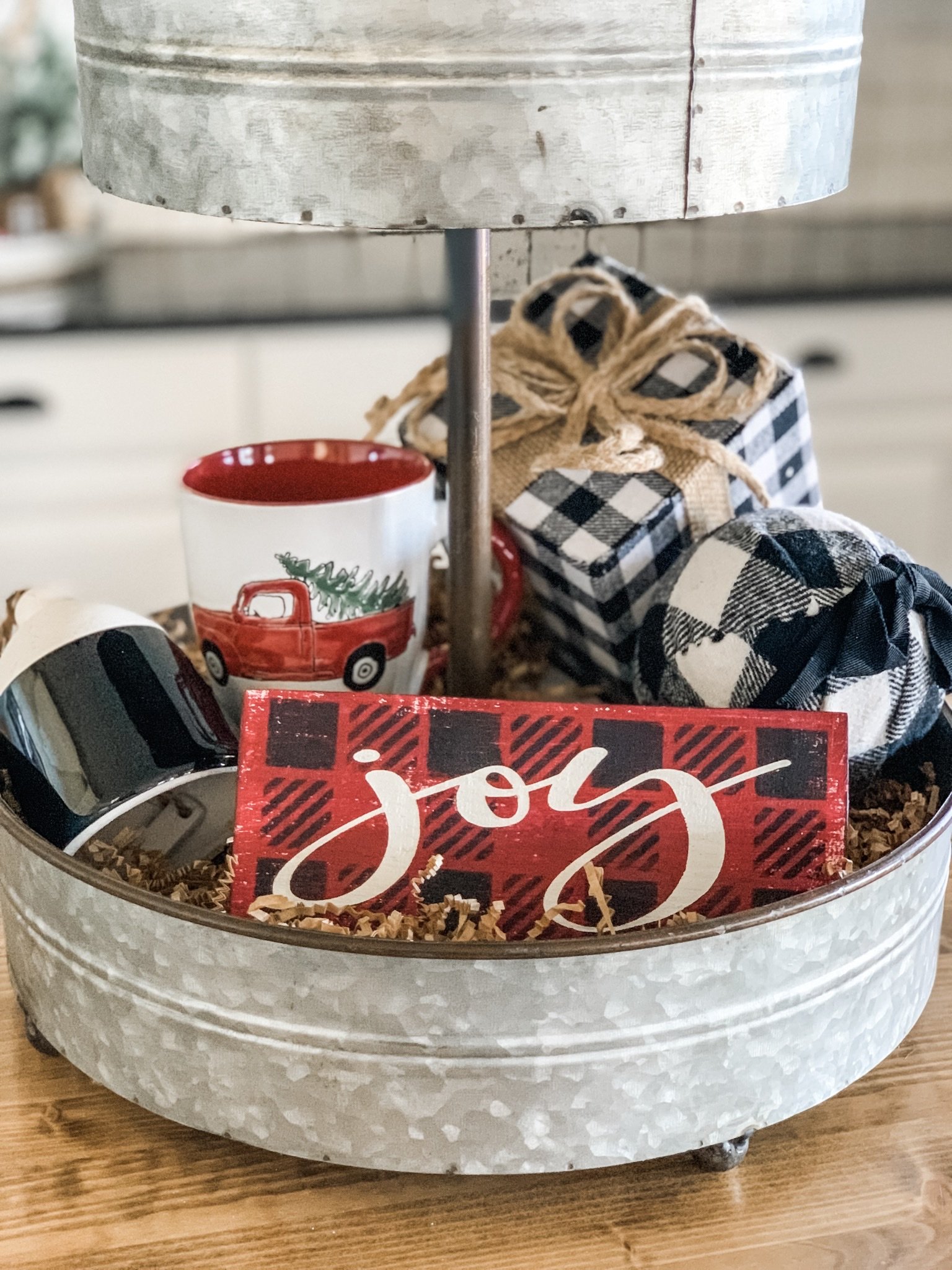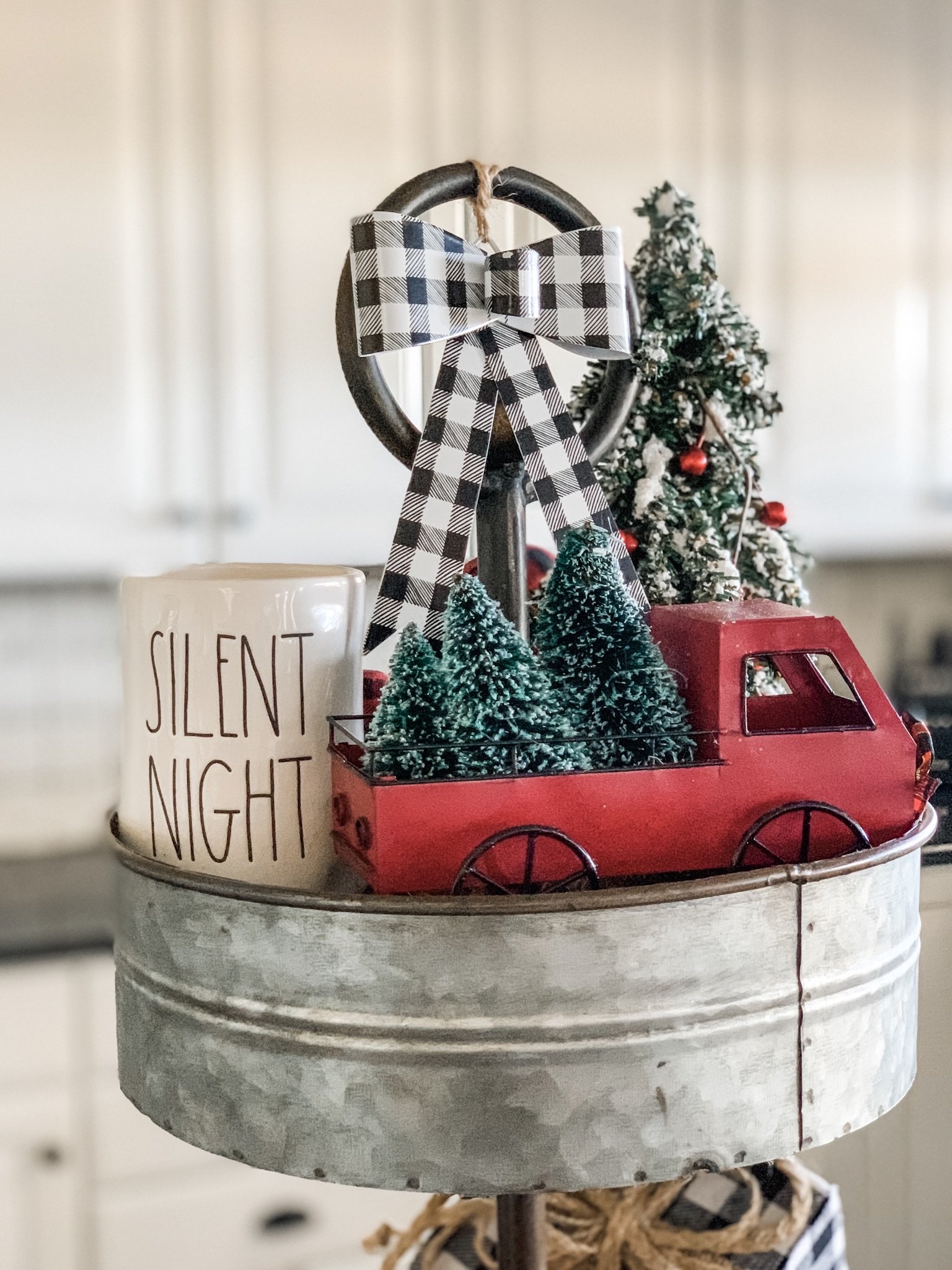 I also wanted to create a little mini hot cocoa bar for my boys (and for me, let's get real!) so I decided this little DIY tray I made a while back in my decorating community would be perfect for it.  TJMaxx and Marshall's were my go to places to get the items I needed to get this look!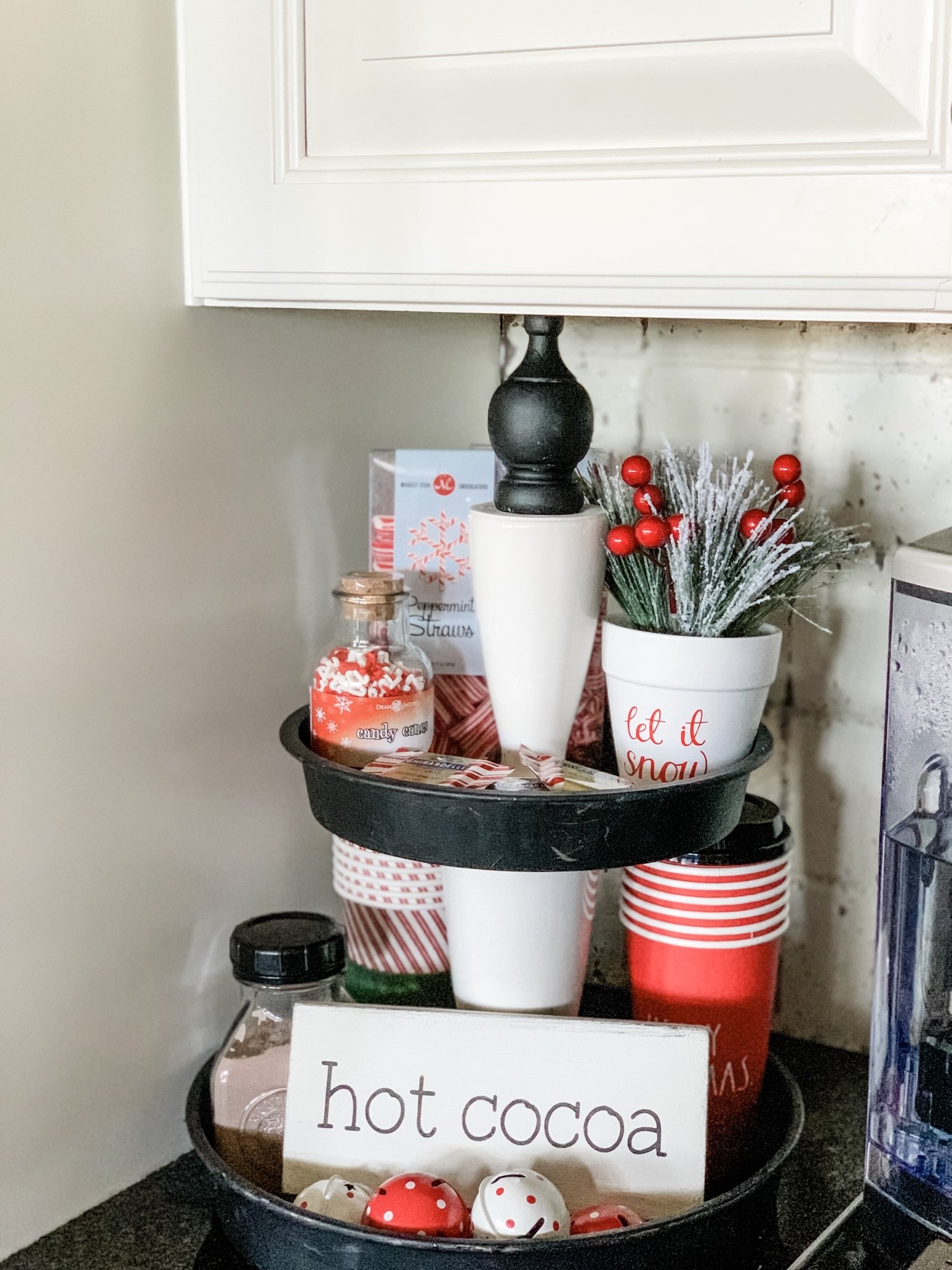 Moving on to the living room and my coffee table tray! This is another one I love to decorate for all the season and reasons!
YOU CAN GET THIS TRAY HERE! (And at the time of writing this it is ON SALE…Even better!)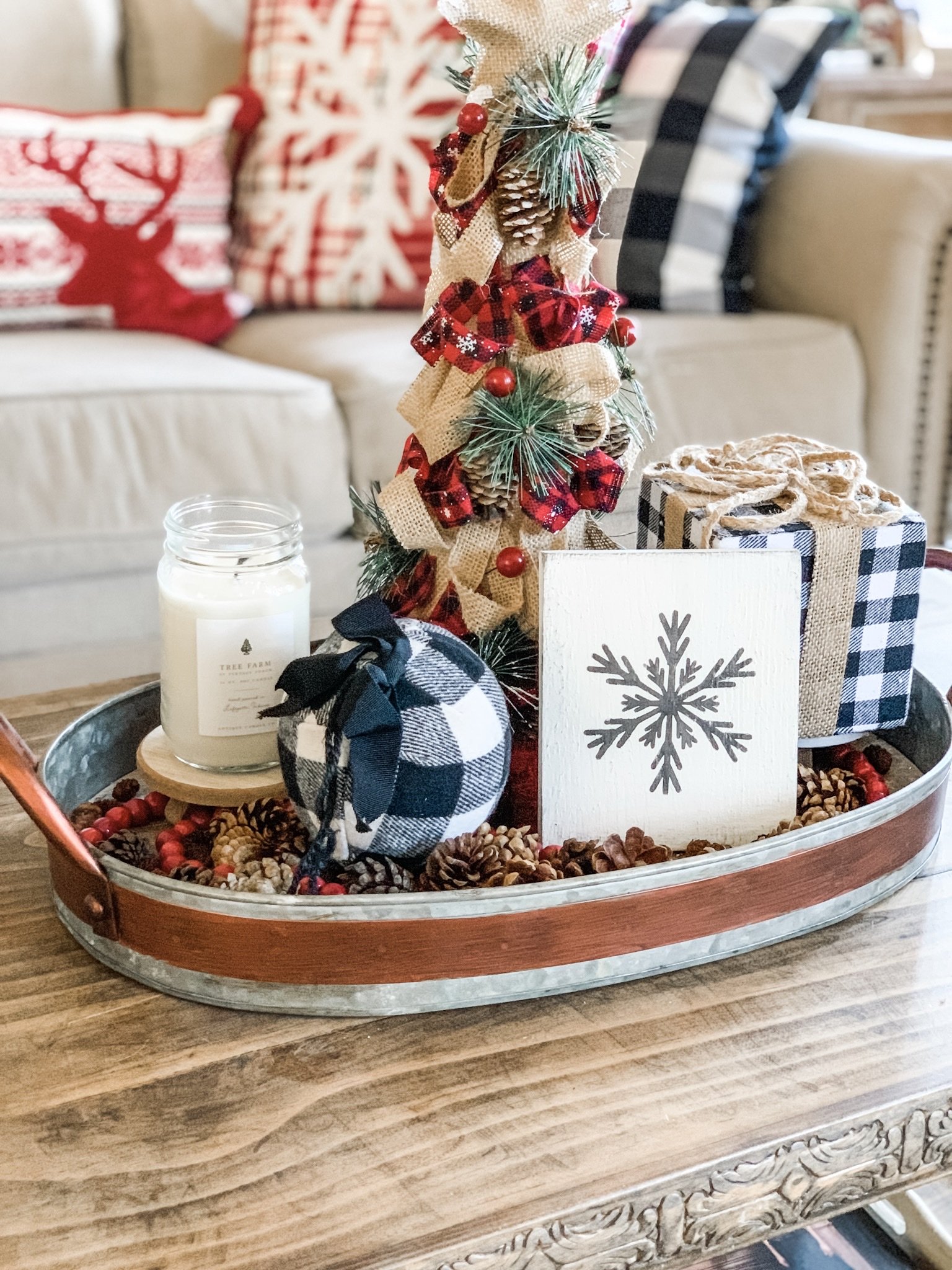 Have you noticed how much I love to use mini signs from Anchored Soul in my trays?! They are the perfect size! Follow her here so you can see all of her cute signs! 
The key to trays is truly just practice! Use different heights and shapes of objects, use filler to fill in any big gaps and just have fun with it!!
So, as you can see my obsession with trays lives on another season! I don't think it will ever go away! Did any of these inspire you to do a tray or two this year?!
Be sure and also check out my dough bowl here for another "tray" type option!
Until next time…
Stacey
Don't forget the sources for some of my trays!
Similar to my kitchen tray here
This post does contain affiliate links. Please see my full disclosure page for more info.