I'm so excited to be decorating our new house for our very first Christmas here! It's been so fun and special!

These cozy Christmas decorating ideas are sure to inspire you this holiday season from the trees to the decor and all the little details!
The room I am sharing with you today is our Hearth room…which if you don't know in the south that just means a sitting room off your kitchen. This is NOT our main living room…but it IS my favorite room in the house!
This space has truly become a little retreat for me. It's where I drink my morning coffee, relax in the evenings and gather with friends and family. And…it's also where I get to decorate a fireplace and mantel which I LOVE!
Let's start there!
Wouldn't be Christmas without some garland, so I took some from Hobby Lobby and added several picks to it throughout. I also added my rustic bells from Amazon to each end, and I LOVE how that looks!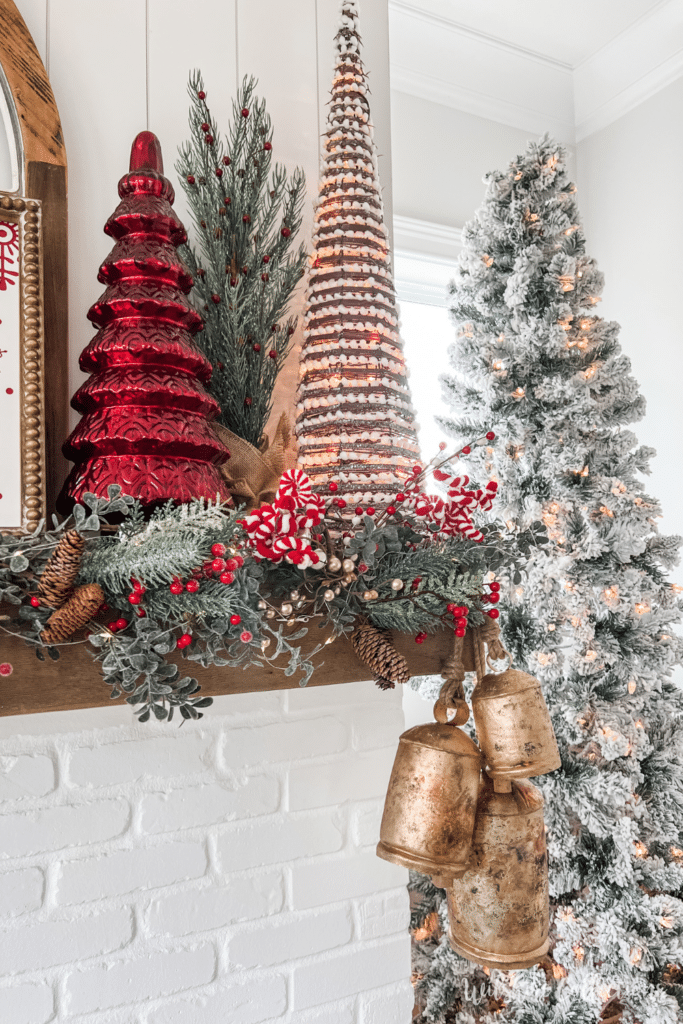 Up top, I did a grouping on each end of 3 types of trees. Large one from Kirlands, red from Dillards and green from Hobby Lobby.
I also used this sign from Hobby Lobby and one from Kirkand's last year in the middle for my focal point.
Down below, I've got some cuteness on each side of the hearth! A grouping of 3 and then my basket filled with pillows and a cute DIY I did with a printable! Shop all printables here!
I've known since we started building that I wanted to have 2 trees in this room…one on each side of the fireplace. I told y'all that I really felt like I wanted to keep them bare. Many of you weren't sure I could do it. Heck, I wasn't sure if I could lol. But…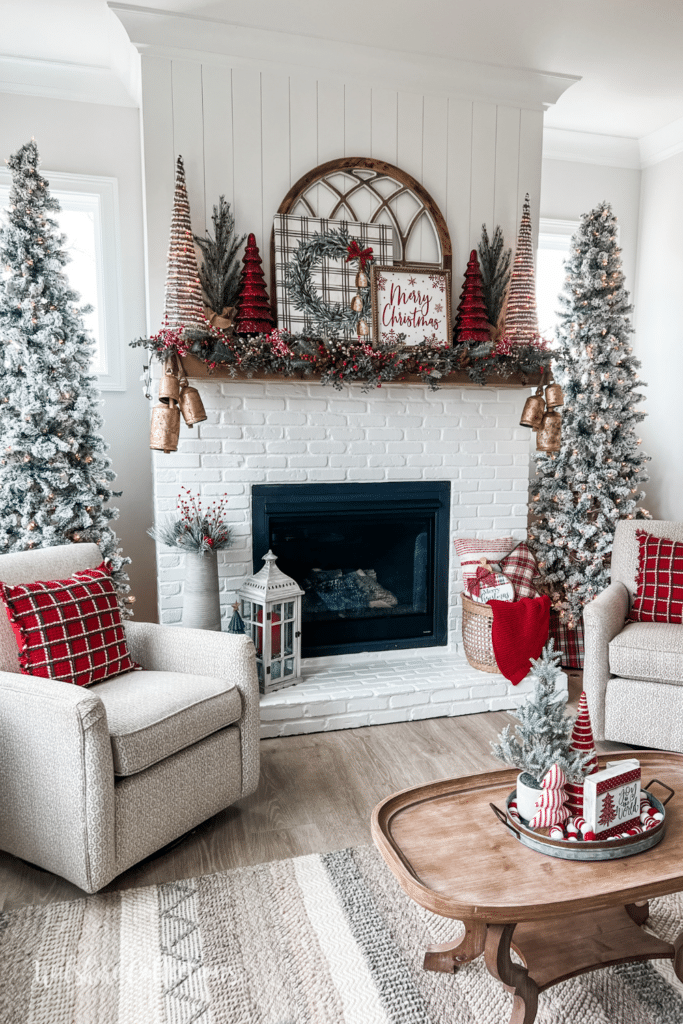 I did and I have NO regrets! I absolutely love the cozy look of a flocked tree and this just gives me the exact vibes I wanted for this room! (I did add some cute tree collars from Target to both)
Can we take a minute to talk about this CUTE tray?! I made a couple of printable DIY's and used some things I had to create this look!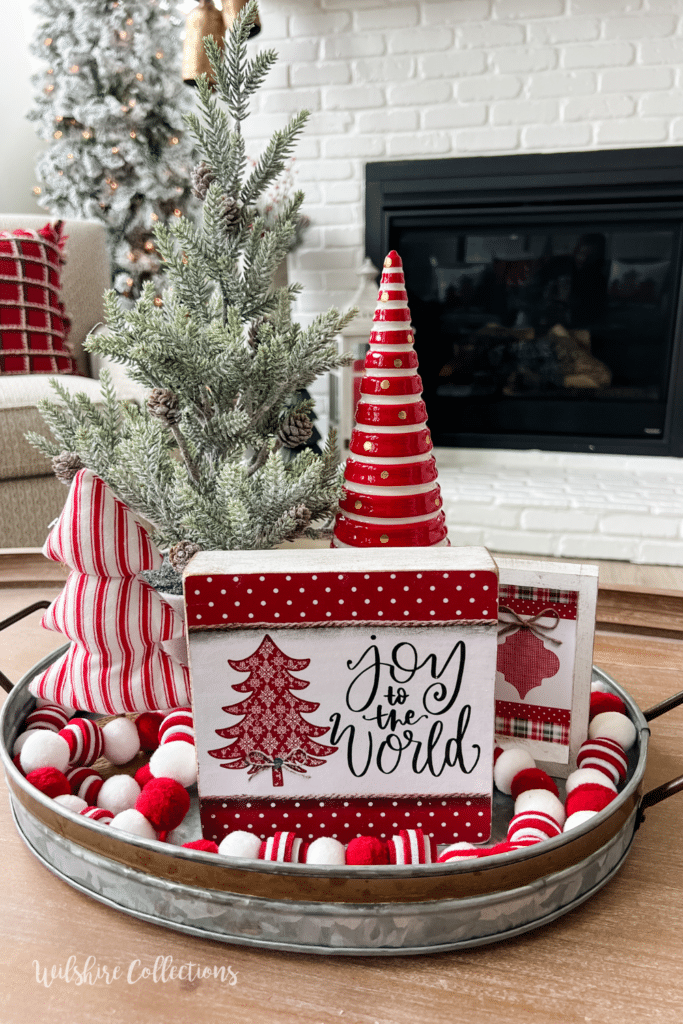 We can't forget the couch and the cozy pillows and throw blanket! This is the pillow cover from the November pillow cover club and I'm OBSESSED! It truly ties this whole room together…don't ya think?!
I wanted to use my fa la la pillow in the middle from Kirkland's and then that polka dot throw is available in my shop here!
What do you think of these cozy Christmas decorating ideas from my hearth room? I hope you've been inspired and I hope it gives you all the Christmas feels!
SOURCE INFO: I am linking the Christmas things that I can from this room here and my rugs are linked here. Furniture is from a local store in Nashville called Head Springs Depot! Coffee table, Kirklands.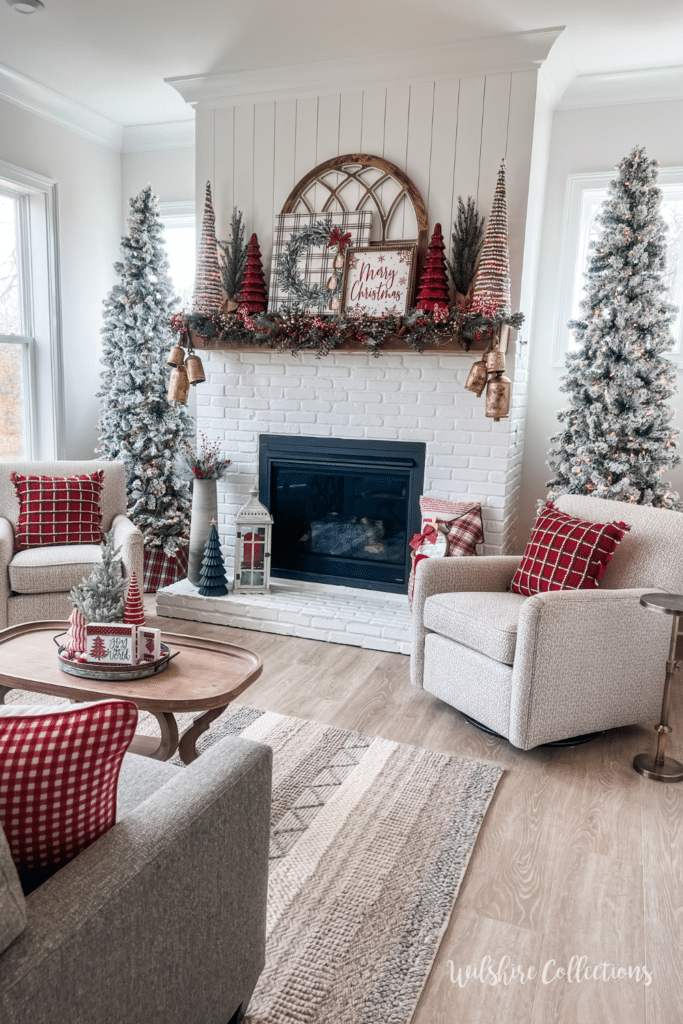 Nighttime just might be my favorite. There is nothing more peaceful than this…am I right?!
I am truly just so happy and so grateful! Grateful to God for all of his blessings, grateful for this home that we get to create new family Christmas memories in, grateful to all of you for being along for the ride and sharing in my excitement. So, thank you!!
Until next time
Stacey