'Tis the season for ALLLL the online packages! Am I right?! We get a lot of packages all throughout the year, but this time of year it is definitely more extreme! I've seen this idea SO many places and have loved it every time I saw it. So, I thought it was high time I did one myself!
This delivery driver snack bucket idea and free printable is the perfect way to spread some kindness and holiday cheer this time of year!
Like I said above, this is NOT my original idea. I have no idea where I first saw it, but it's pretty much everywhere now. So, this is just my version and my printable to go along. These delivery drivers work SO hard this time of year, I am very excited to pass a little kindness their way!
I involved my whole family in this little task, so we headed to Walmart together to pick out our bucket and the snacks. The boys LOVED picking out all the junk food…haha! They were throwing stuff in our cart like crazy!
Here's the bucket we got from Walmart for around $8! So cute and can be used anytime of year for so many things! 
Tyler and I put the whole thing together on a FB Live that you can watch here. I let him add these little stickers from Walmart, which honestly may not stick with the cold weather- but we will see! (this step is cute but not necessary)
He was so excited to help (and a little hyper from the hot chocolate he was drinking.hehe). Didn't it turn out cute?!  We did water, Gatorade, chips, candy bars, granola bars and candy! But get creative here and fill it with anything!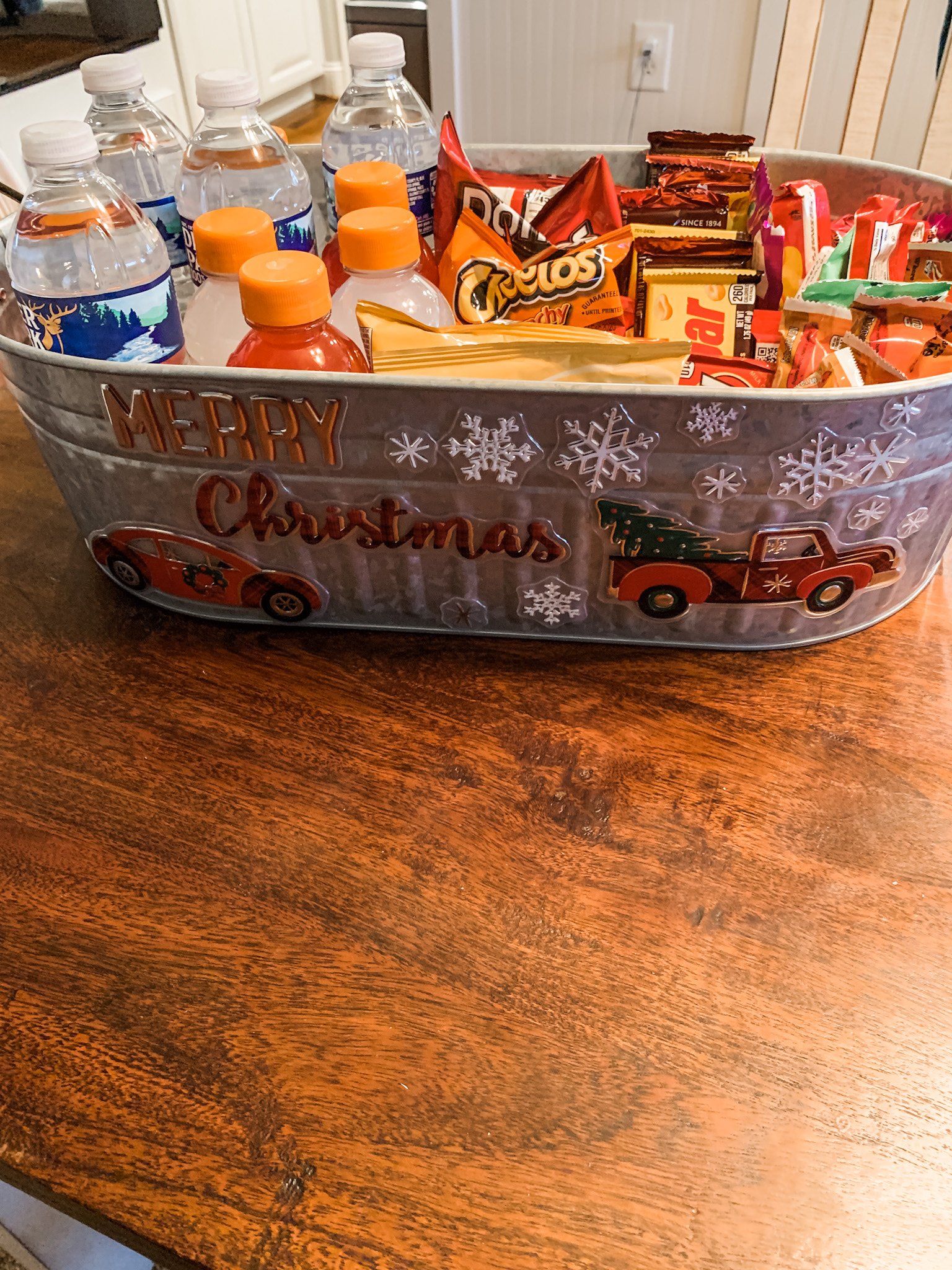 I knew I wanted to add some kind of little sign so that they knew they were welcome to grab something! So, DIY to the rescue on this one. YOU CAN GET YOUR FREE PRINTABLE BY CLICKING HERE! Once it opens up, you will just print it on your home printer. (I left off the Collins family of course and you can just sign your last name)
This little sign from Dollar Tree was what I had on hand, so I used the back side of it and just mod podged my paper on. A coat under and a coat on top was all it took! Then I finished off the sides with the burlap tape I love from Walmart!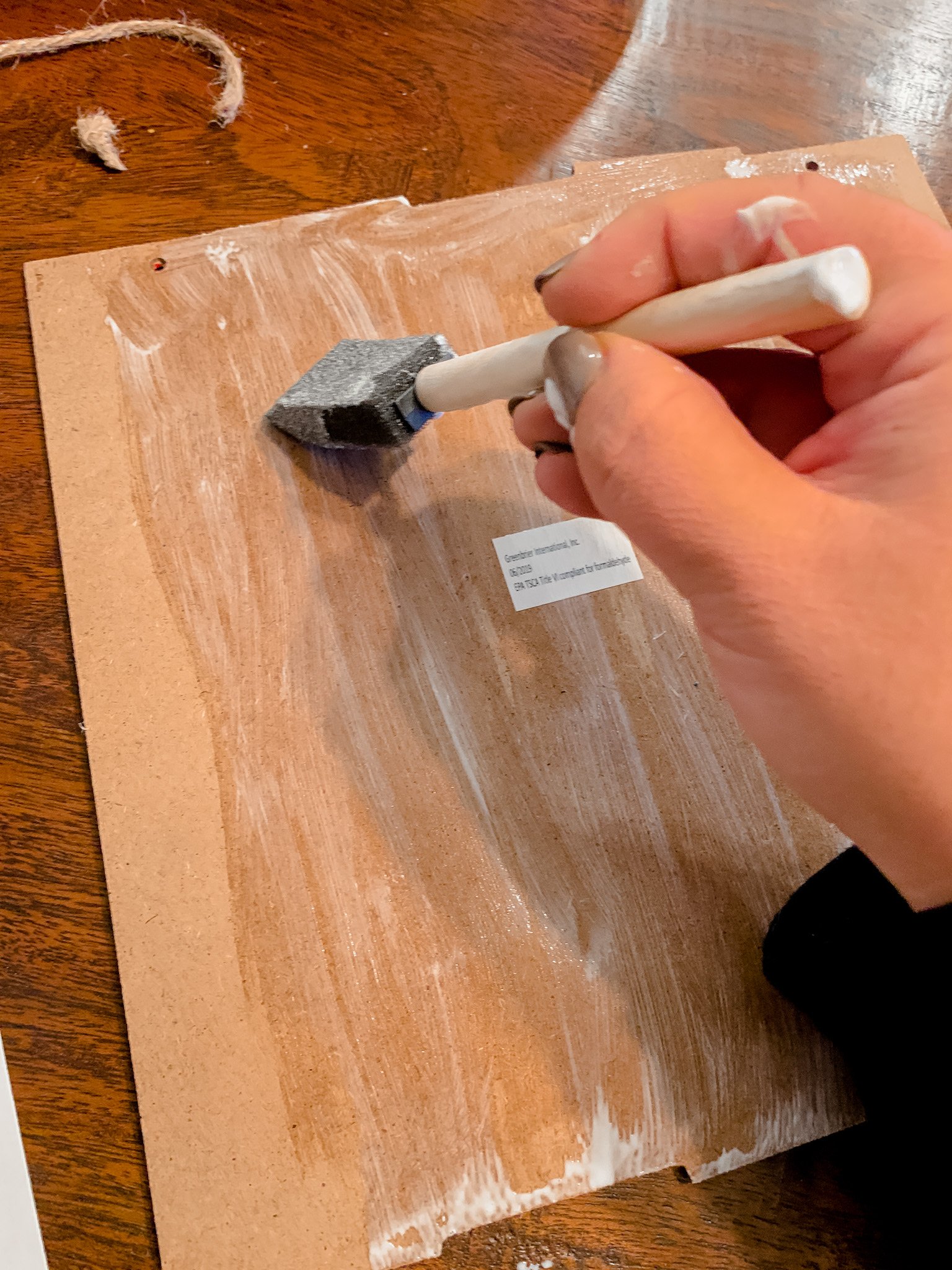 Last but not least, it was set up time! I put it up on the chair just to keep it off the ground and I think it looks adorable here. What do you think?!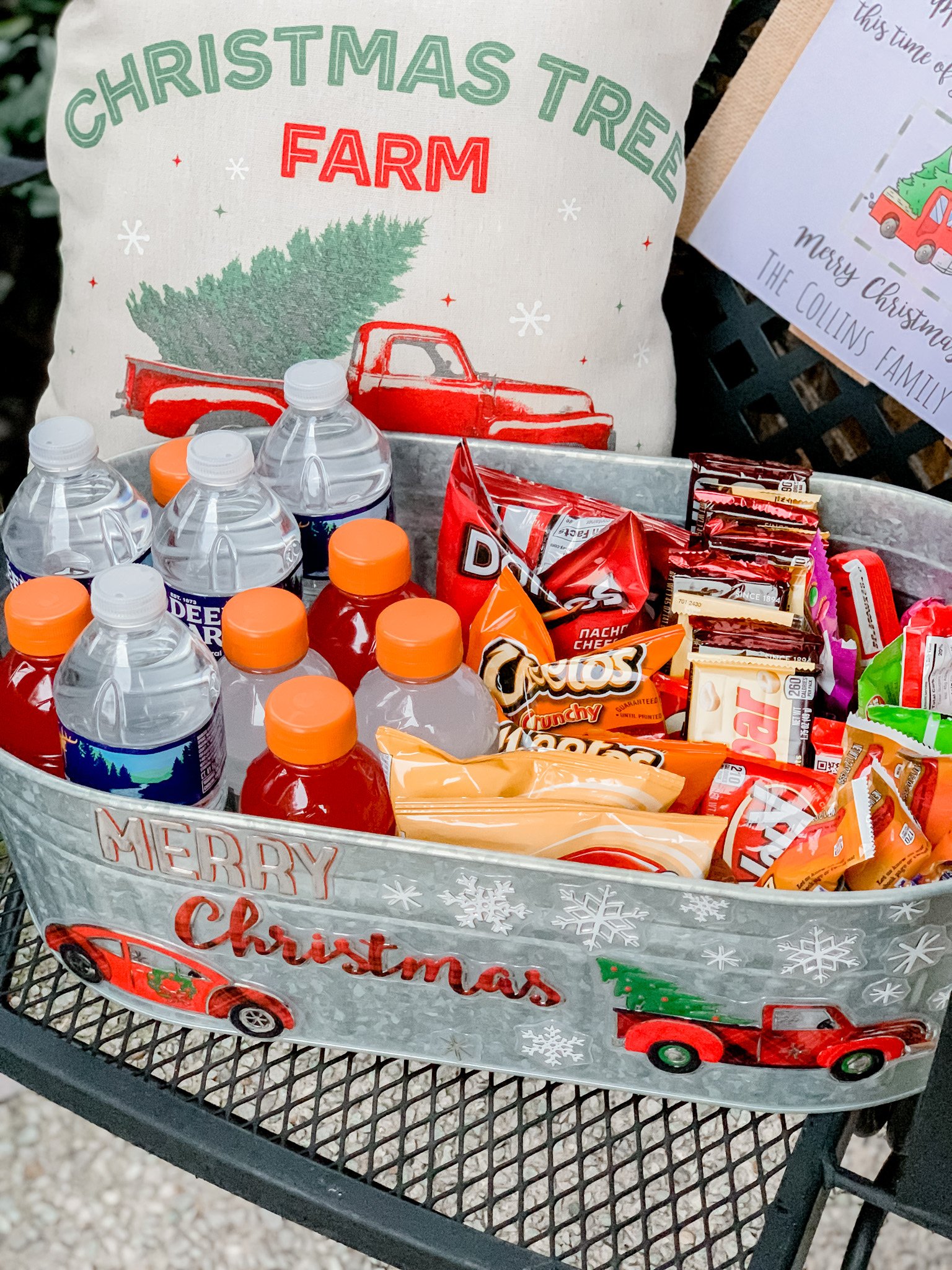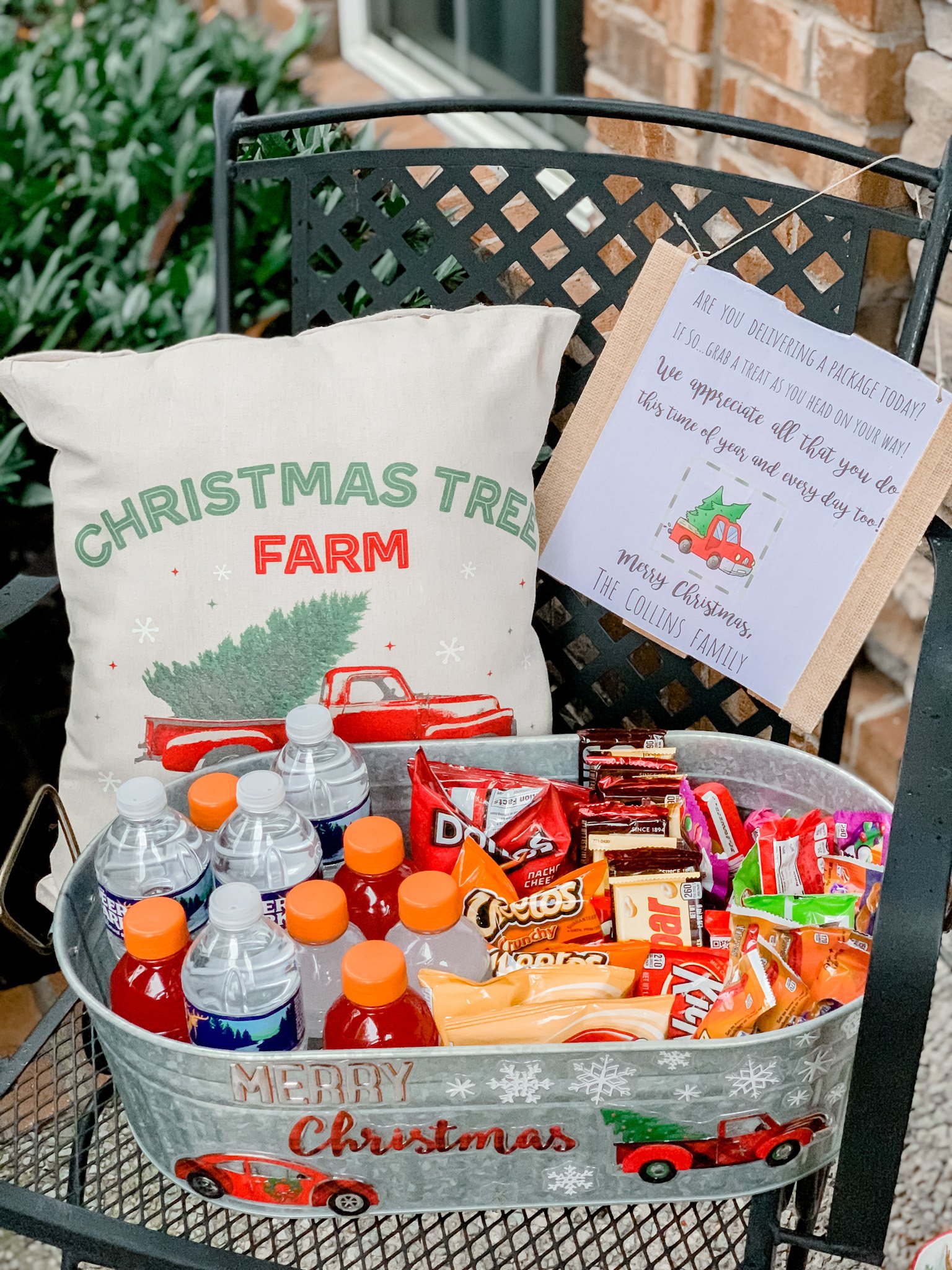 Lots are already asking and YES we do plan to take it inside each night to prevent freezing or animals getting into it. I'm in TN, so I don't have to worry too much about things freezing during the day around here. (Or anything melting)
If you live in an area where you don't think you can do this, consider just gifting them a little gift or gift card this season. Anything to show appreciation would I'm sure be appreciated!
DON'T FORGET TO GET YOUR FREE PRINTABLE BY CLICKING HERE!!!
 This is a PDF file that you can print from home!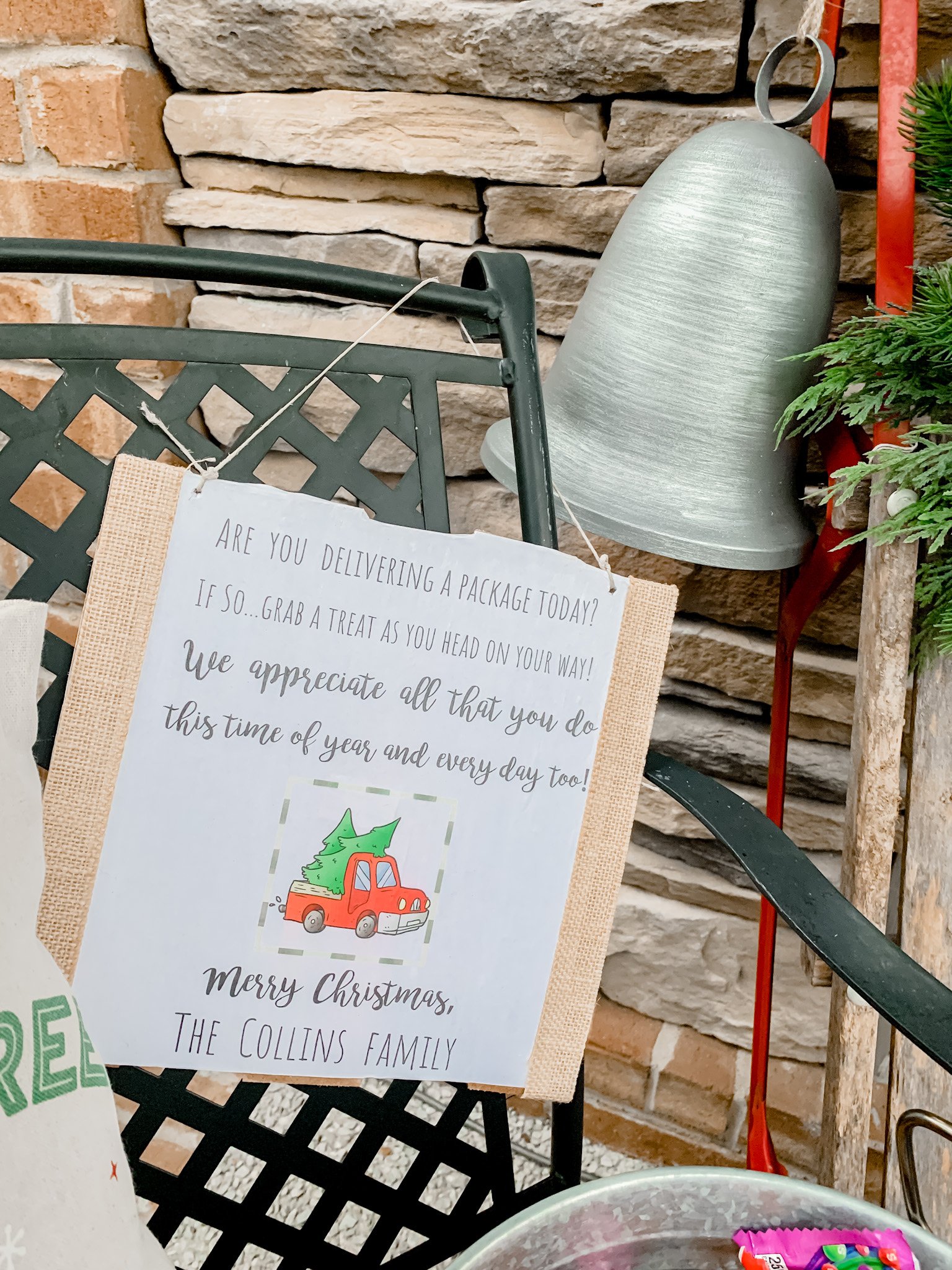 Let me know if you plan to make a delivery driver snack bucket too?!
Until next time…
Stacey
You can also see how I made this DIY no sew pillow (shown in this post) here! 
And see my entire Christmas front porch here!