As many of you know, our back deck recently got a pretty big makeover when we had it covered, painted, etc. I knew as soon as it was done that I now had another great spot to decorate for all the reasons and seasons! So, when Old Time Pottery reached out to see if I wanted to work with them on a fall porch collaboration it was a no brainer for me!
These fall porch decorating ideas with my Old Time Pottery finds will leave you ready and excited for those cool fall nights!
*This post is sponsored by Old Time Pottery, but all thoughts and impressions are my own. I only recommend items and stores that I truly love! See my full disclosure page for more details*
I have loved and shopped at Old Time Pottery for years now, so I was super excited to team up with them on this fall porch decorating project. I love that they always have affordable décor, while staying on trend with what the styles are!
When I headed out to Old time Pottery to go shopping, I truly didn't know what I was going to get. I was going with an open mind and just going to shop until I dropped! Well, you could say I did just that! Haha!
I instantly started seeing all of this cute galvanized metal décor and I KNEW it would be perfect for my fall porch.
I use navy and teal out there with my rug and pillows (and my navy door), so it needed to be décor that was going to fit cohesively in with what I already had going on. Galvanized was perfect!
I grabbed a few of these cute galvanized pumpkins first, knowing they would be perfect on my little white table.
The Farm Fresh Pumpkins sign was also PERFECT to set the tone for this whole area!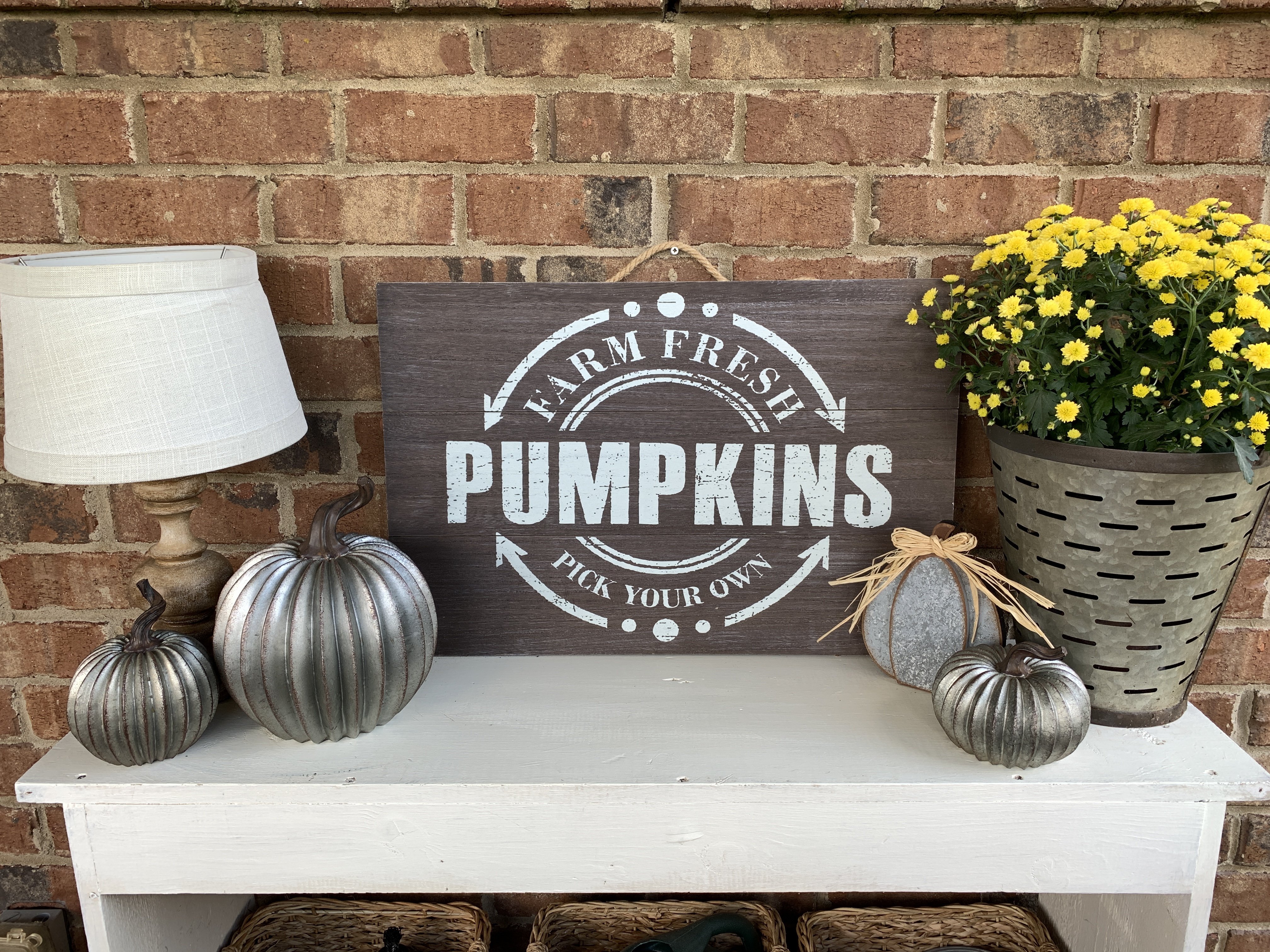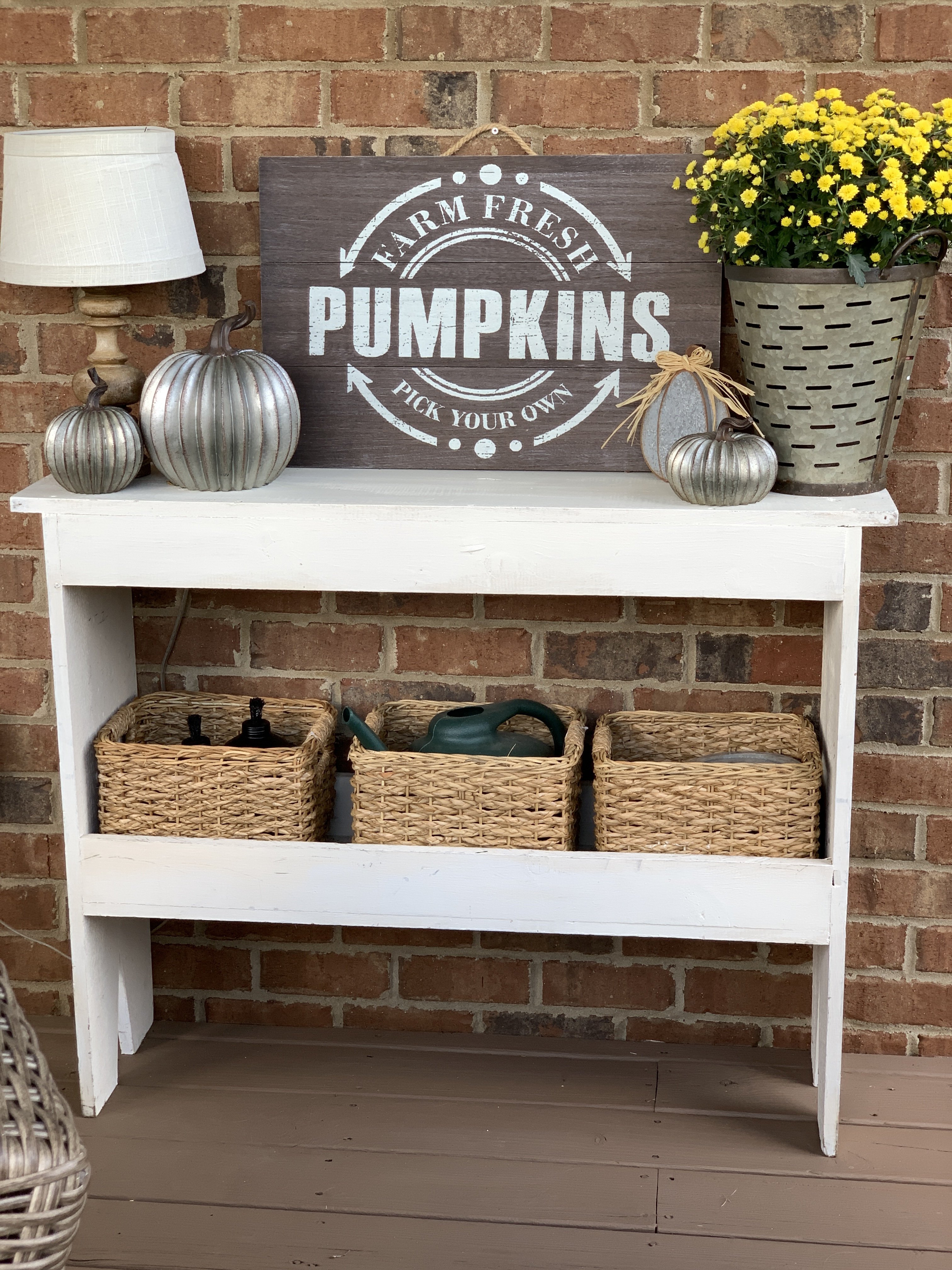 You know I had to have a few things to hang on the wall too, and these were too cute to pass up. Love the little pop of orange for some real fall fun!
The Hayride buckets were the perfect addition beside the door and I love how my mums pop against the brick inside those buckets!
This little cutie was probably one of my favorite finds and I love it on our coffee table out there! I filled it with some fabric pumpkins from Old Time Pottery and tied in that subtle pop of orange again too.
The tear drop wreath on the door was neutral, yet added just the perfect amount of pop to the space.
What started off as some fall porch decorating ideas while I was shopping turned in to a beautiful fall porch that I'm happy as can be to sit and relax on and stare at all my cute finds!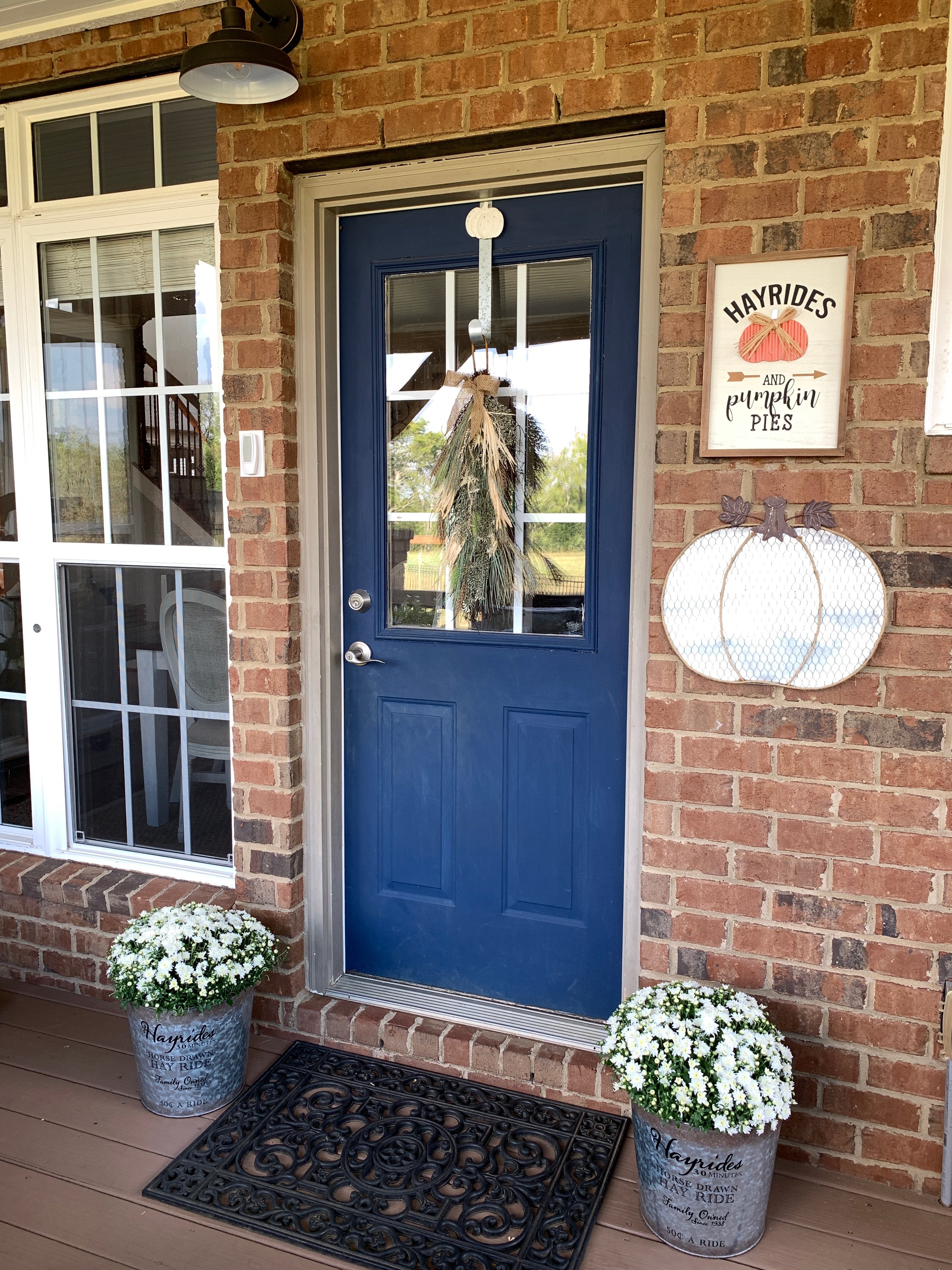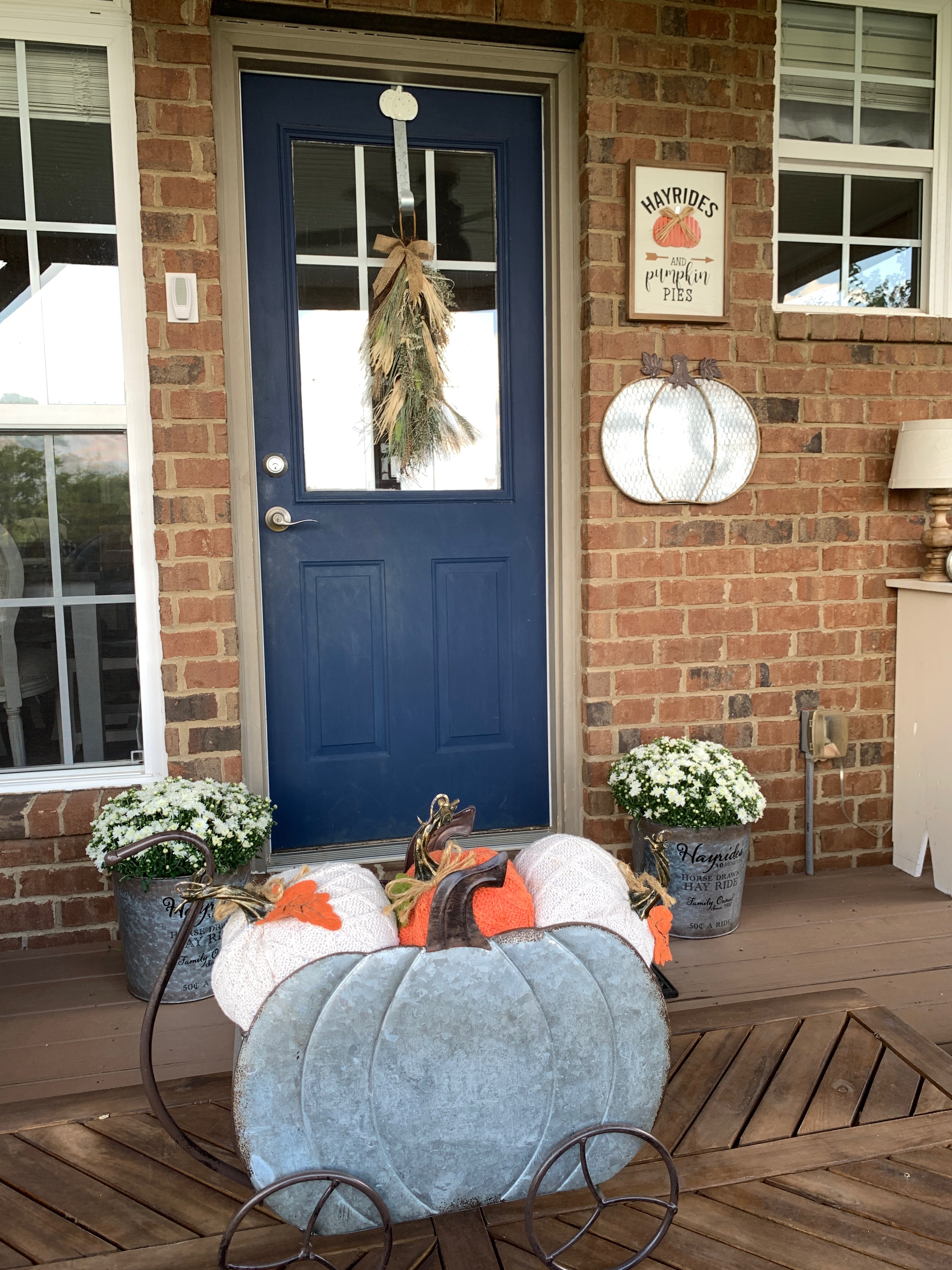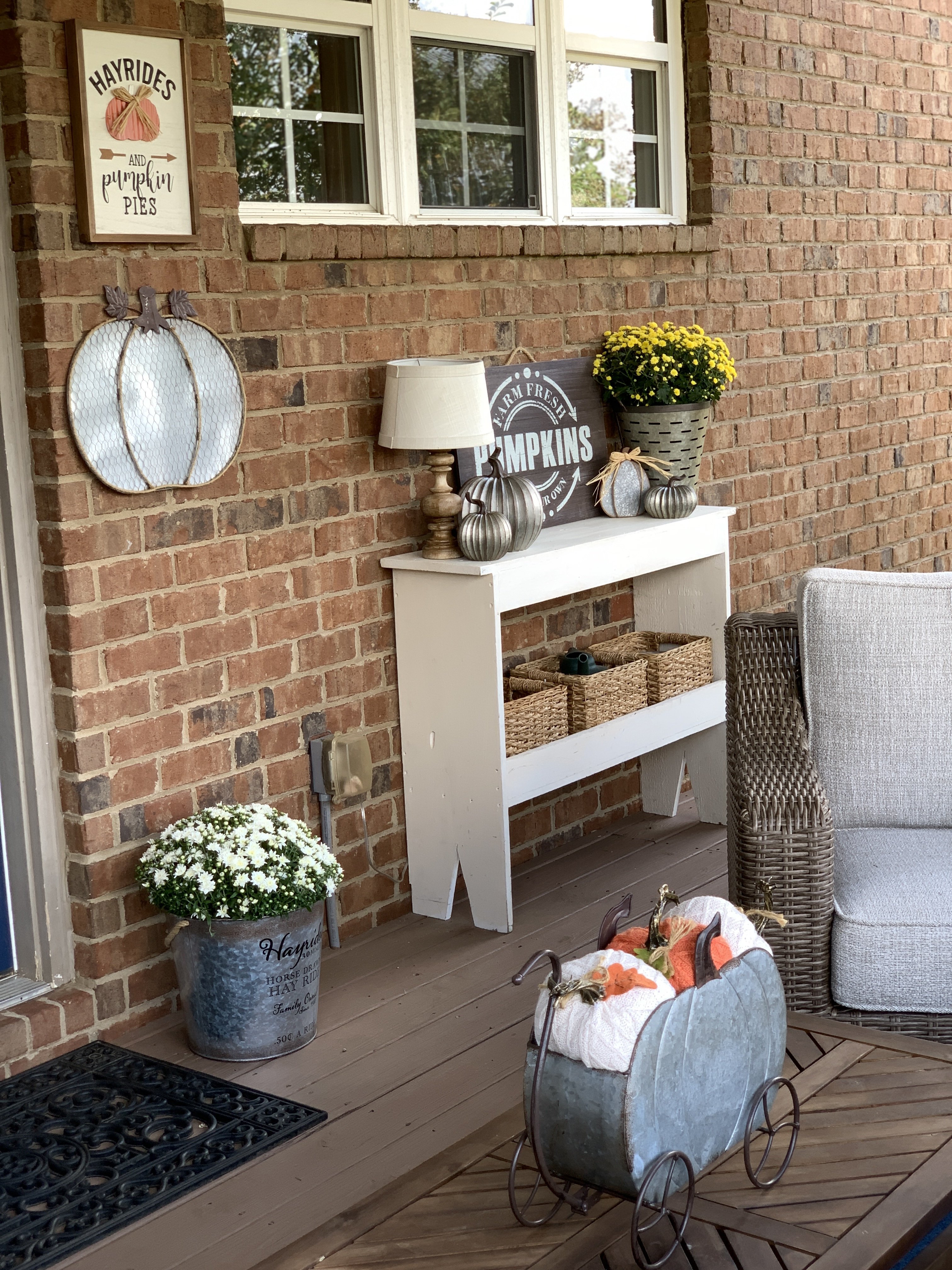 If you are looking for some affordable seasonal décor this holiday season, and you have an Old Time Pottery anywhere even remotely close to you…GO!
I promise you'll be thanking me that you did! Check out their website here and find a location close to you! 
Thanks to Old Time Pottery for working with me on this project! And if you haven't seen the fun Christmas photo shoot I did with them, be sure to check that out here as well.
Until next time…
~ Stacey