If you love crafting and have a wood bead obsession like I do, then you are going to want to stop and read this!
Today I'm sharing my favorite wood beads from Amazon because there are so many cute options for different styles and colors!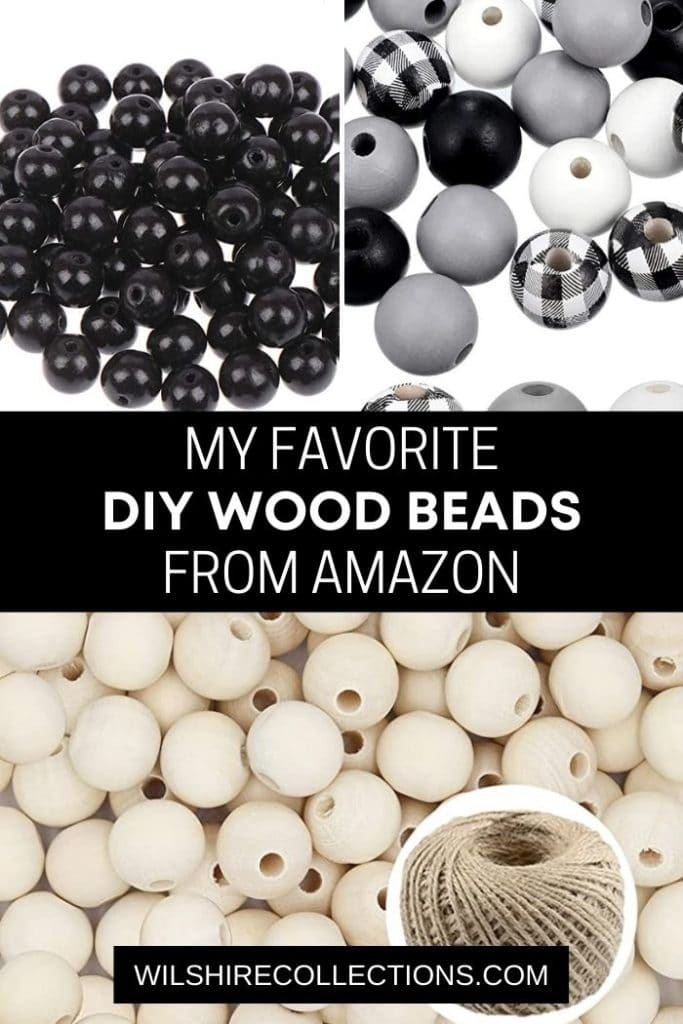 So many craft projects are just cuter if you add wood beads. Am I right?! Whether its a beaded garland, a bead hanger, half beads added to a project, etc. they just make things CUTE!
I'll be honest, I have not found a good store that I can shop IN PERSON for wood beads. Not to get the quantity and colors that I like to get. So….Amazon to the rescue!
Are you ready to see some of the cutest ones I found on there?! (This post does contain affiliate links. Please see my full disclosure page for more info)
Let's start with the basic natural wood beads. For these, I mostly use 16 mm and 20mm…but there are times I use some that are bigger or smaller than that.
CLICK ON THE PICTURES BELOW TO BE TAKEN DIRECTLY TO THAT PRODUCT!
16mm wood beads
20 mm wood beads
Variety pack (great to have various options)
Next up, some solid color wood beads. You can OF COURSE paint your own beads, but if you want to skip that step- these are for you!
PLEASE NOTE: A lot of these come in SO many colors. So, once you click the amazon link- be sure to browse around to see what each one offers!
Now this is where it gets SUPER FUN! SOOO many cute patterns are available too! Can you say buffalo check?! YES!
Are you drooling yet?!
One more thing though…we can't forget our HALF WOOD BEAD friends! These are great for crafting too!
I have a TON linked in my Amazon shop under craft supplies…so be sure to check those out too! All sizes, colors, patterns, etc!
You can also see how I make a buffalo check wood bead garland here!
Hope this was helpful and that you grabbed up some cute wood beads for your crafty projects coming up!
Until next time..
Stacey
*This post DOES contain affiliate links. Please see my full disclosure page for more info.