I don't think I've ever been so excited to do a blog post since this is the FIRST Christmas post from our new home! I've been dreaming of decking these halls from the moment we started the build process!
Come see how to decorate a Christmas tree with ribbon in 5 easy steps! I use this process each year and it always turns out beautiful!
I've truly been waiting for this moment and because I've been so anxious, YES…I put my tree up in October! And guess what?! I'm here for it! If it brings you joy…do it my friend!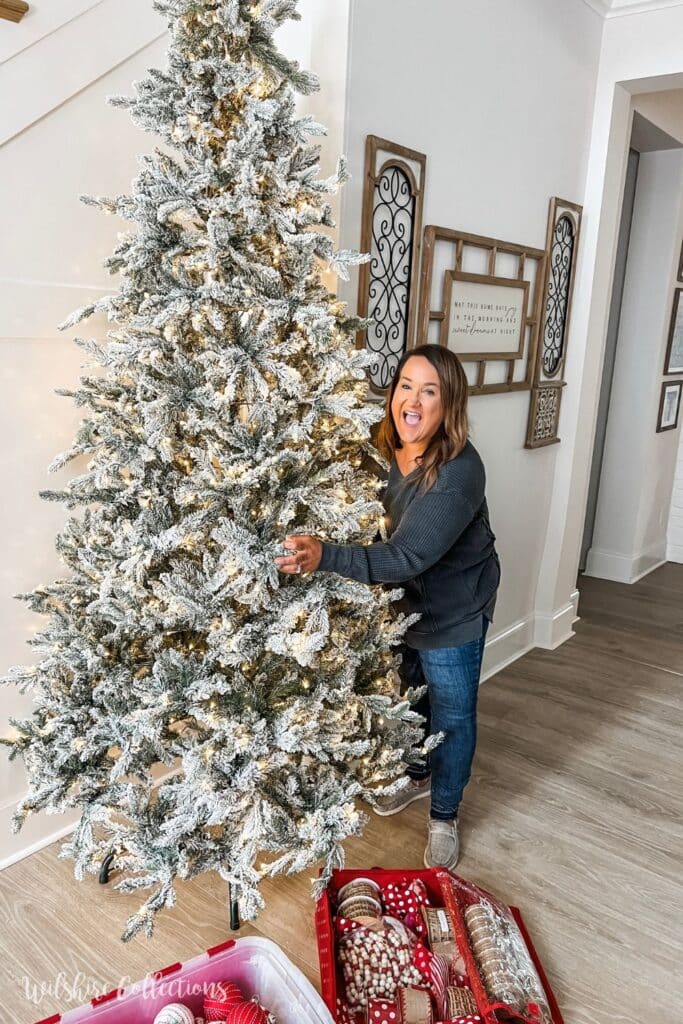 I knew I wanted a tree in this entry way nook from the moment we picked our floorplan, and even had an extra outlet added down here for it.
I used my 9 ft. Queen slim flocked tree from King of Christmas! I LOVE this tree!
I also used all of my same ribbon that I have used for the past couple of years. (It all came from Hobby Lobby years ago) Here's an older post with a ribbon buying guide for you!
Here's a quick rundown of the steps I took- but you can get my full tree tutorial where I take you step by step through exactly how I get this look if you are more of a visual learner!
Fluff tree (my least favorite part, but SO important). I like to fluff as I go, so if your tree comes in sections fluff each one as you put it up.
Add base ribbon. For me, I just used a 4″ waffle ribbon from Hobby Lobby this year, but you can also use 10″ mesh. The key here is to make it look natural and not just straight up and down or around in circles! I work in long and short sections to create this look. (I also added some wood bead garland from Walmart after this step, but that is optional)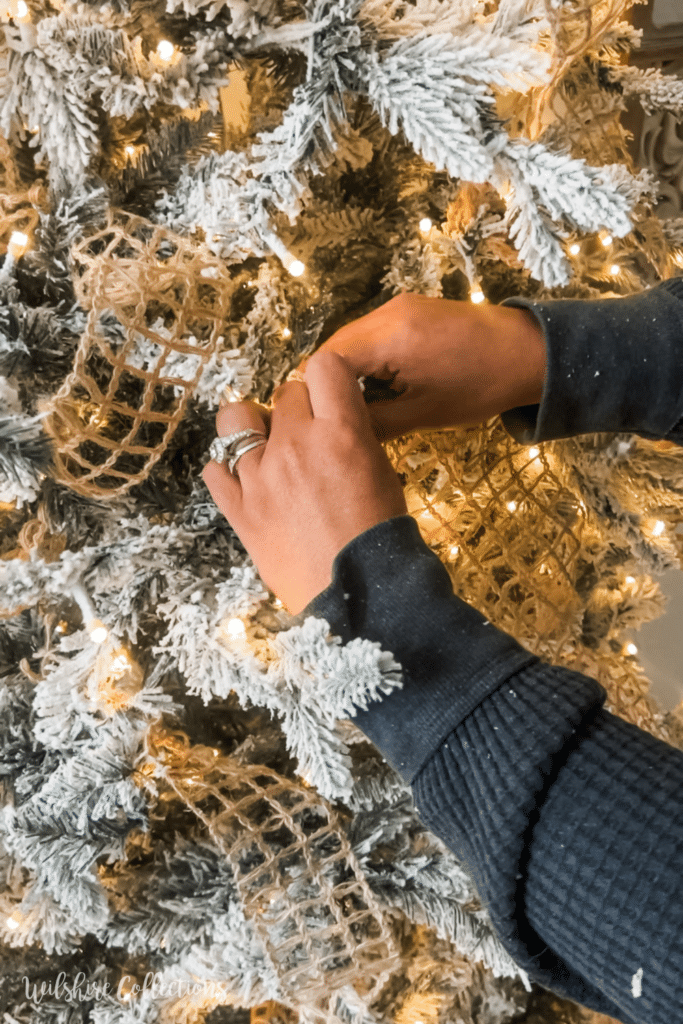 3. Add accent ribbons. For me, I like to pick 4-5 coordinating 2.5″ wired ribbons. I cut them into 26-28″ strips and do groupings of 3 to create my loops. I simply fold in half and attach to the tree using the branches to attach eachone.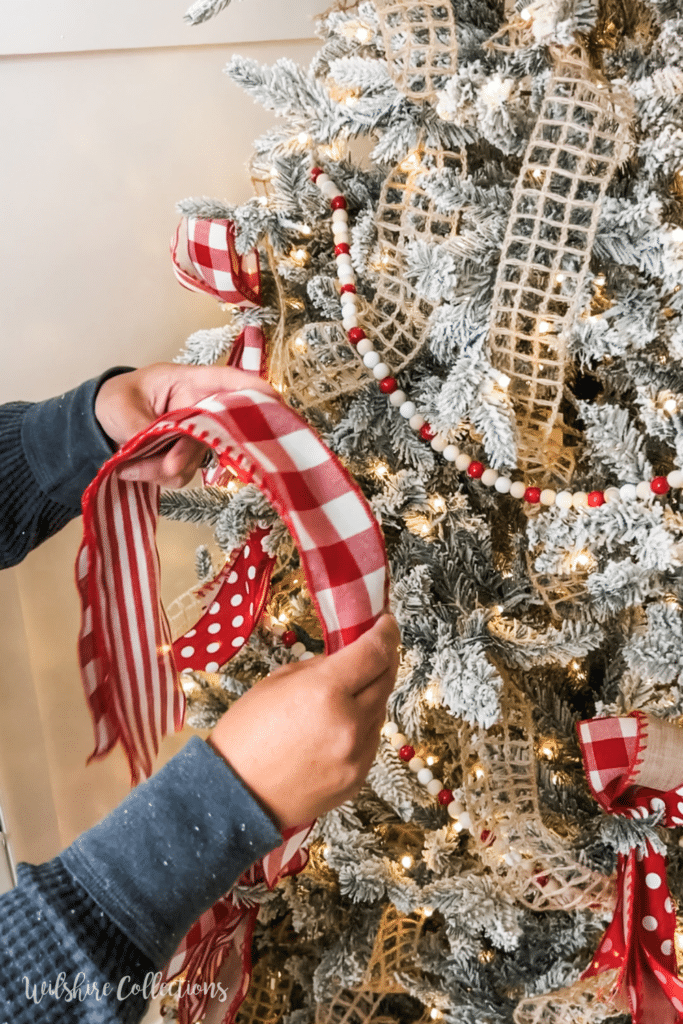 4. Ornaments- Of course filling the tree with ornaments is key! I have collected lots of cute red and white ones over the years and made a ton of DIY ornaments as well!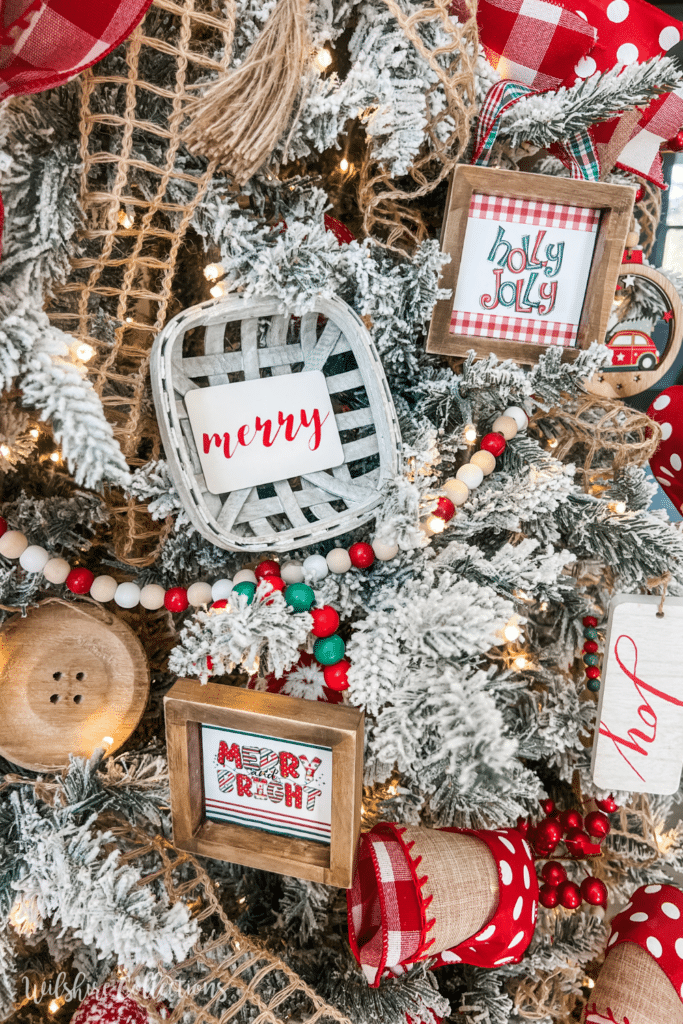 5. Topper and filler- I just used some berry picks from Hobby Lobby for the top, but you can do so many things here! If you want, you can also use extra berry picks in the tree for filler too!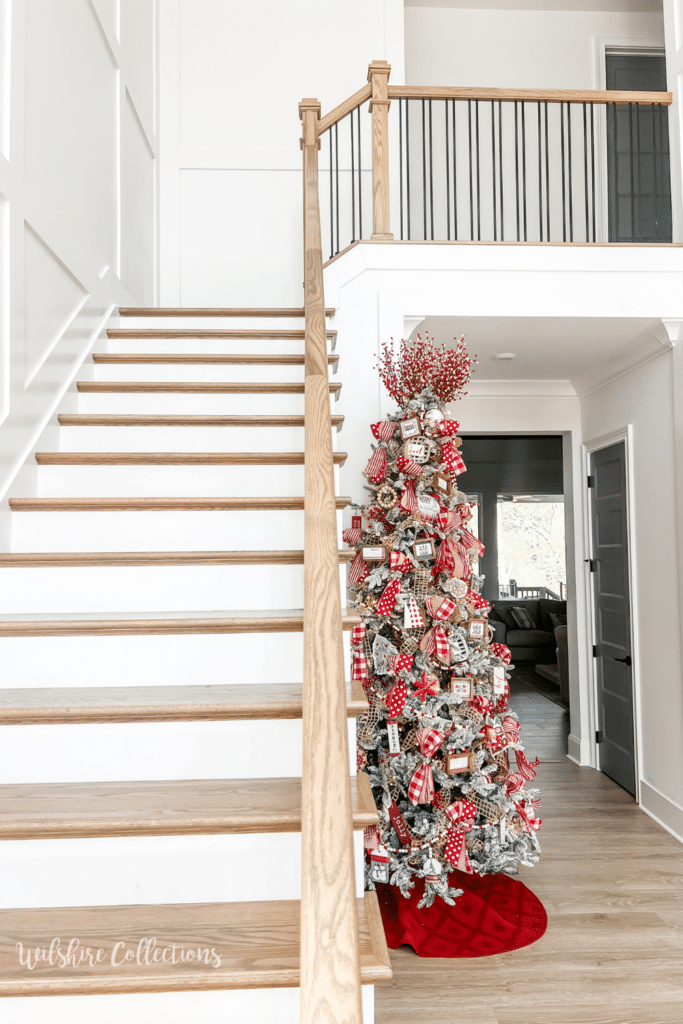 What do you think about this little how to decorate a Christmas tree guide?! I promise it's much easier than it may seem to get a look like this!
And like I mentioned, if you are a visual learner and feel like you need a more step by step guide, I HIGHLY recommend my tree tutorial video. I have taught THOUSANDS of ladies how to decorate their tree like a pro with this exact method and video!
I'm so so happy with how this entry way Christmas tree turned out! It truly gives me all the holly jolly vibes and brings me so much joy!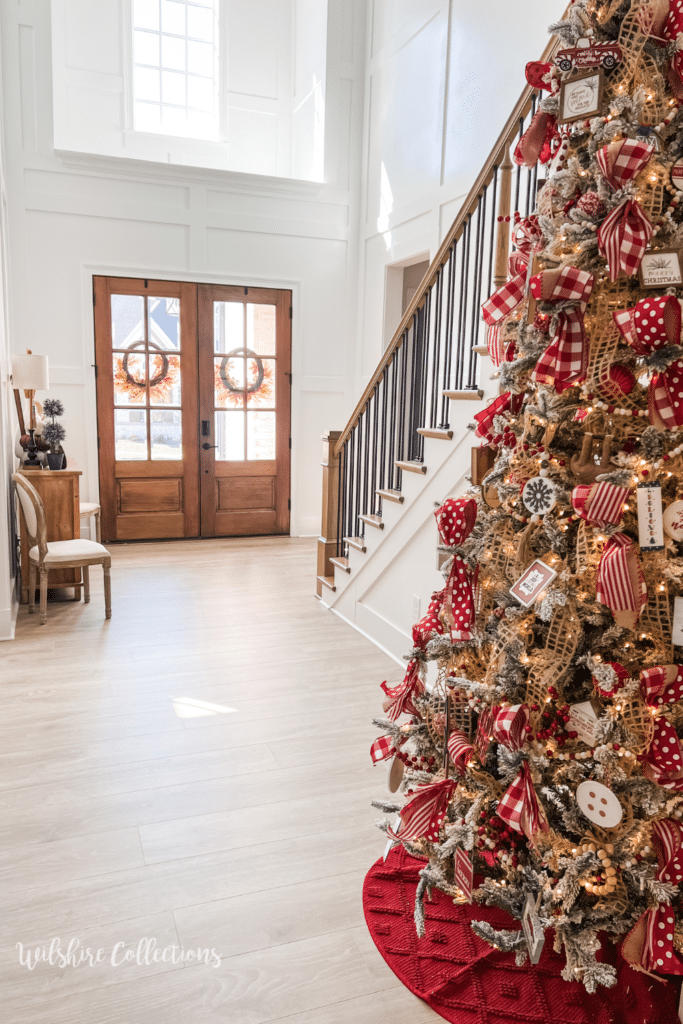 And who cares if I've got pumpkins on the outside and a tree on the inside lol!
Until next time…
Stacey