Last year I probably got asked HUNDREDS of time how I hung my garland on my mantel at Christmas. So, this year I figured…why not turn it into a blog post?!  So, let's get to it!
I will show you how to hang garland on your mantel this Christmas and some easy tips to spruce it up and make it even more beautiful!
First off, let me tell you that the garland I am using is SO inexpensive….but I truly love it for the price! I feel like this is one of those things you can either really go cheaper on or you can spend a ton. So, just pick something that works with your budget.
CLICK HERE TO GET THE FLOCKED GARLAND FROM WALMART THAT I USED LAST YEAR
AND AGAIN THIS YEAR!
Here is the big key on how to hang garland and get it to not fall and slip from your mantel. NAILS! (Insert gasps here!) I know that might sound scary, but if you have a wood mantel just putting a few little nails up top really does help and at the end of the day NO ONE is ever going to see them when it's not Christmas time.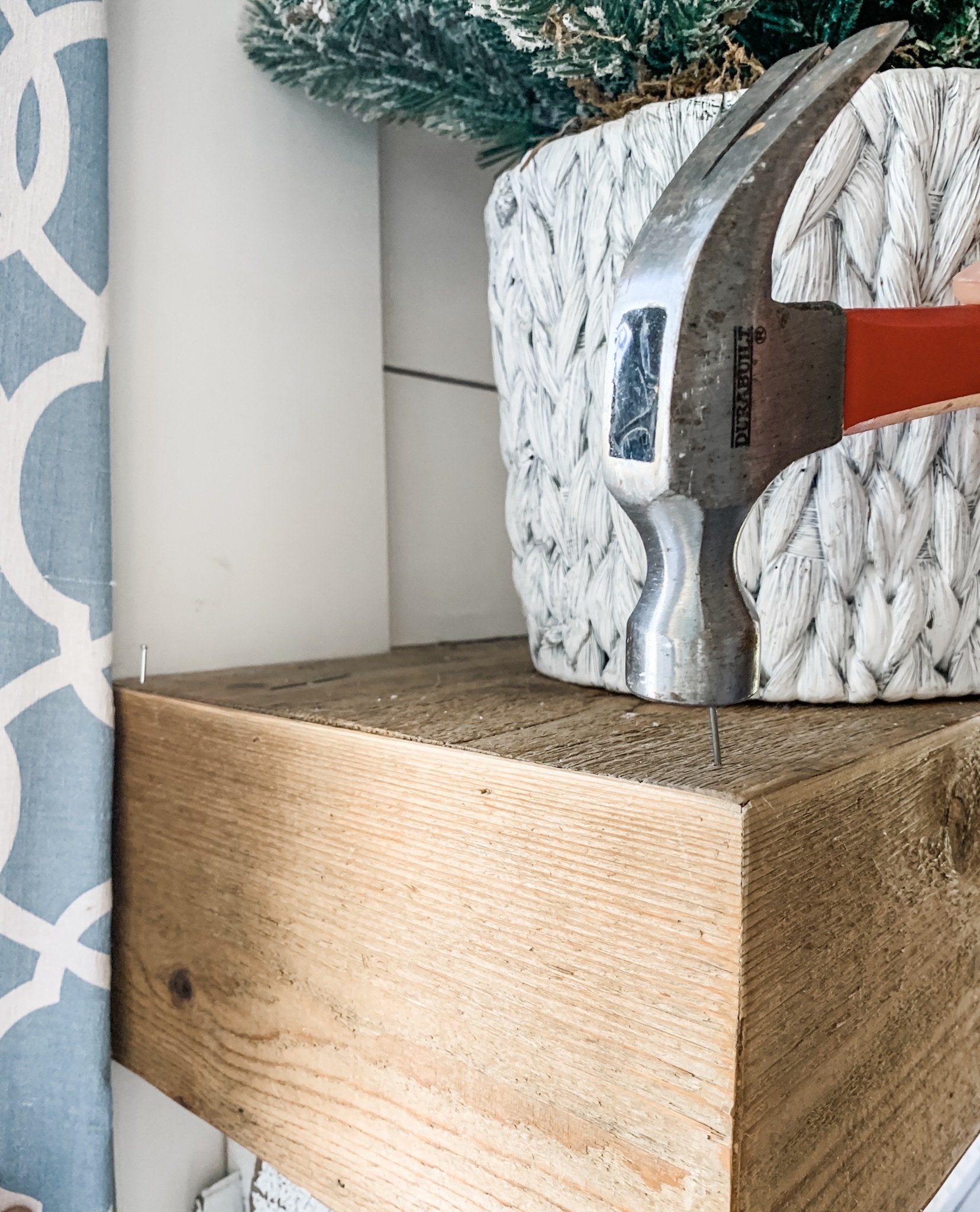 We have done this for years and it has worked great for us! You could try something less permanent like command hooks, but I can't speak to that because I've never tried it.
We put nails going down the mantel every 18-24 inches or so (I don't measure) and then as you are draping your garland you can literally take a little branch of it and wrap it around the nail to secure it in place. It works wonders!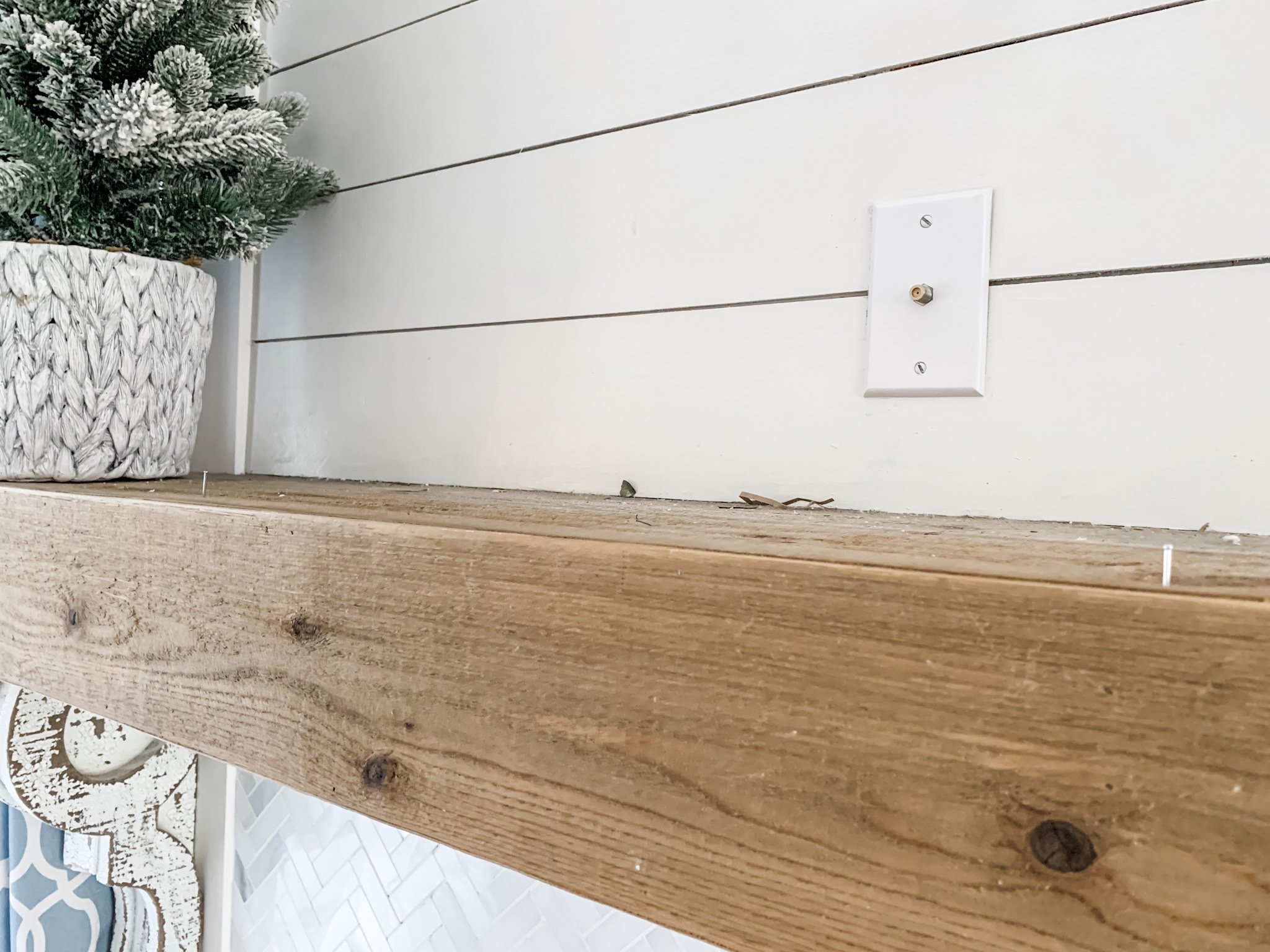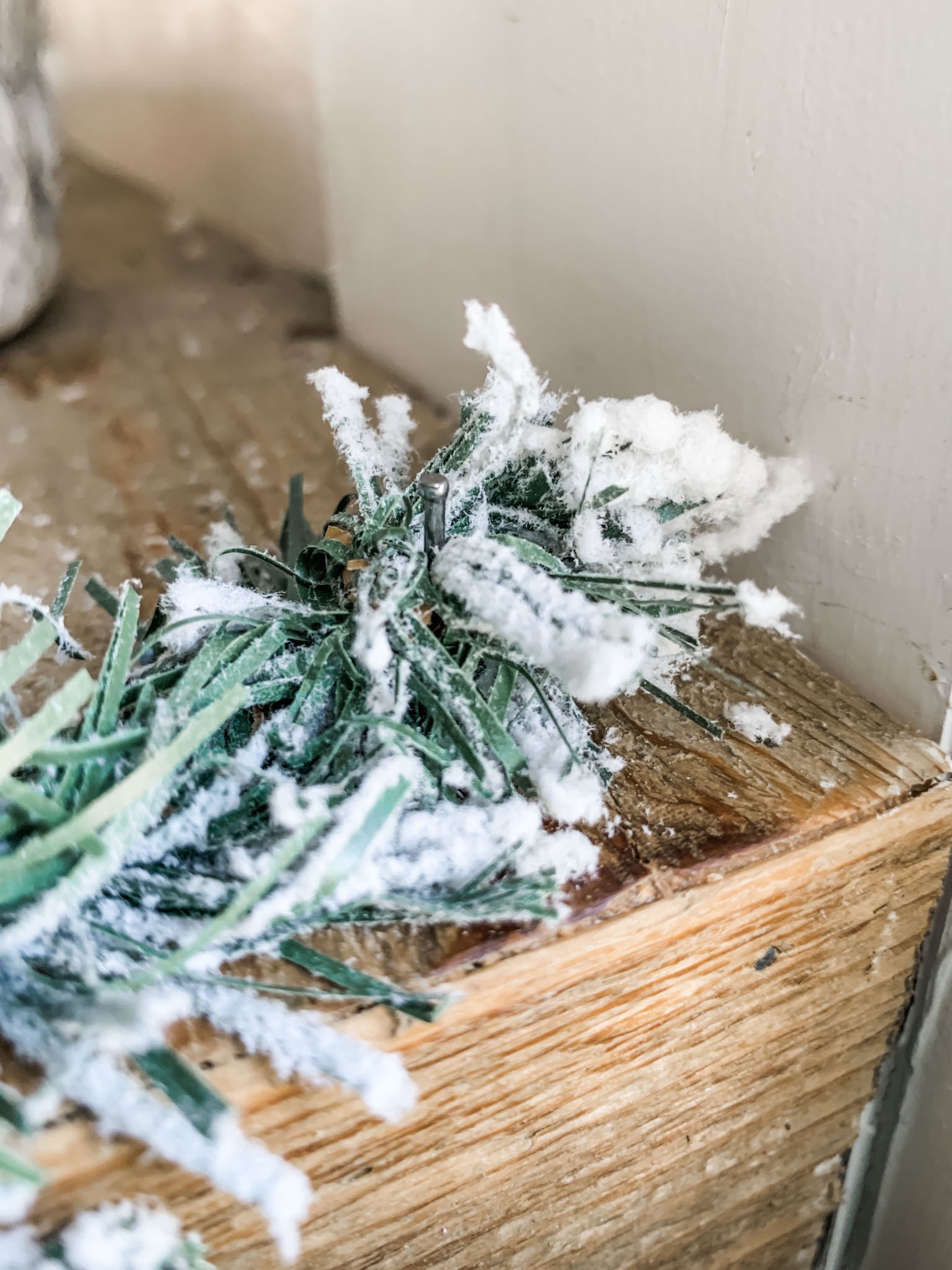 Do that going all the way down, and you've got your garland hung! It does help to have an extra person, so one can wrap the garland and the other can be holding the other end.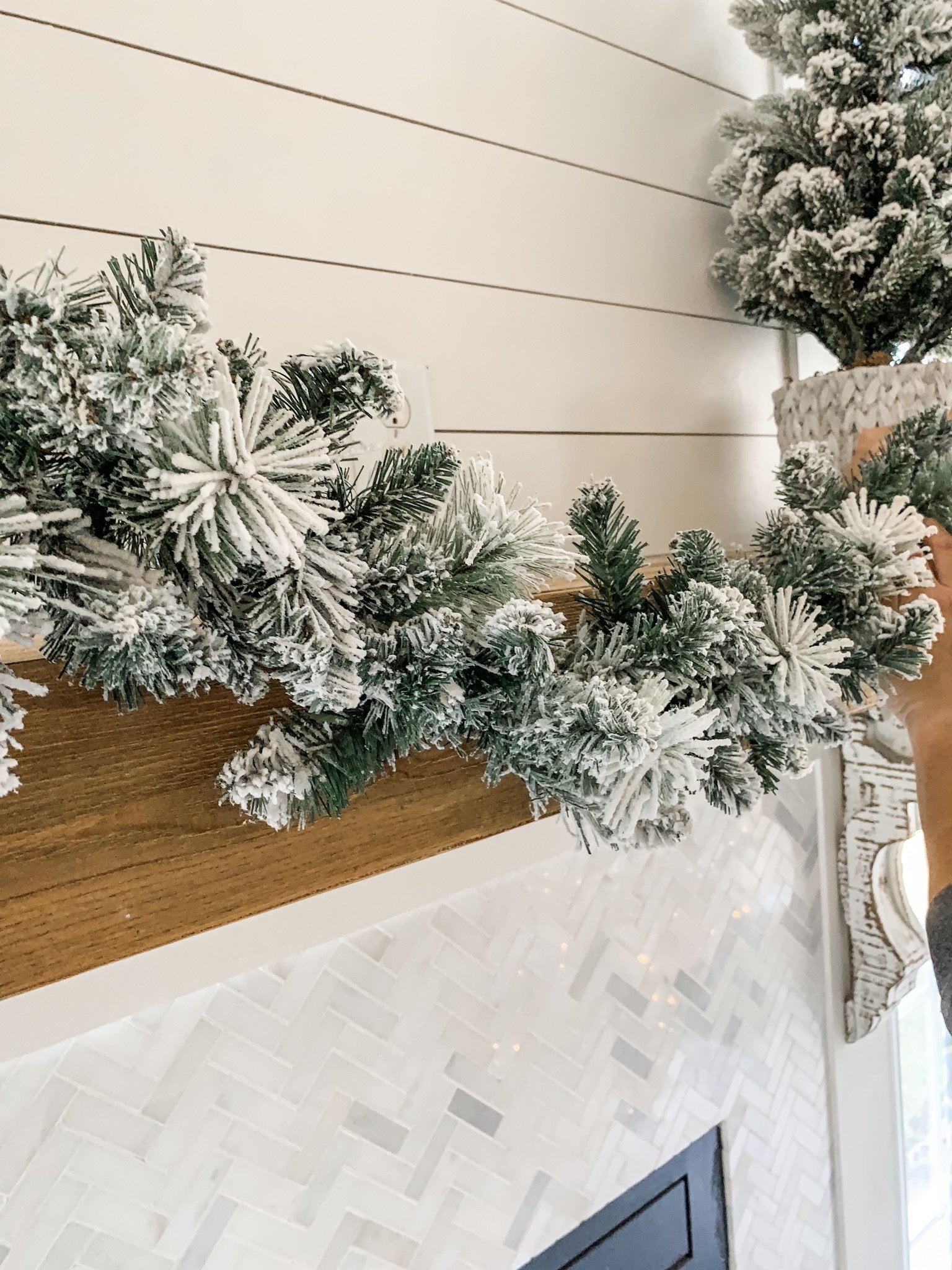 You could honestly stop right here. It just depends on the look you are going for!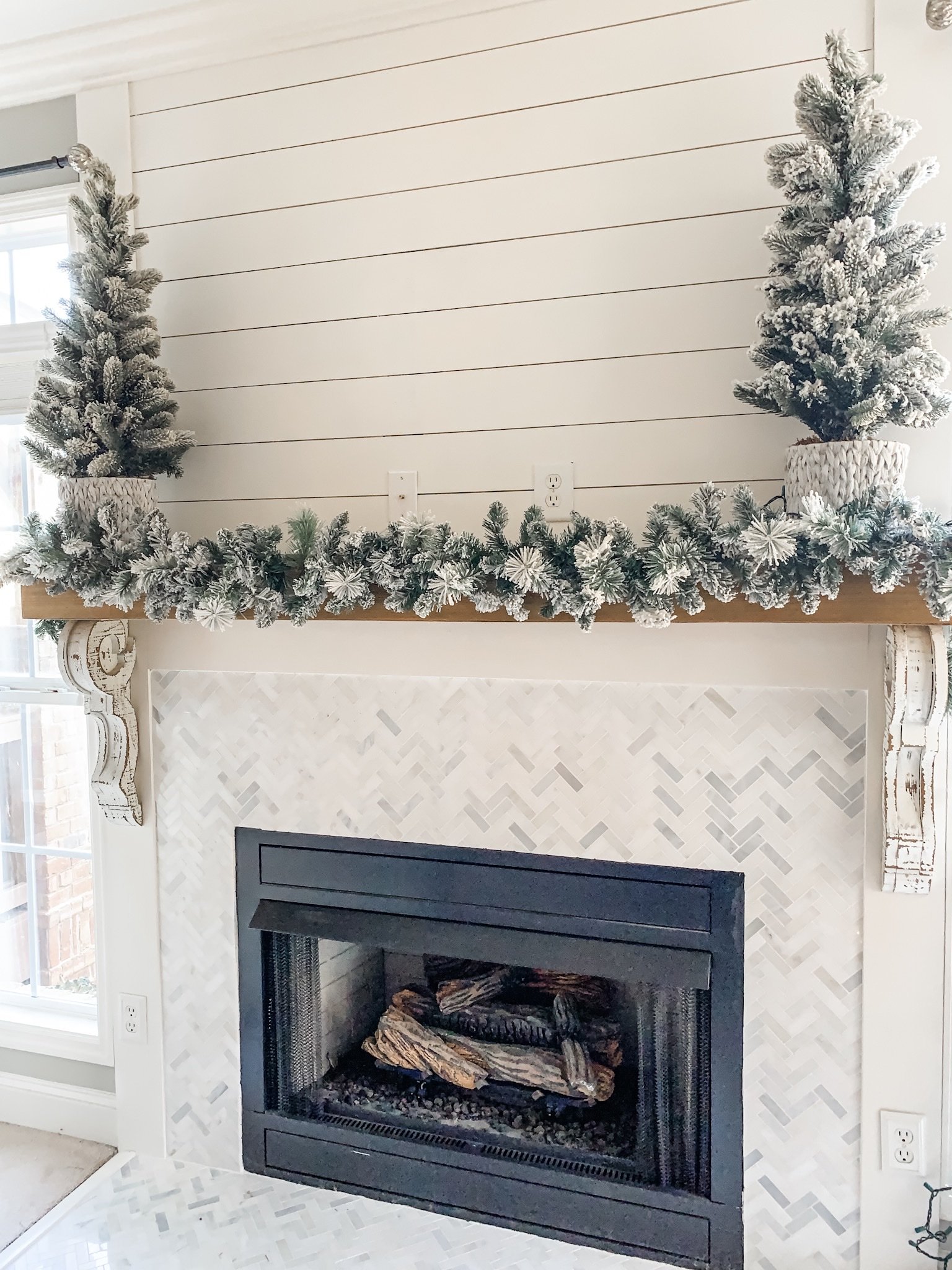 But…here are some tips on what I did this year to spruce mine up! 
Lights! I added a strand of white lights with GREEN wire so that it would blend in to my garland. I literally just kind of shoved them into the garland and just made sure I went in an up and down kind of motion with them and not just straight across. (we have an outlet up top so it makes it super easy)
Bead Garland! This red bead garland came from Kirkland's last year and it gives that perfect pop of red! I just used branches to secure the ends of it to let it hang.
 Berries! This is also a garland that I've had for years, so I don't know where it came from. If you don't have a berry garland you could also use berry picks (or any picks) and just shove them in there throughout the garland. 
It doesn't take much to get your garland looking cute! Of course you could add ribbon, pinecones or so many other things if you wanted to keep going with the fun. But this is the look I prefer this year! 
What do you think!? Does this make you want to see the rest of my Christmas living room this year? COMING SOON!! I can't wait to show you what I've got up my sleeve!
Until next time…
~ Stacey
Be sure and check out my plaid and polka dot tree here! 
AND GET MY TREE TUTORIAL HERE WHERE I TEACH YOU HOW TO DECORATE YOUR TREE LIKE A PRO!