I know y'all have been so anxious to see some of the furnishings at the new house, so I'm excited to write this and show y'all the first space!
Come see our living room furniture in our new home! I'll show ya what we picked for the space and how we arranged it!
I am sure you know by now, but we closed on our new home! Woo hoo! Be sure to check out the new home build blog post here for a ton of pics of different spaces.
Let me start by saying, I have NOT decorated. Other than a few pillows, a lamp and a vase…it's pretty bare bones right now. But it will be fun to START here and then to see how I end up decorating it.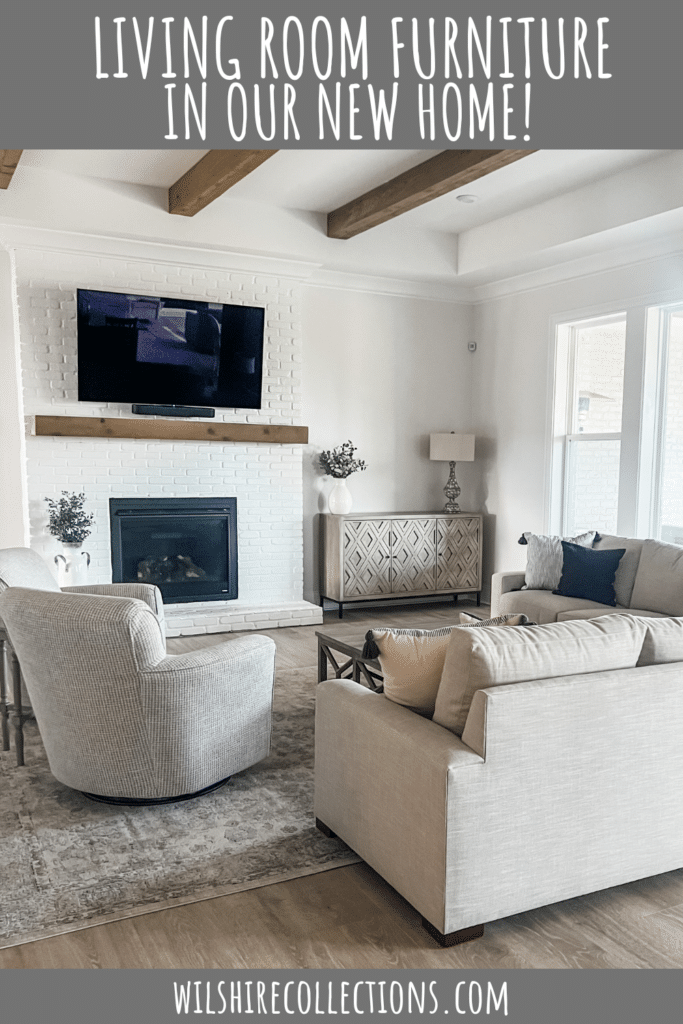 It's so funny how you buy furniture for your home that works perfect for the space, but then when you move not everything works in the same rooms. That's exactly what happened to us with this room and we knew as soon as we started the build process that we would need some new furniture for the living room.
We searched HIGH AND LOW and sat on more couches and chairs than I can count. The process was fun, but I'm not going to lie…stressful!
See, I have this thing with big purchases where they give me anxiety. I can buy pillows with my eyes closed (and have haha), but it's harder for me to pull the trigger on big purchases.
We worked with a free designer at Haverty's who helped us figure out exactly what size couches would fit in our space, if we would have room for 2 chairs like I wanted, etc. It was super helpful!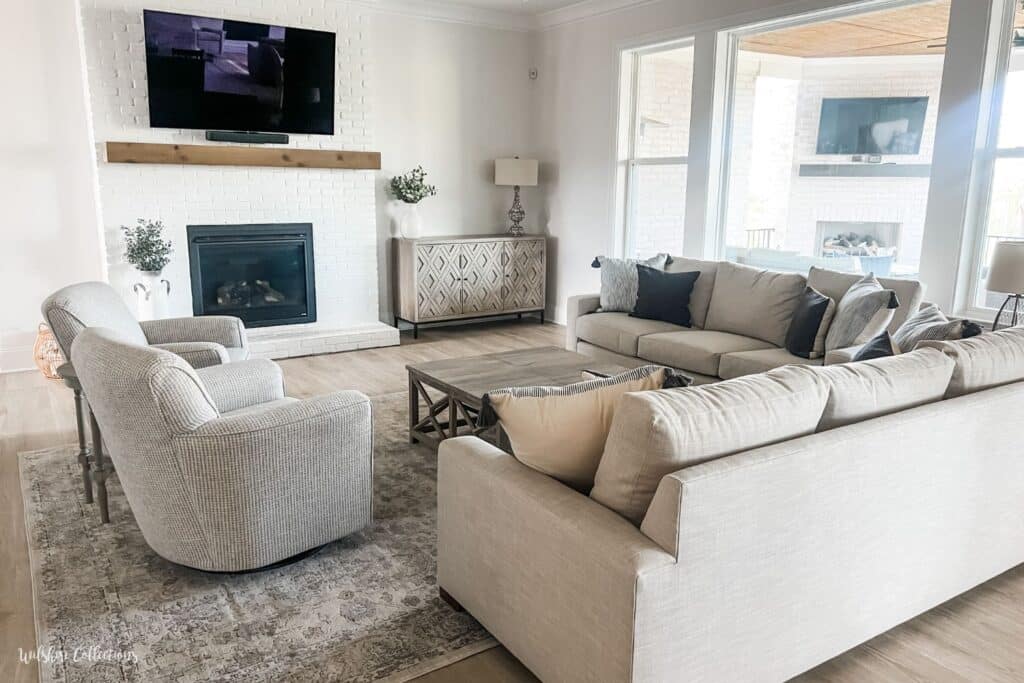 At the end of the day we fell in love with a couch from Haverty's and these cozy swivel gliding chairs, so we went with it!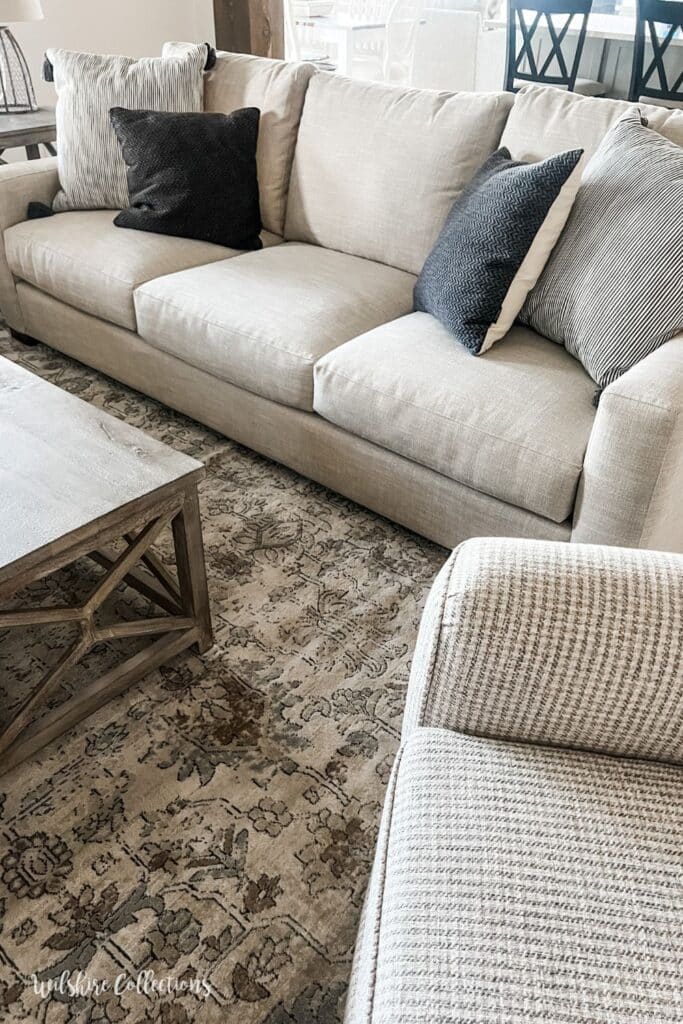 And we are SOOO glad we did! The couches are the Destination 3 seat sofas seen here. They are 8ft long and 41″ deep. We got the color Convert Ivory.
The chairs are called the Sherman Swivel Glider seen here- we picked out a custom fabric for the chairs called graphite, which is a small houndstooth type plaid.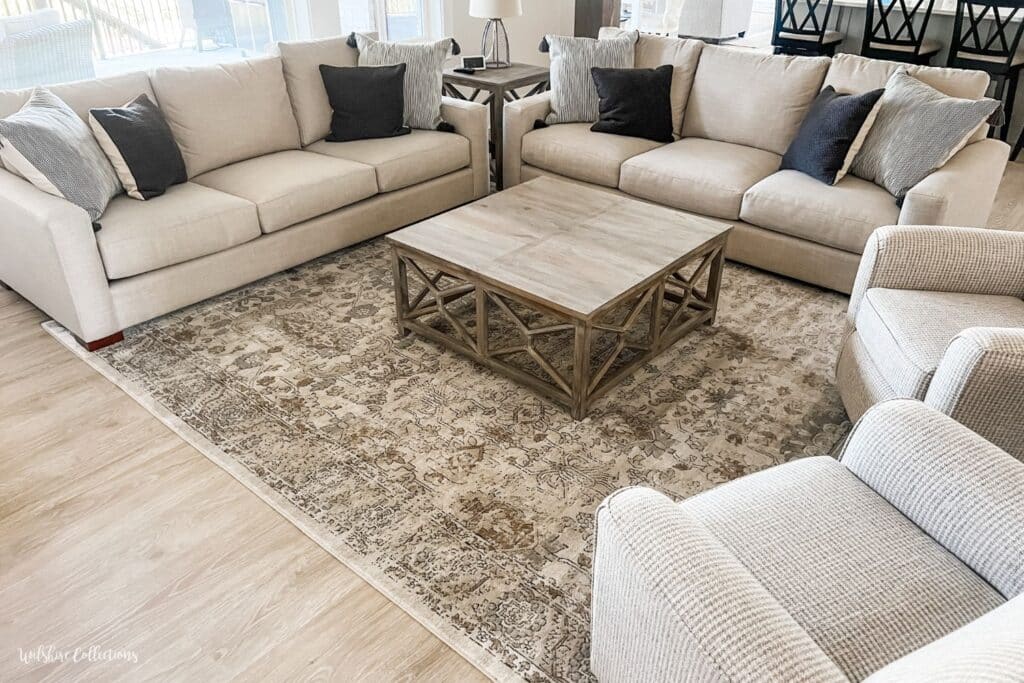 I had been searching for a piece for next to the fireplace (because again, the console from our old house was too big for this space- so we are now using it in our game room). When I saw this piece from a local store in Nashville called Sprintz, I immediately knew it would be perfect. And it is for sure!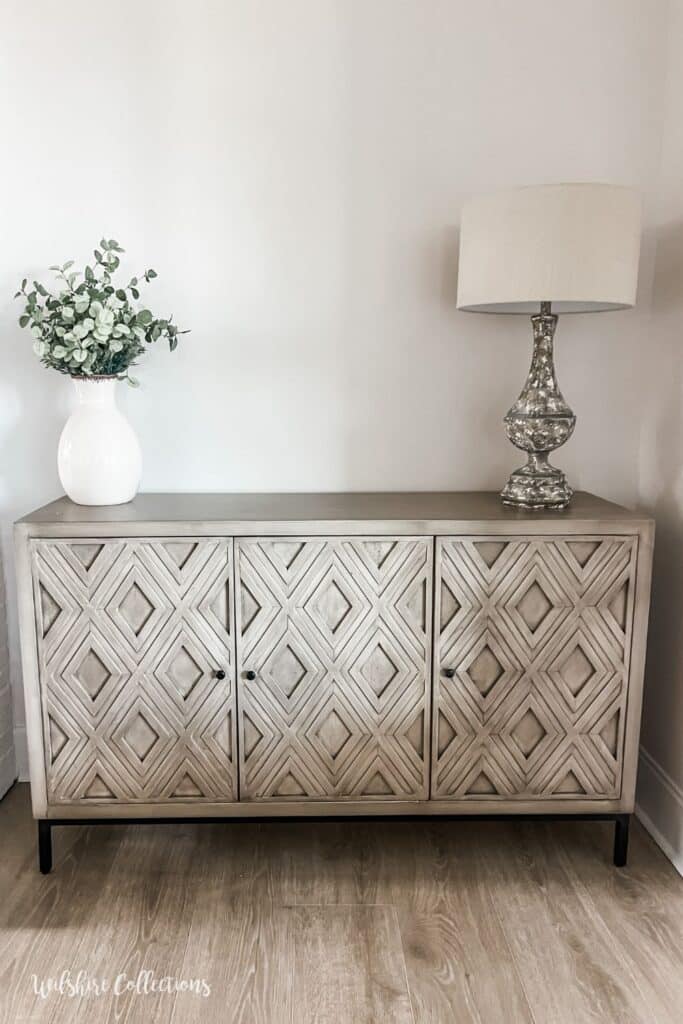 The coffee table and end table came from another local store called Head Springs Depot! I love the color, the shape, the design and just all of it!
The rug from Amazon really tied the whole room together! It still has some wrinkles to work out, but I truly LOVE this rug!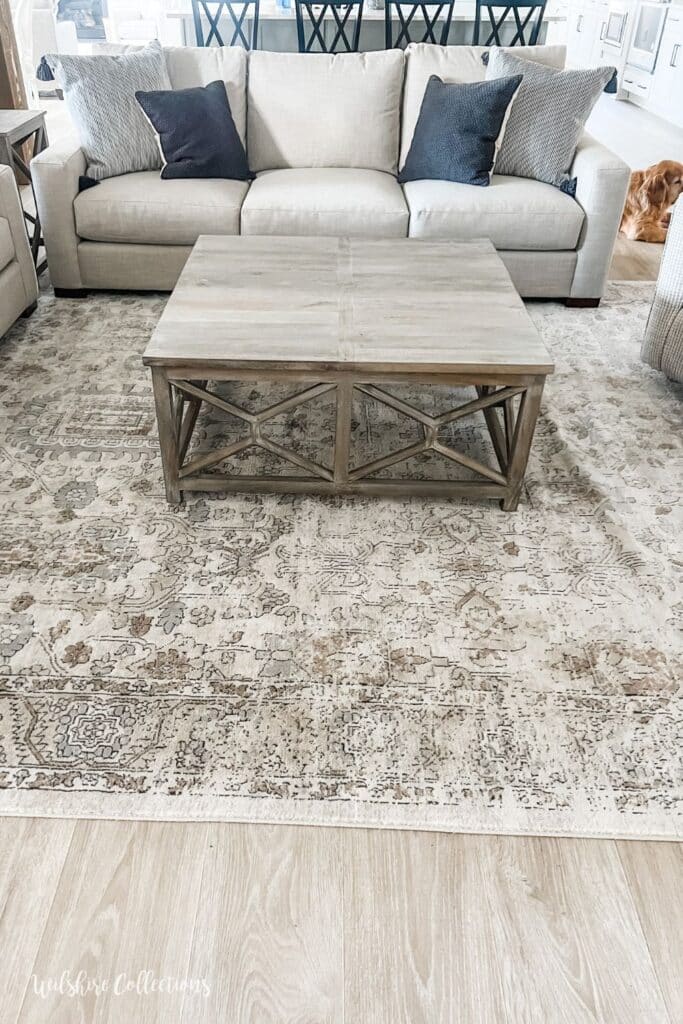 This is another thing I searched high and low for both in person and online. I really wanted something that had gray and tan, and this one fit the bill and it's soft and cozy too!
Note: I like to keep my staple pieces very neutral so that I can add different colors throughout the year through my decor, pillows, etc. So this is going to be a great neutral base!
Trust me, I can't wait to get my hands on decorating those built ins! And…good news! Even with the TV above this mantel, I will still have space on either side for some decor. YAHOO! I'm thinking tall vases with greenery or lanterns maybe to start?!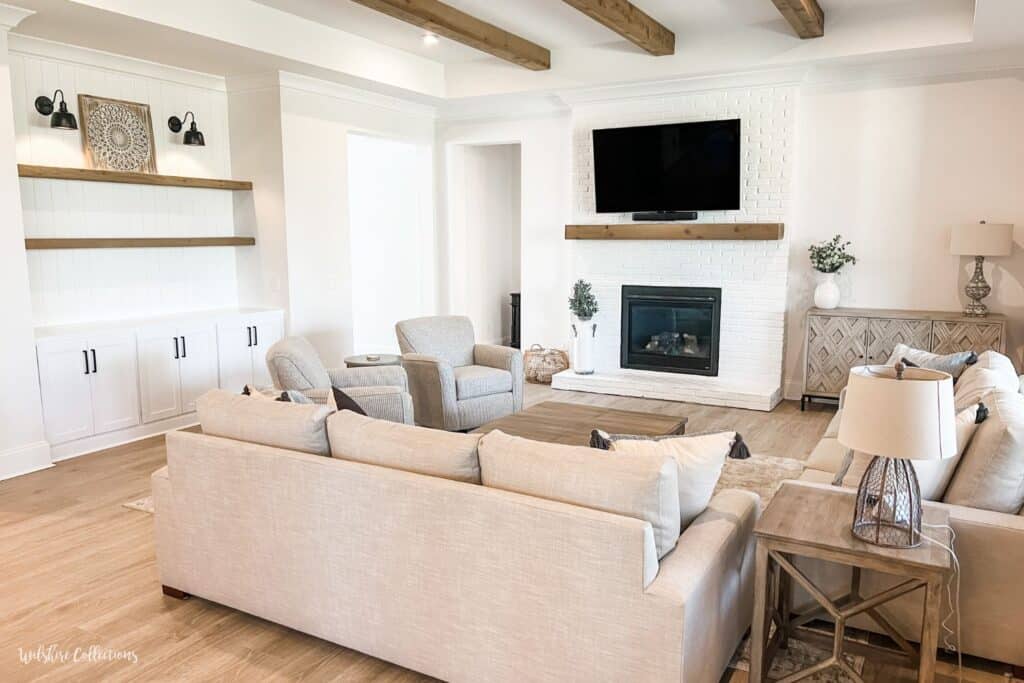 What do y'all think of the new living room furniture and arrangement?! Can ya picture all the pillows for seasons to come and that coffee table and console table decorated all cute like?! I sure can!
We love having all the seating for family and friends and have already put it to good use! Can't wait to share more as I get to decorating!
Until next time..
Stacey
PS. Bailey is adjusting GREAT! She may look a little sad in this pic, but that's just her face. She doesn't like the camera. haha!