It is with much joy and anticipation that I finally get to write and share this blog post with you!
Our new home build is complete and we got the keys to the Drees! Come see how our selections came to life as we made this our home!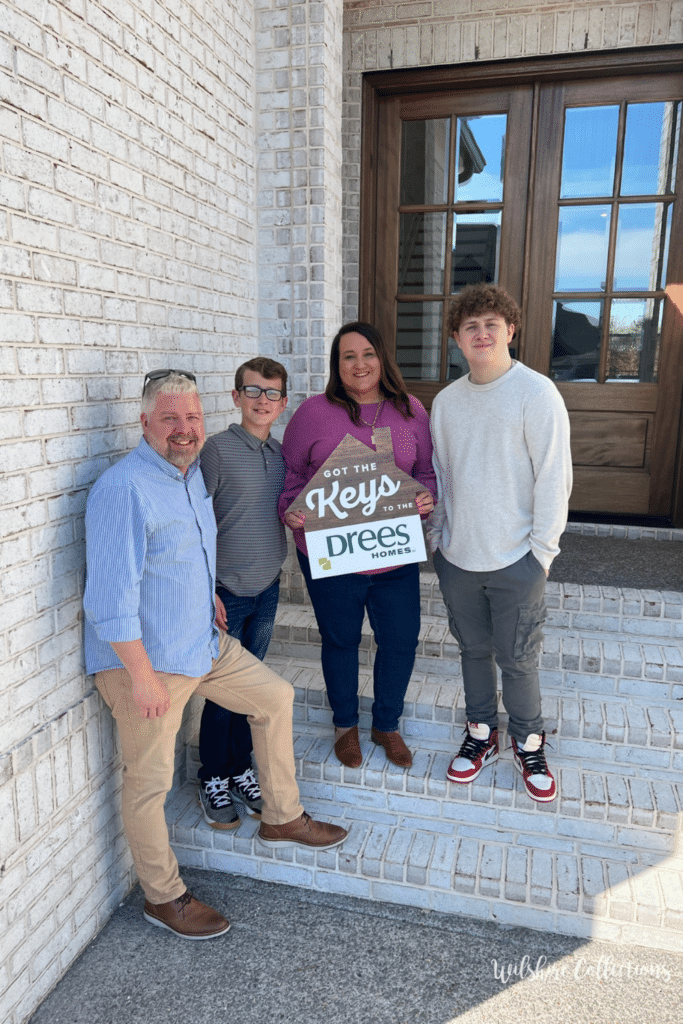 For those that might have missed the beginning of this story, here are a few blog posts to bring you up to speed!
2. Design Center process with Drees!
We started this process 9 months ago with Drees homes and have watched our dirt turn to dream along the way! It truly was such an incredible experience and we both enjoyed it all.
Last week, we got the keys to the Drees and officially closed on our new build home! WE ARE SO THRILLED!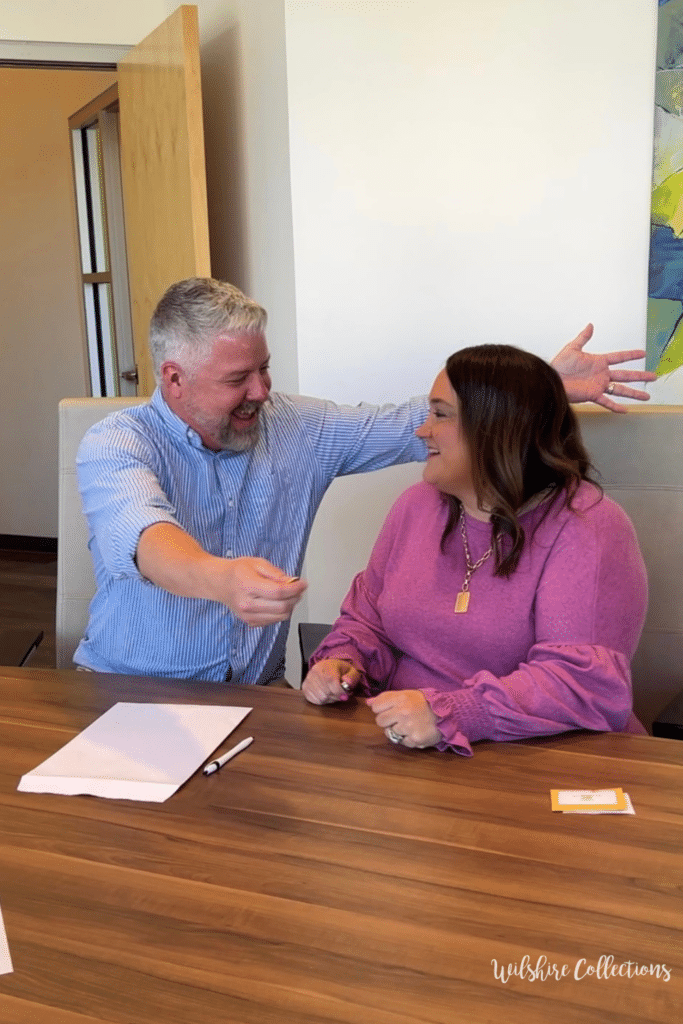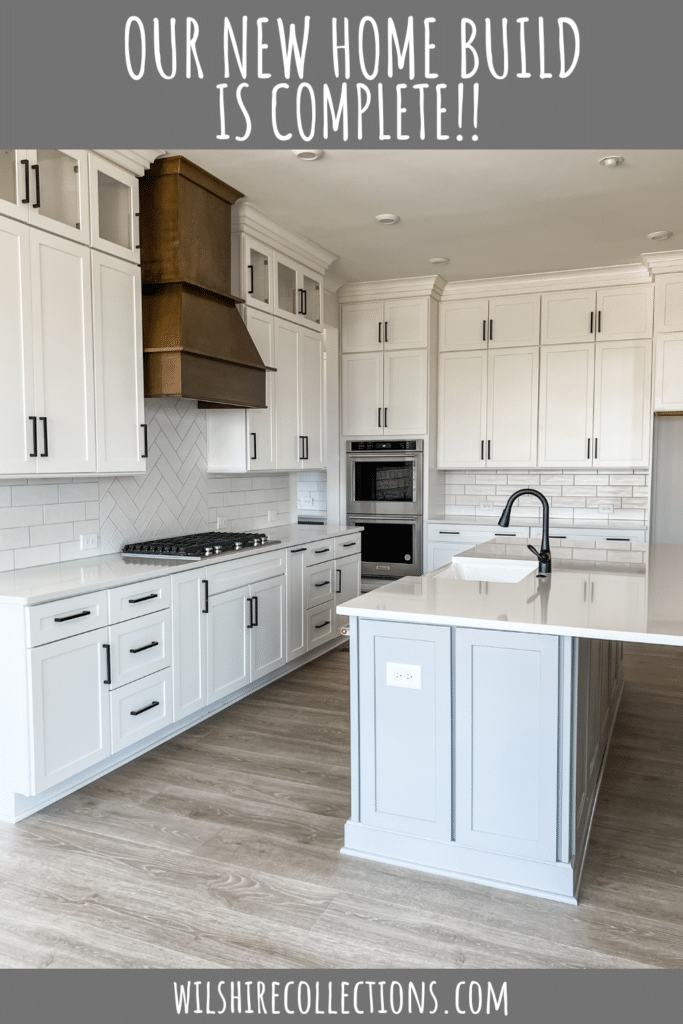 Let's get into the fun stuff and showing you around some different spaces and areas as they looked on closing day! Soon I'll be able to share some DECORATED spaces with you too!
(You'll notice that we don't have some light fixtures installed yet and that there aren't mirrors in the bathrooms. That is because we elected to get some of those on our own, and they will be installed AFTER closing. Sources will be shared in a future blog post!)
Entry:
One thing we did here was add this beautiful trim work detailing. We knew the ceilings were so high here that it would make a HUGE impact, and it sure did!
Wilshire space:
Lots of you have asked about Wilshire space at the new house and it was very important to me to have an area to work and to craft from home when I want/need to.
Behind this little entrance there is an office to the right where my desk will be- and a bedroom to the left, which I can use as a craft space. It was the PERFECT set up.
Dining Room and Butlers pantry:
I love the big spacious dining room and how you can access the butlers pantry right off of it, which will be great for entertaining!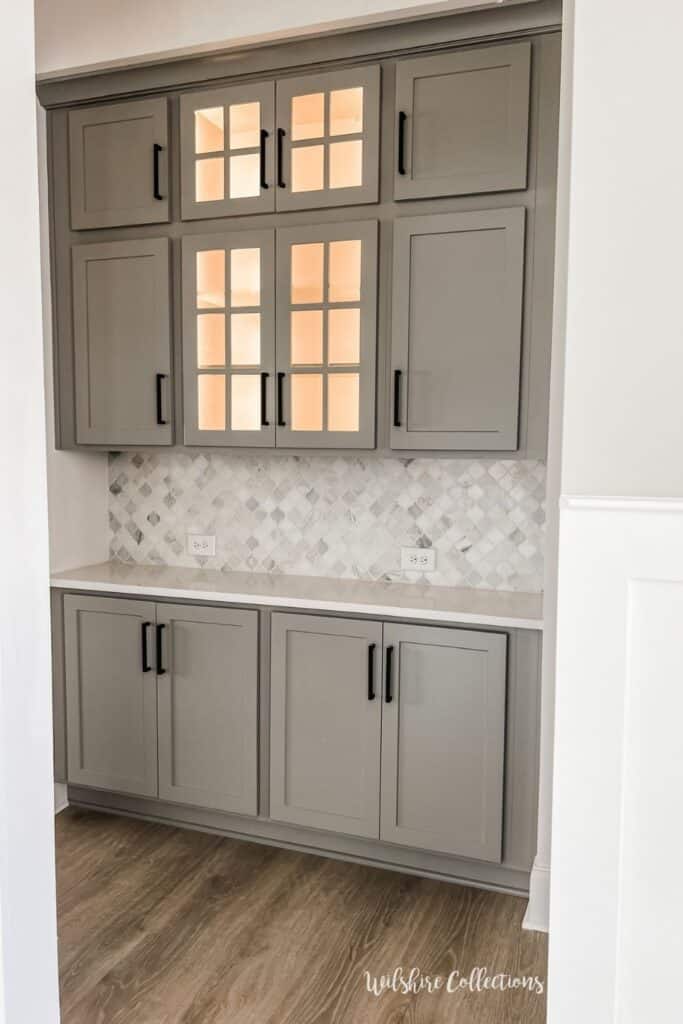 Love the trim detail in here too!
Living room:
There are a few features in this room that we are so excited about! Wood beams being one! Love the instant character and warmth they brought to the room!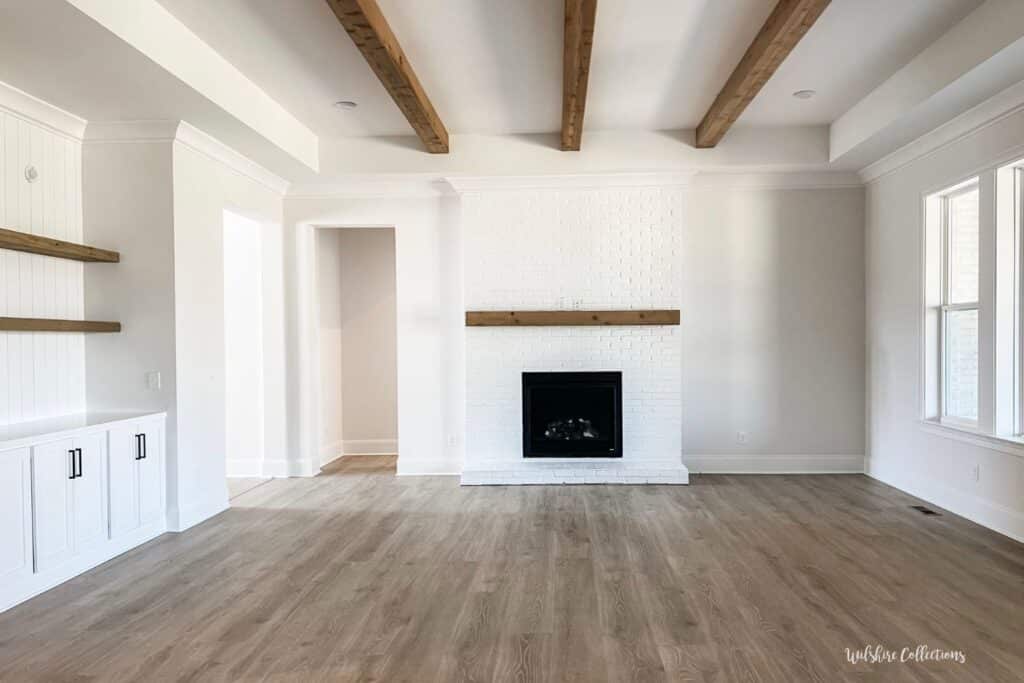 We also love the fireplace, the built in that I designed for that niche space and the big picture windows with the beautiful view.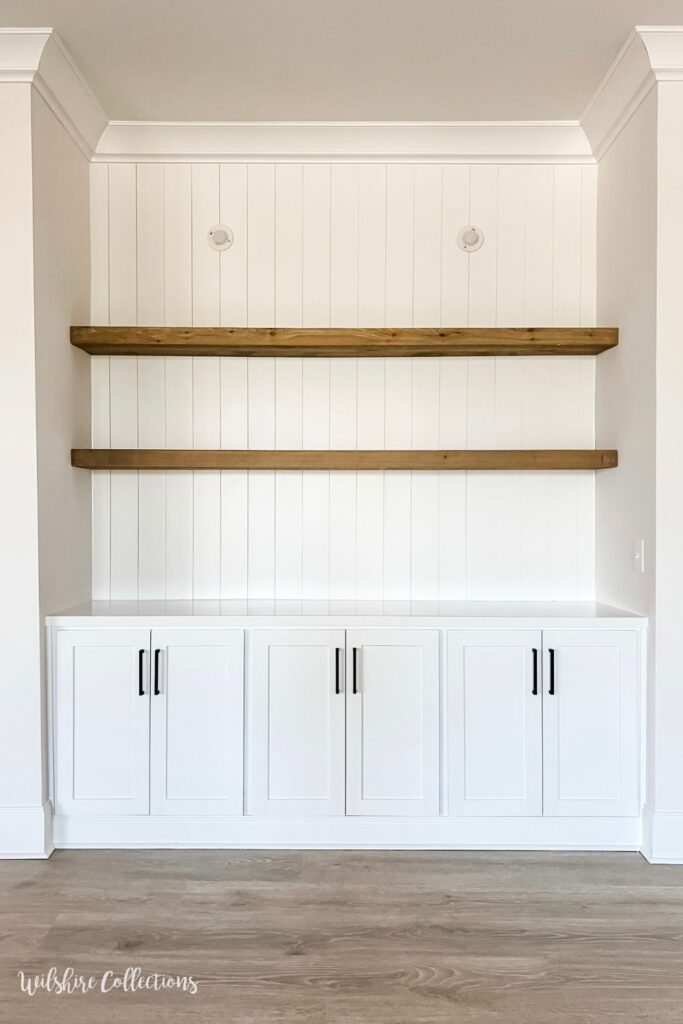 This will be an area we spend a lot of time in for sure!
Kitchen:
You know one of my biggest wishes with a new kitchen was to have a BIG island. I've always wanted one where we could sit and eat together- I call it my "cereal dream" because I've always pictured my boys eating cereal there in the mornings!
When making our selections, I knew from the start I wanted to do a wood hood for some contrast against the white. Let's just say, I'm SO glad I went with my gut on this because it's one of my favorite features in here!
I went with a classic matte subway type tile with a light gray grout. And of course that herringbone pattern behind the stove and hood makes my heart pitter patter!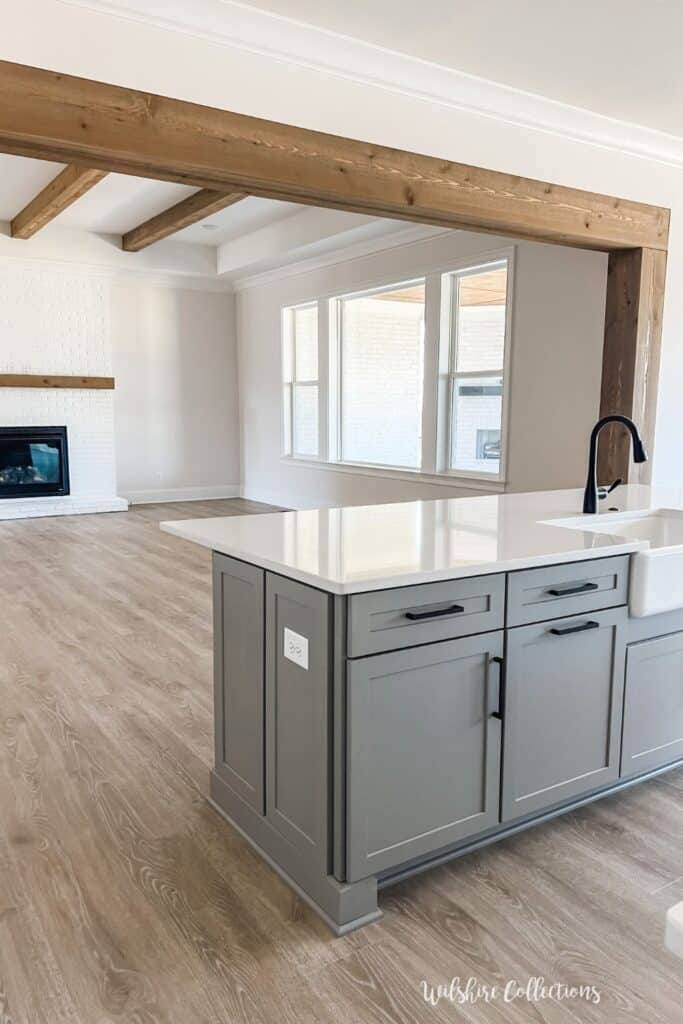 Working pantry:
Just off the kitchen is one of the areas that made us fall in love with Drees and this home! This is an area that is meant for your small appliances, whether it's to store them or put them on the counters.
This will eliminate SO much clutter from our main kitchen…and of course free up space for decor haha!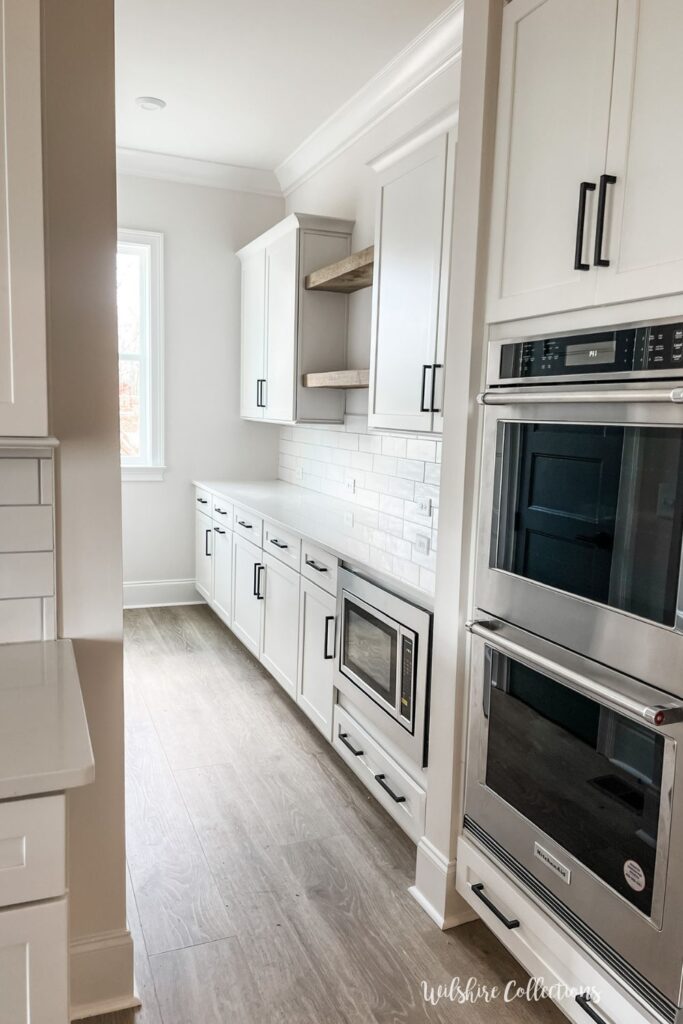 This is where our coffee bar area will be too! On the wall to the left across from those cabinets is our walk in pantry for food storage as well.
Hearth room:
EEEEK….the hearth room! So many people have asked what that is, and here in the south it's like a little sitting area that's usually off your kitchen.
I can already tell you that this is quickly becoming one of my favorite spaces. We will have a sitting area by the fireplace, and our kitchen table will go behind that back by the sliding doors.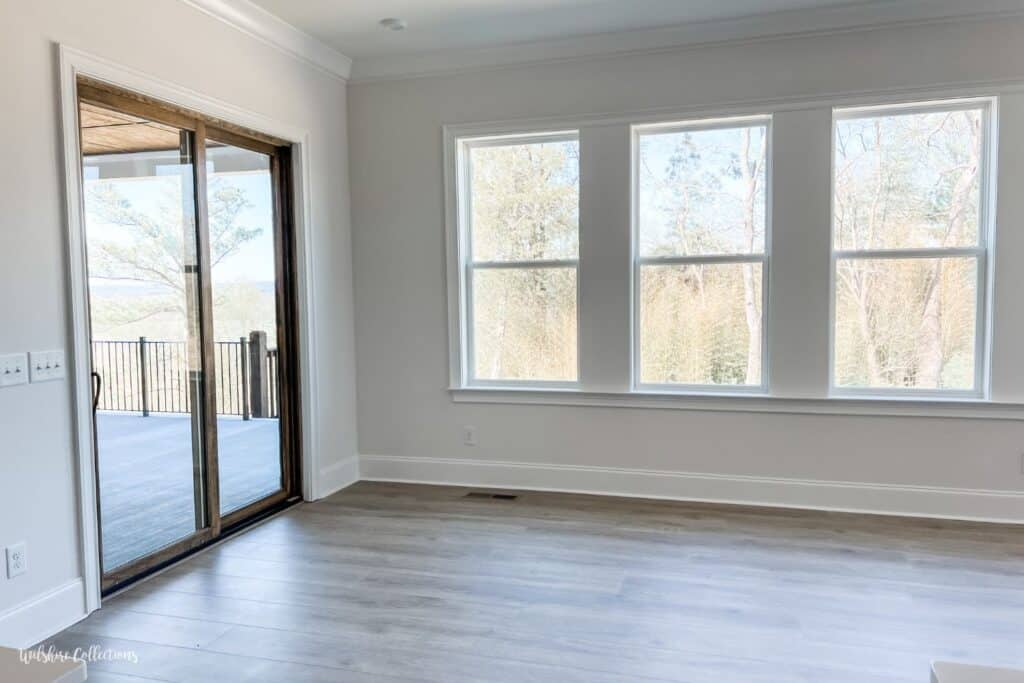 Primary Bedroom and bathroom:
We were very excited to do this fun feature wall in our room on the wall where our bed and nightstands will be. It added so much!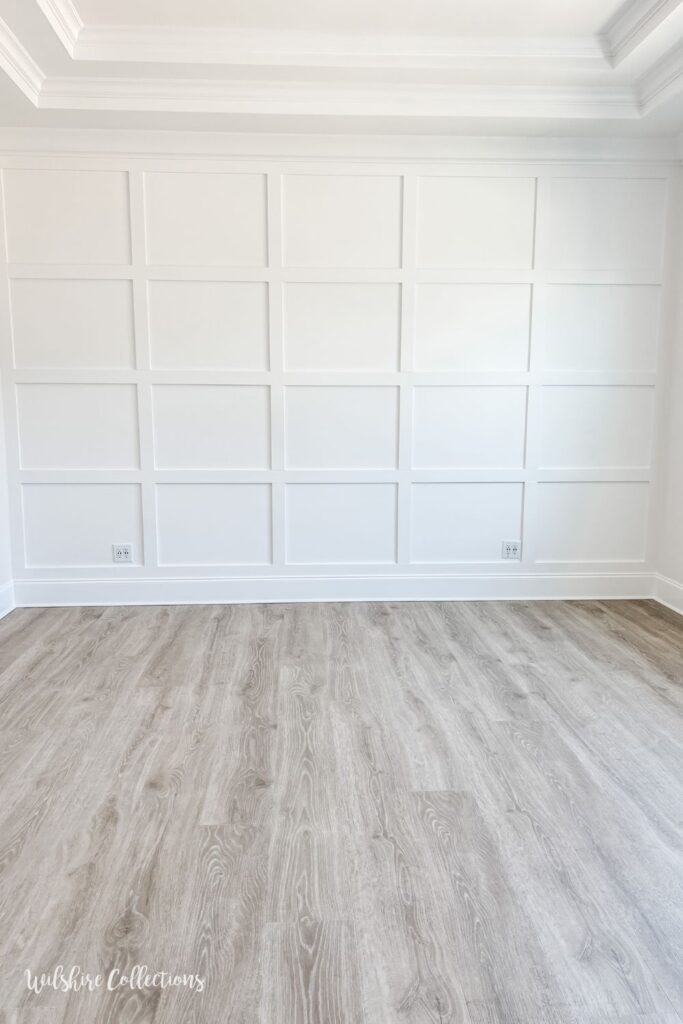 I have to say, this bathroom is a true dream come true! Every selection we picked in here exceeded our expectations and I love how it all flows and goes together.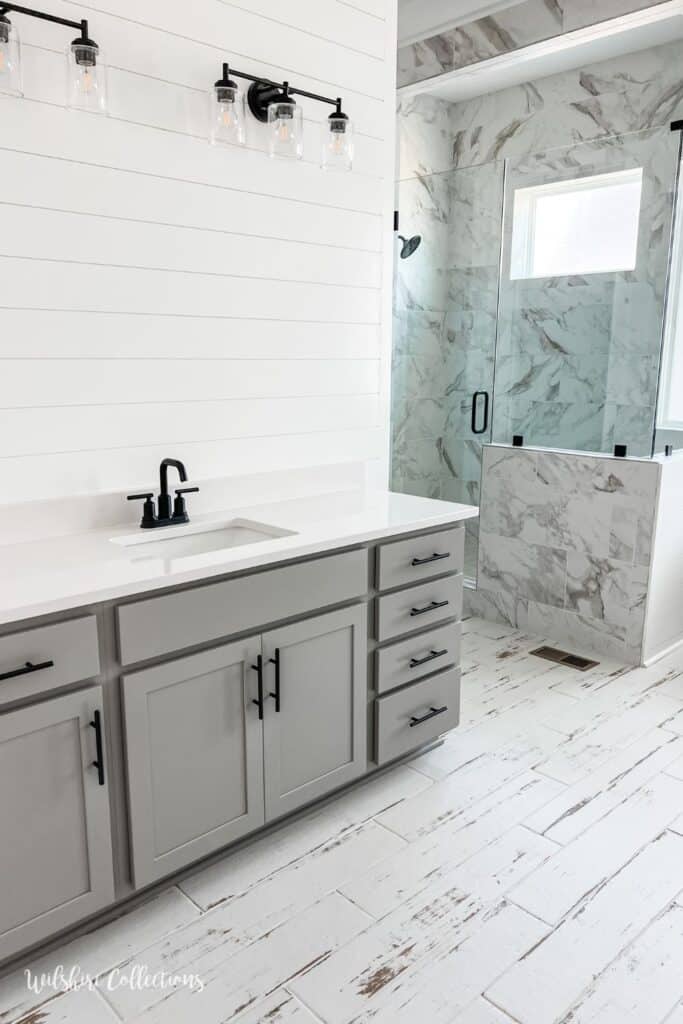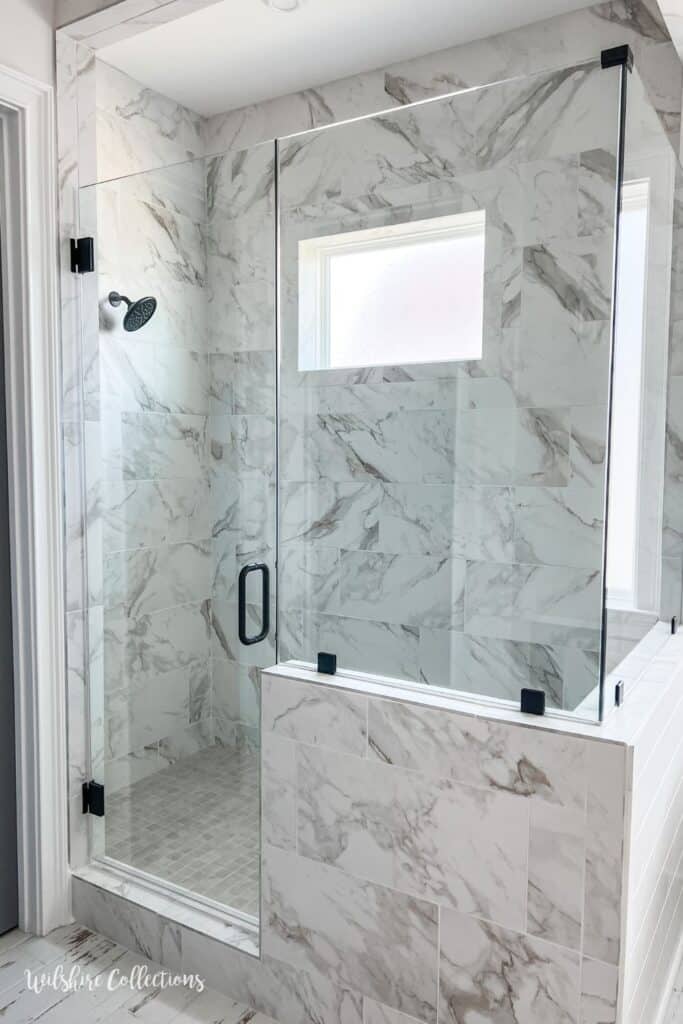 On my side, I knew having a vanity area to do hair and makeup was a must- so we changed up the original design a bit to make that work and I'm so glad we did!
The tub!! Enough said!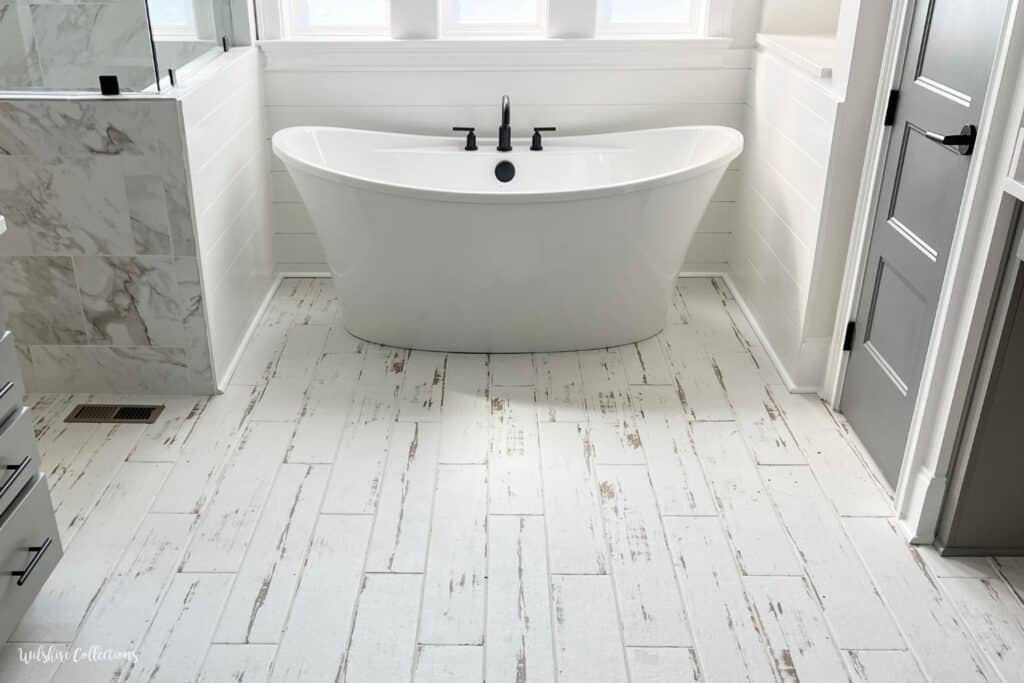 Primary closet:
Another dream come true area for sure, and even more fun to see this one come to life since Anthony and I designed our spaces!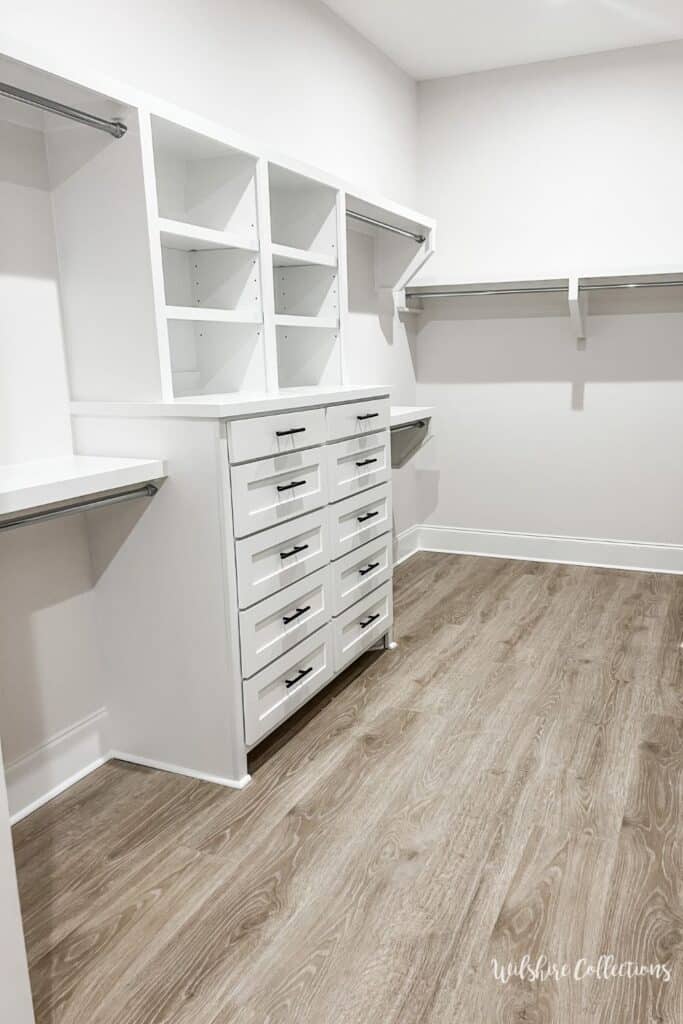 Game room:
Our upstairs gameroom will be the perfect spot for movie nights and hanging out! I wanted to share this "dry bar" area that Anthony designed for the space.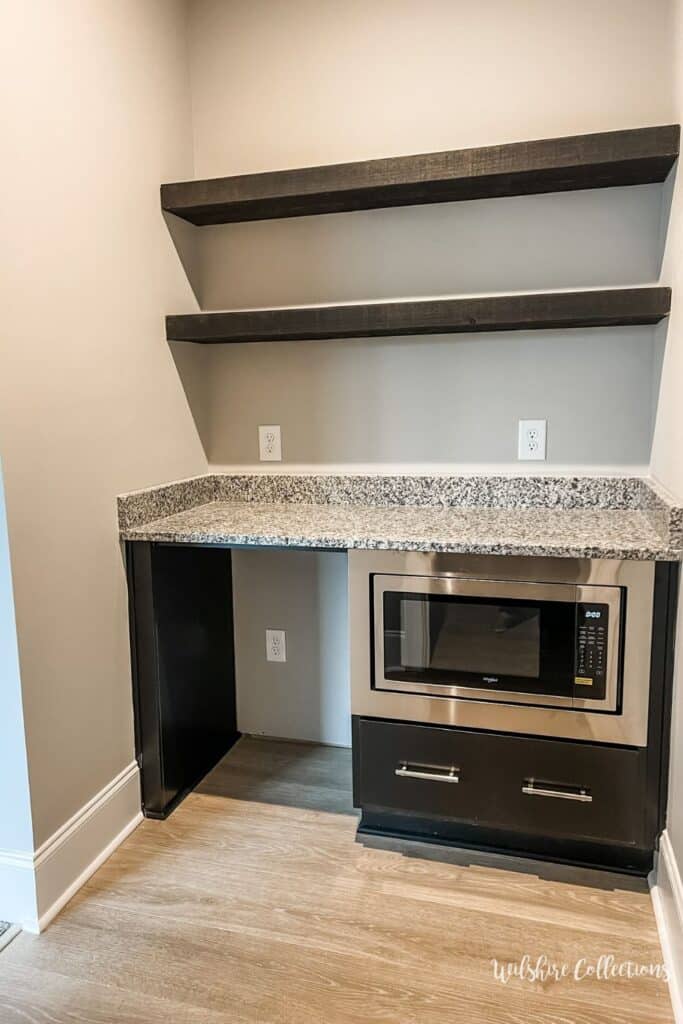 It's right off the game room in a little niche area and will house a small beverage fridge as well as the microwave. Love this!
Family Ready Room: (Aka laundry room + storage + mud bench area)
Who would have thought the laundry room would turn out to be one of my favorite spaces, but it sure did! From the floors to the cabinet color to the brass hardware…I simply love it all!
Porch:
Let's take a quick peek outside! This back porch has gorgeous views, an outdoor fireplace and will no doubt become an oasis for us!
Front:
For privacy and safety reasons, I am choosing not to share the entire front of our house at this time and I appreciate your understanding of that!
However, I do want to show you the brick and the shutters and garage doors because I just LOVE how it all turned out.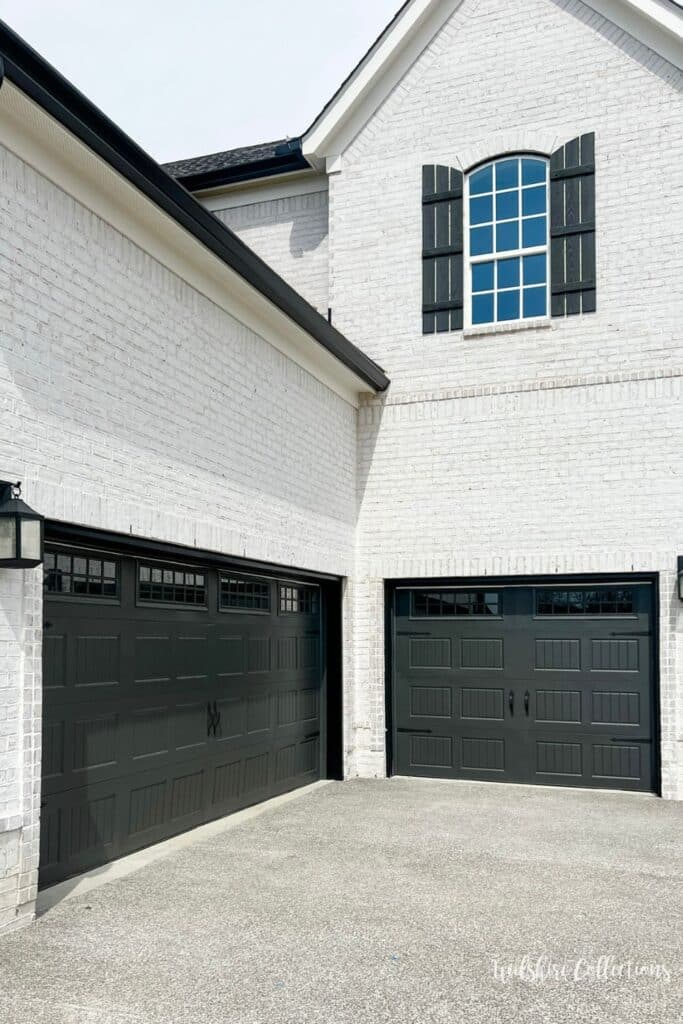 The brick is called Alpine by general shale and the shutters and garage doors are painted in a color called ironstone.
And because I know people will ask, the wood flooring is Revwood Plus by Mohawk- It is their luxury laminate line in the color soft chamois oak! We LOVE it!
Main interior paint colors are PPG- Silver feather (walls), Delicate white (trim) and Dover Gray (doors)
All other sources coming SOON!
I hope you enjoyed this little "tour" of some of our new home build! What is your favorite space or area?!
I want to thank you from the bottom of my heart for the love, support and excitement you have shown my family and I over the past 9 months of building! I will never forget it and it made it EXTRA fun for me to have all of you by my side for this journey!
So, from my entire family….THANK YOU!!!
This is a true dream come true for us that we have prayed about, saved for and talked about for YEARS! We are truly grateful for God's blessings and don't take any of this for granted!
Last but not least, we can't say enough good things about Drees Homes! They truly went above and beyond in so many ways and made the process enjoyable!
A special thanks to our builder Jake! He went above and beyond on several occasions and always made things right when things did come up!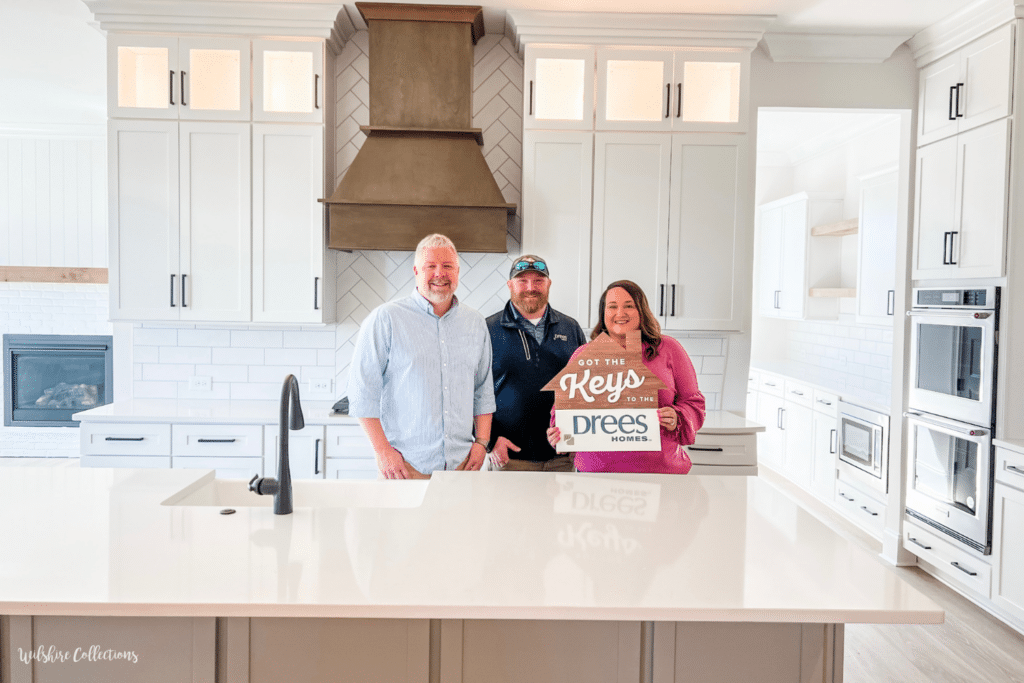 Were there some stressful times and moments? ABSOLUTELY! I believe you would have that with any build. But, overall it was just truly a positive and great experience. We will forever be grateful to Drees Homes for helping us turn this dirt into a dream!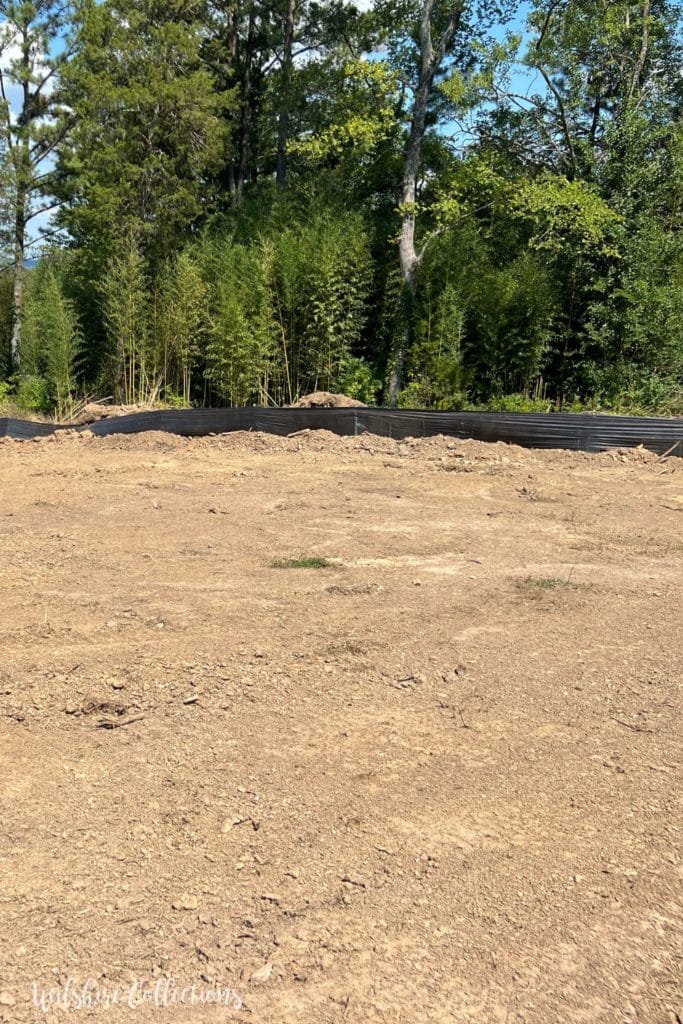 I hope that along the way you found an idea or got inspired by something for your own home. It is very vulnerable for me to share so much, but it's also part of my job and I love doing so. If I've inspired or helped even just one of you, then I'm doing my job!
Until next time…
Stacey
PS. Soon I will do a more detailed blog post that has more sources linked, but I am going to need a little time to get that all together! Please be patient with me, but I promise I will share as much as I can soon!