I truly feel like your master bedroom should be a place of "retreat" and somewhere you want to escape to at the end of the day! (Or the middle of the day for a nap every now and then haha). I've always loved ours, but was ready to change a few things!
In my master bedroom bedding refresh I only changed a handful of things, but the results and impact are huge!
I'll start by saying there was nothing WRONG with my current bedding. I actually love it a ton! Here's the BEFORE!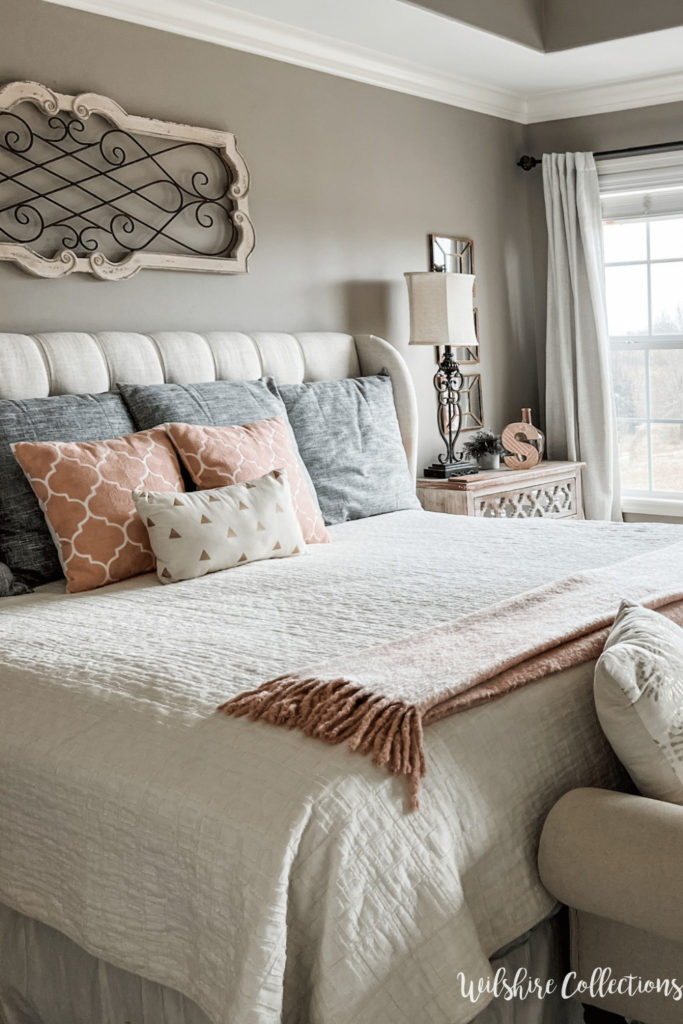 But, I've had a cream quilt in there for years and was just ready for something a little different for Spring/Summer. Enter a shopping trip to target…
When I saw this sage green quilt at Target a couple weeks ago, I knew I loved it but I ended up walking away. When I couldn't stop thinking about it for 2 weeks straight I knew it was a SIGN to go back!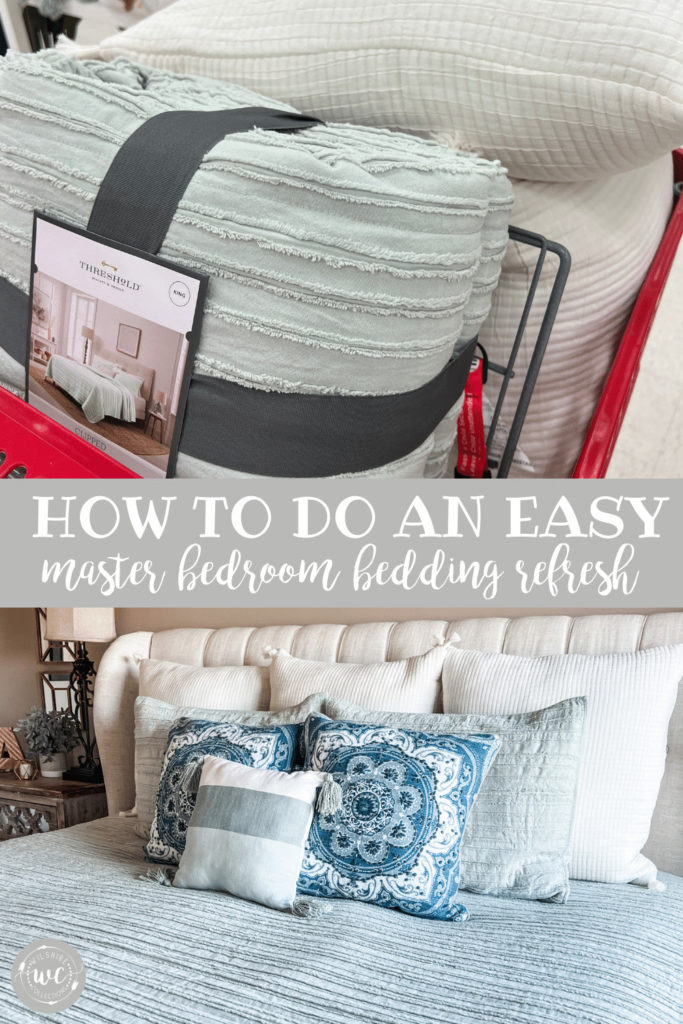 It of course started a little domino effect so I could get the look I wanted in there. I got 3 big euros from there, 2 standard shams and a little vase with flowers.
Then I headed to Homegoods where I got some accent pillows and a throw! I LOVE this blue color mixed with the sage green.
When I say I'm in LOVE…I mean it! It brightened it up and just brought new life to the space!
It's no secret I love pillows, and for a bed I love to LAYER them! So for my King bed, I've got 3 26×26 Euro's in the back, 2 standard shams, 2 square pillows from Homegoods, then the little one was from Target dollar spot.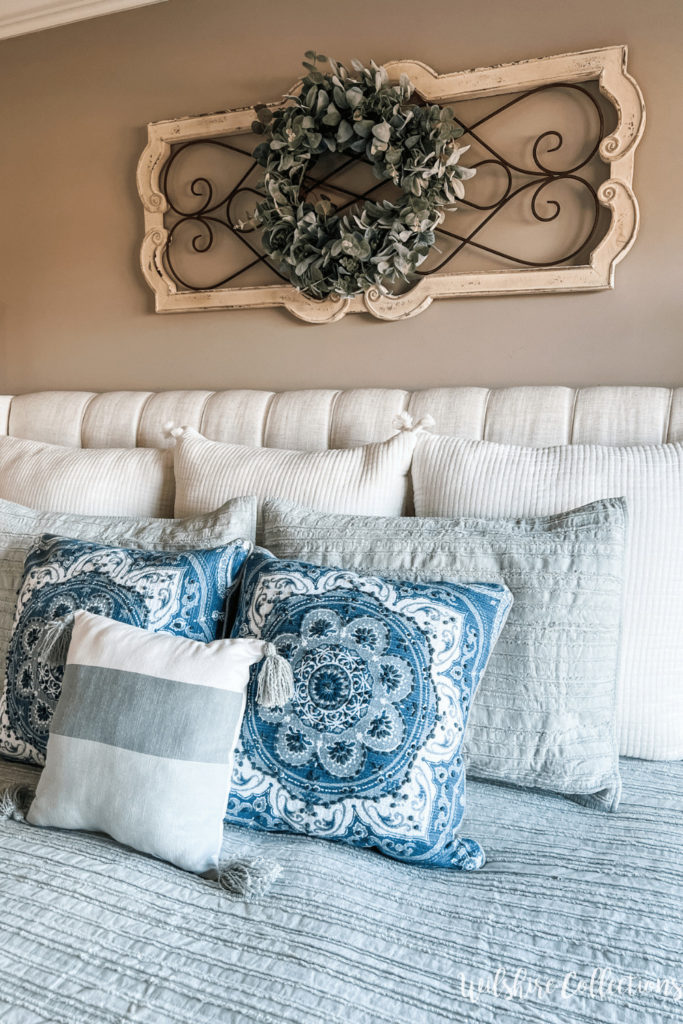 The little pillow on the bench I've actually had for years and the choose joy one is a pillow cover that you can find in my shop here. It went PERFECTLY with everything else!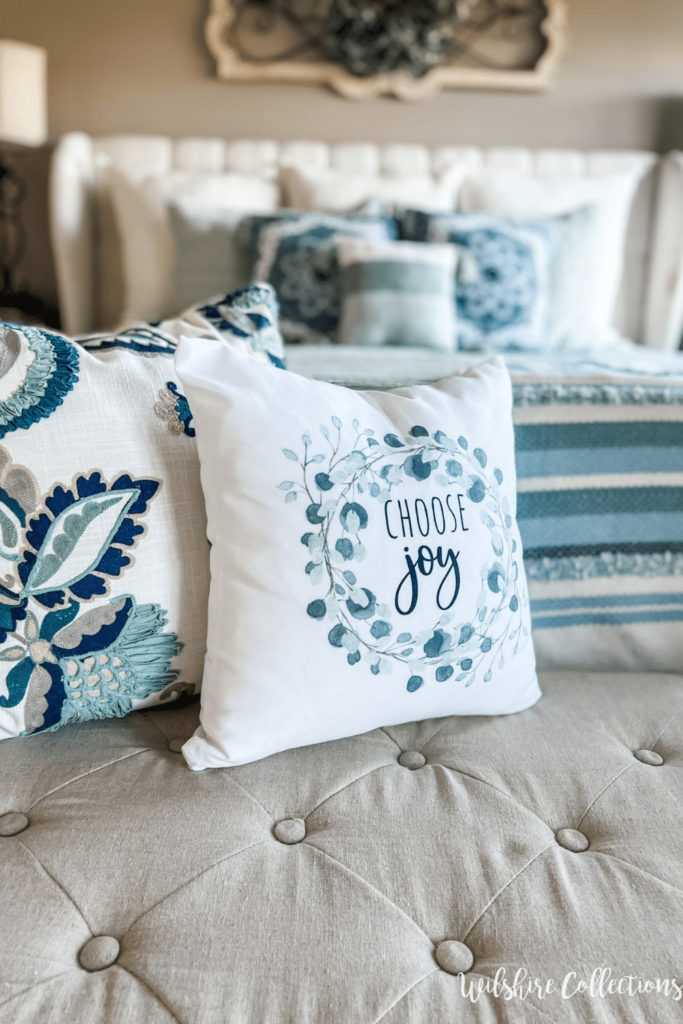 You don't see this side of my room too often (because it's honestly usually piled with JUNK), but since I cleaned I thought I would share a picture of this angle too. The 2 furniture pieces are ones that I painted years ago.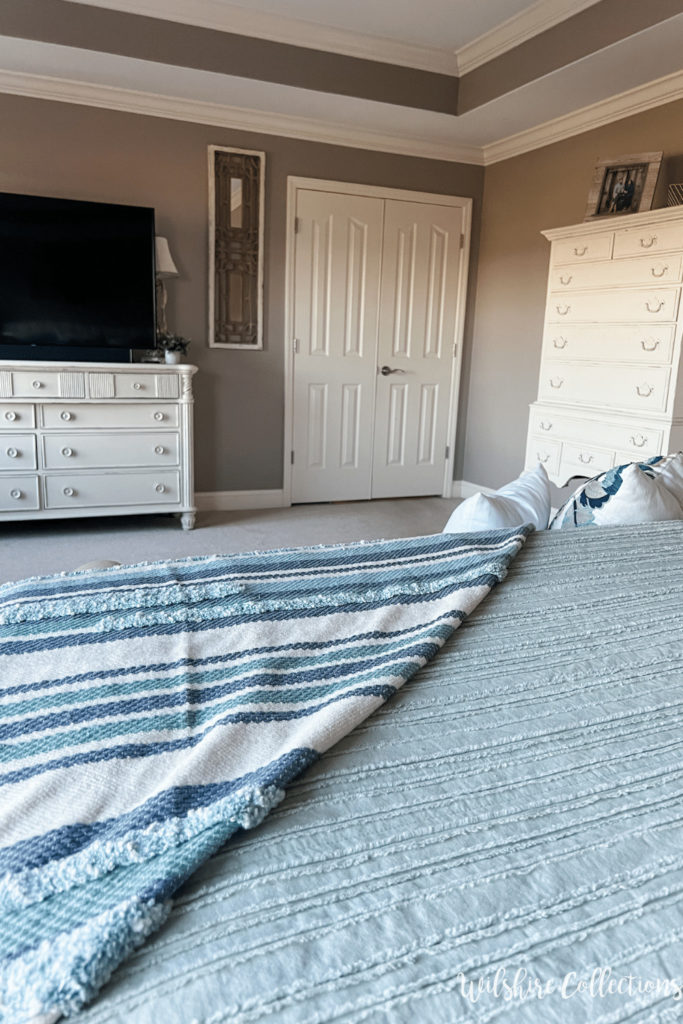 I love to decorate and this brought me so much joy this weekend. In case you don't know, I have an E-book called How to decorate your home with confidence. So, if decorating is something that doesn't bring you joy…let me help you!
All in all, this master bedroom bedding refresh cost me under $300. I say that to say that you do NOT have to go buy expensive high end bedding to make an impact. Some places you would spend $300 on just the comforter or quilt alone! I saved money by shopping places like Target and Homegoods (and using things I already had) and I love the end result!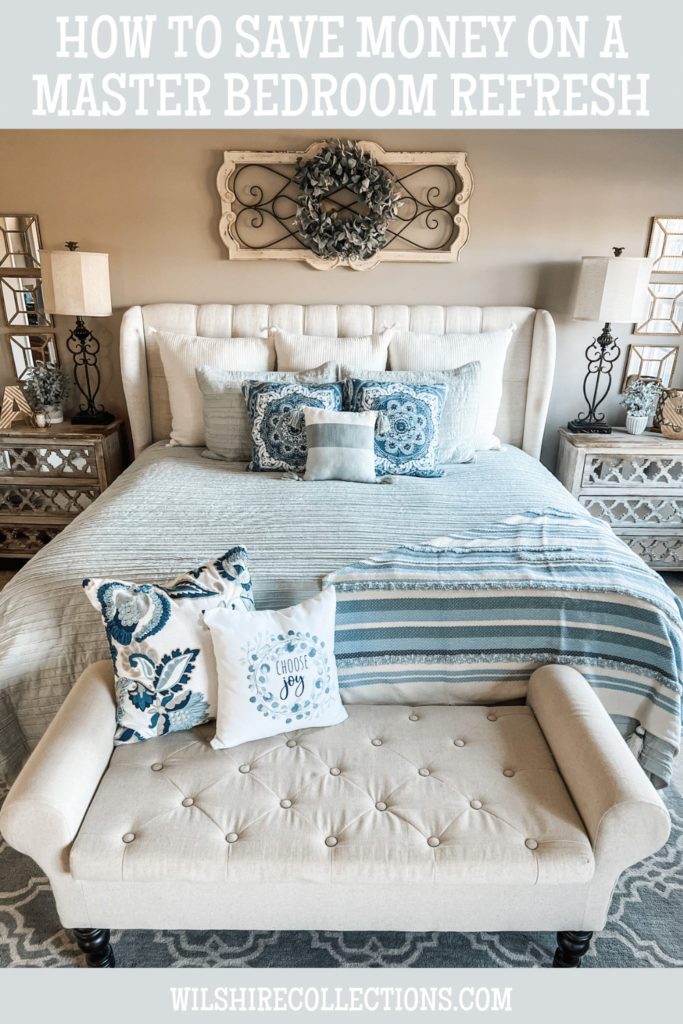 What do you think? Is there something you could do to your master bedroom to give it a little refresh? Remember…small changes can make a big impact!
(Disclaimer: The lighting in these pictures makes the quilt look a little more blue than it truly is. It's a light sage/seafoam green color in real life. lol)
Until next time…
Stacey
I AM LINKING AS MANY SOURCES AS I CAN BELOW:
Standard shams
Headboard was wayfair years ago, piece above bed was kirkland's years ago, nightstands and mirrors kirklands and rug homegoods.
WALL COLOR IS SHERWIN WILLIAMS- PERFECT GREIGE
*This post does contain affiliate links. Please see full disclosure page for more details.