Well, this is a first! I have never in the history of ever decorated a space in my home for Valentine's day. Can you believe that?! I'm going to keep it real here, it has just never been one of my favorite holidays to decorate for! Don't even truly know why! But, I decided to step out of my comfort zone this year.
So, today I'm sharing my Valentine's decorating for under $40 in my entry way! I decided that I wanted those touches, but didn't want to break the bank!
PIN THIS, PLEASE!! 
Since this was my first time to do anything more than a tiered tray (That's all I've ever done in the past), I knew that it gave me the perfect excuse to do one of my favorite things…SHOP! But, I also knew I wanted to incorporate a DIY or two as well to keep the cost down.
You can see my shopping video here where I look for all the cute things and then bring it home to get to work! Here is what I call my pile of potential! Which is a collection of new items, DIY's and "shopping my home" for what I already had that I thought I might could use! 
First up in my Valentine's decorating fun, I ended up using this wreath I already had. I added these little hearts that were from the Dollar General garland I found a couple weeks ago. SEE THAT POST HERE BECAUSE THEY HAD SO MUCH CUTE STUFF THIS YEAR! Honestly, I took them out of the package and they immediately fell off the string so I was like…hmmm maybe I'll just shove a few in here. And it worked and looked cute!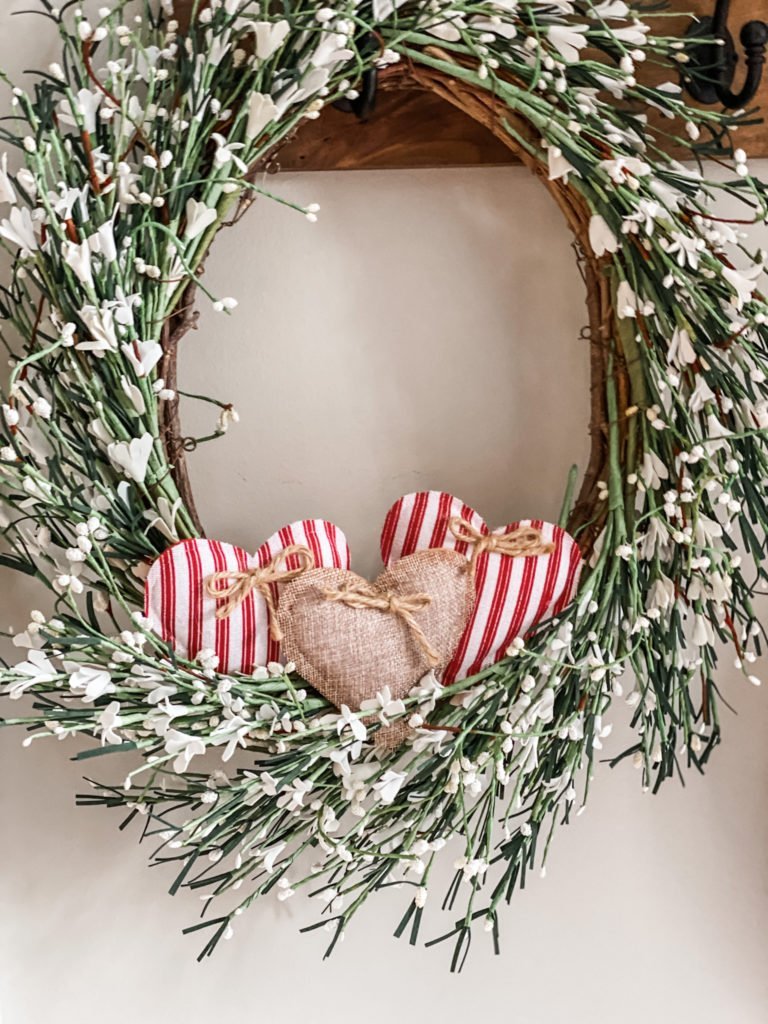 On the other side, I have my little DIY dollar tree sign that I made over. You can watch the FB live here where I did this one!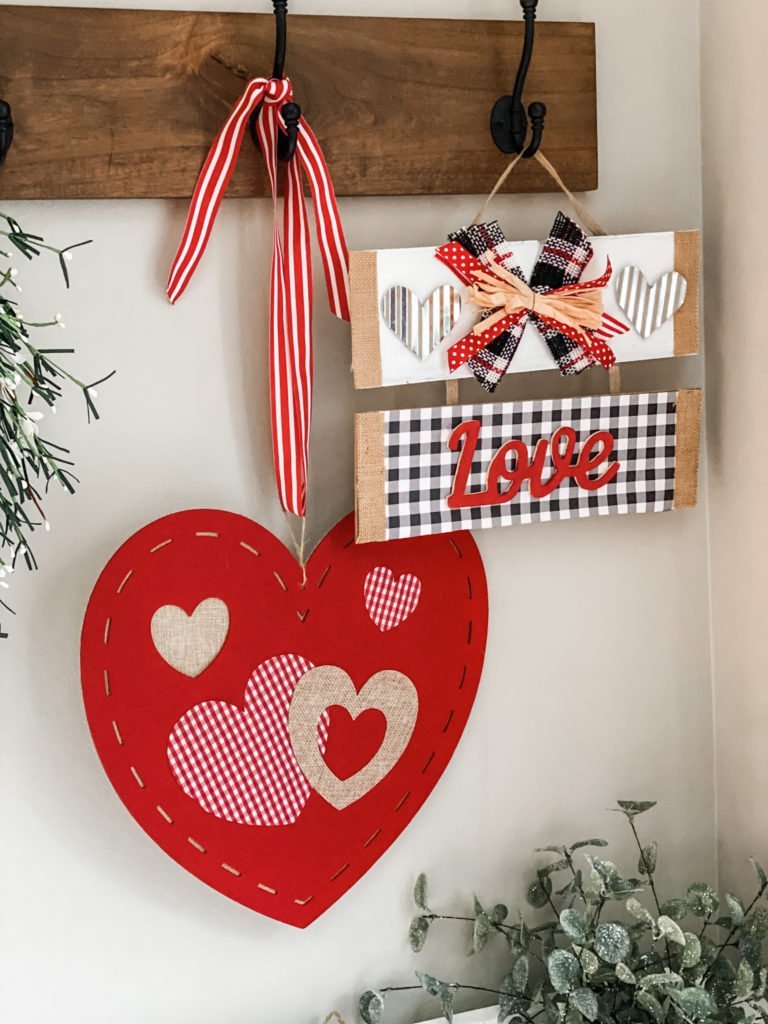 When I spotted the little felt heart at Dollar General (again seen in that post here) I knew I needed it. I just added some ribbon to make it hang down a little longer!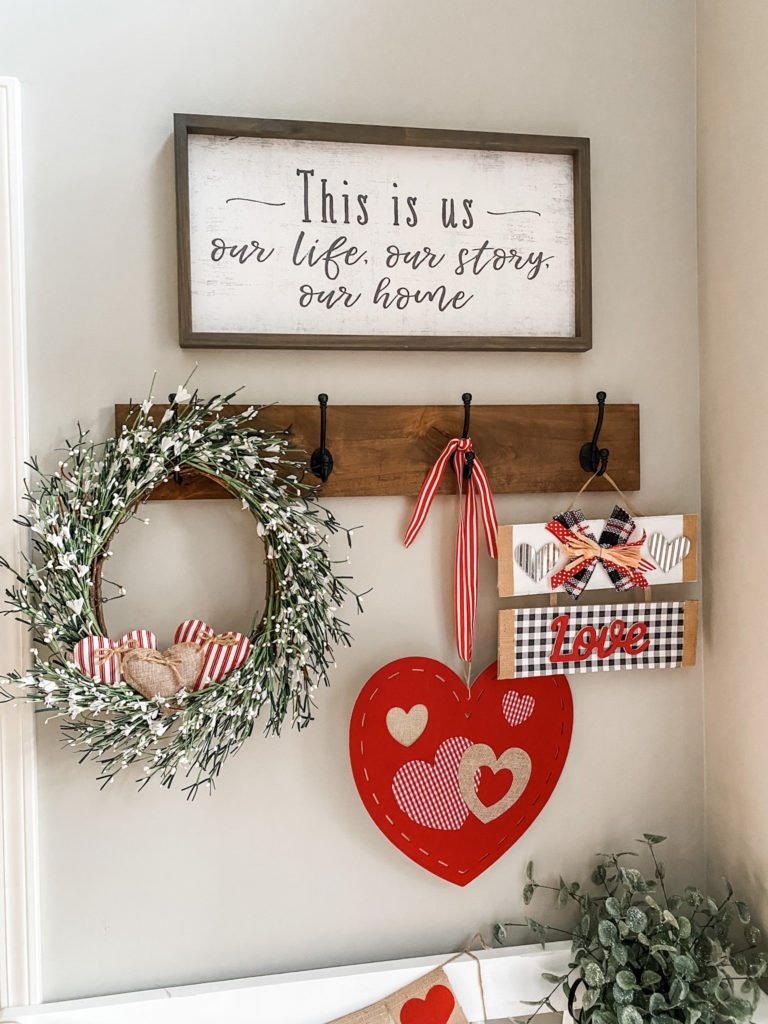 Down below, I hung a little banner that I picked up from Hobby Lobby and then OF COURSE used the 2 little pillows from Kirkland's that I couldn't live without. The striped one is HERE and the polka dot one is HERE! Isn't this so cute?! 
They also have an adorable truck pillow (seen here), but it was out of stock at my store. No worries though, because I found this cute little truck sign (Seen here). Couldn't pass it up! It happened to be 30% off everything today at Kirkland's, so I got the 2 pillows  and the sign for under $30! SCORE!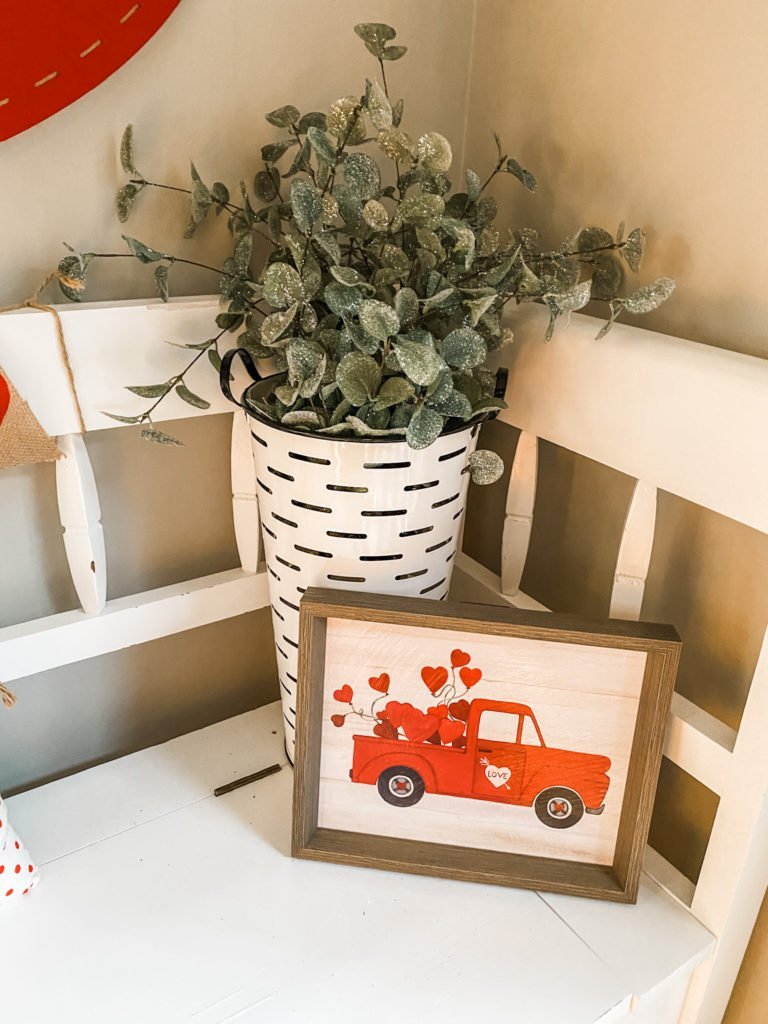 The little white vase is from Kohl's (seen here) and I just have some greenery in it! That's all it took in this space to get my Valentine's decorating on and make it look cute and festive! 
What do you guys think?! Between the deals that I got, incorporating DIY's and shopping my home and using what I had…I spent UNDER $40 on this space!! That makes me a happy camper! Bailey likes it too…and got a treat for sitting here for a pic 🙂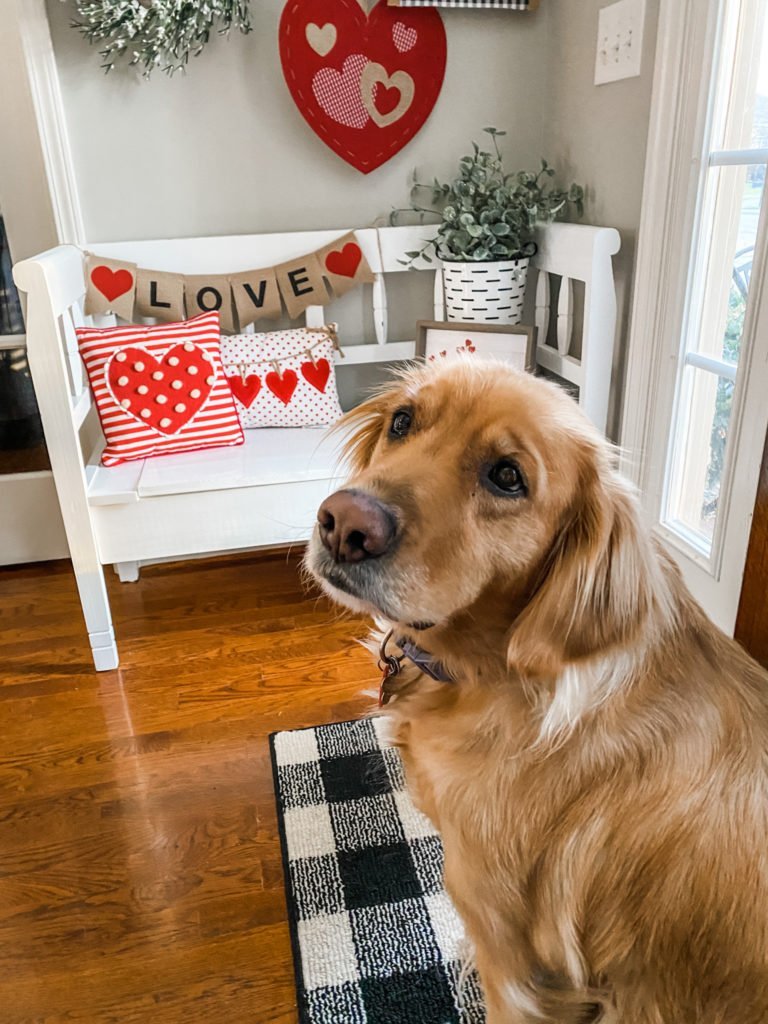 Until next time…
Stacey
This post does contain affiliate links. Please see my full disclosure page for more details.