I'm walking in a winter wonderland over here, y'all! (Even though it's been 60 here lately…haha!) It's never real easy (and always sad) to transition your home after Christmas, but I'm making the best of it this year!
Come enjoy some winter living room inspiration where I incorporate, greens, whites, silvers, and nautral elements for some cozy vibes!
PIN THIS FOR LATER, PLEASE!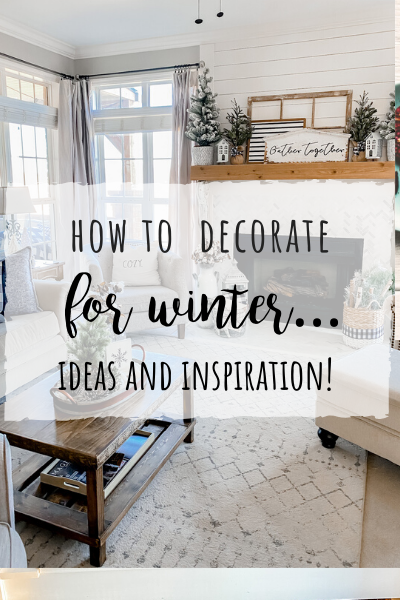 I shared my winter fireplace and mantel with you recently and I SO appreciate your sweet feedback and words on that! Get all the info on it in this blog post here! 
This was the inspiration for this entire room!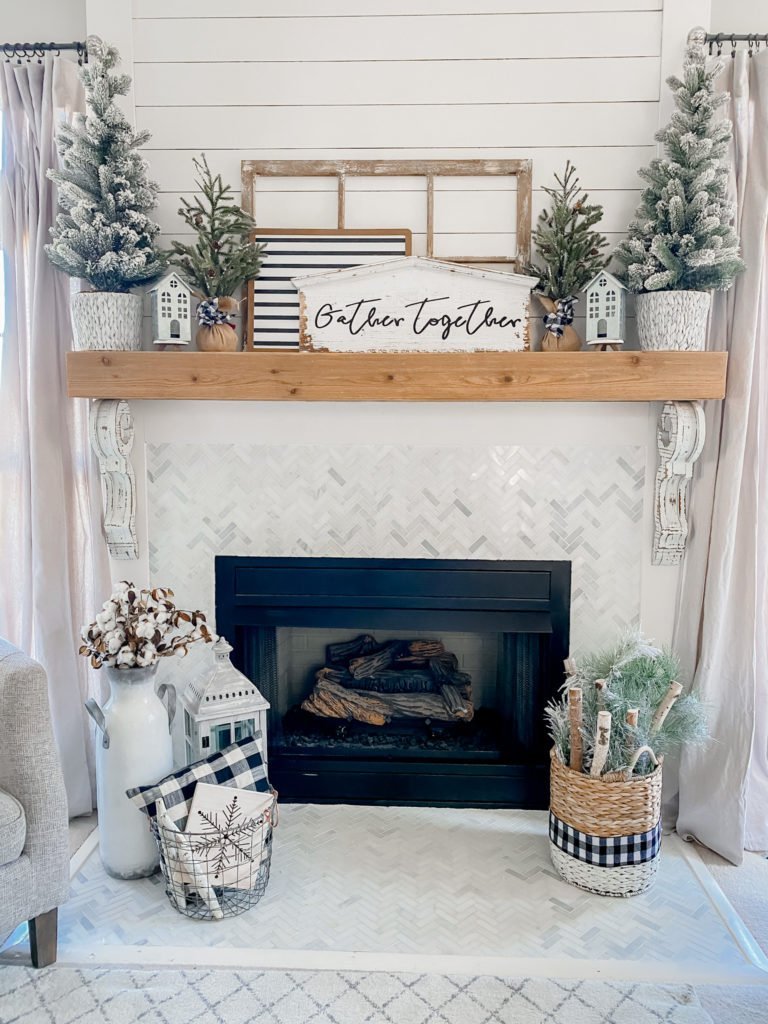 You know it wouldn't be Stacey's winter living room without a cute styled tray on the coffee table! I used crafting yarn at the bottom for filler, the sign is from Anchored Soul Designs, the tree was from my Christmas mystery boxes and I've had the vase and greenery forever! 
Of course…buffalo check pillows on the couch! The big ones behind that are from Kirkland's and the buffalo ones are from TJMaxx.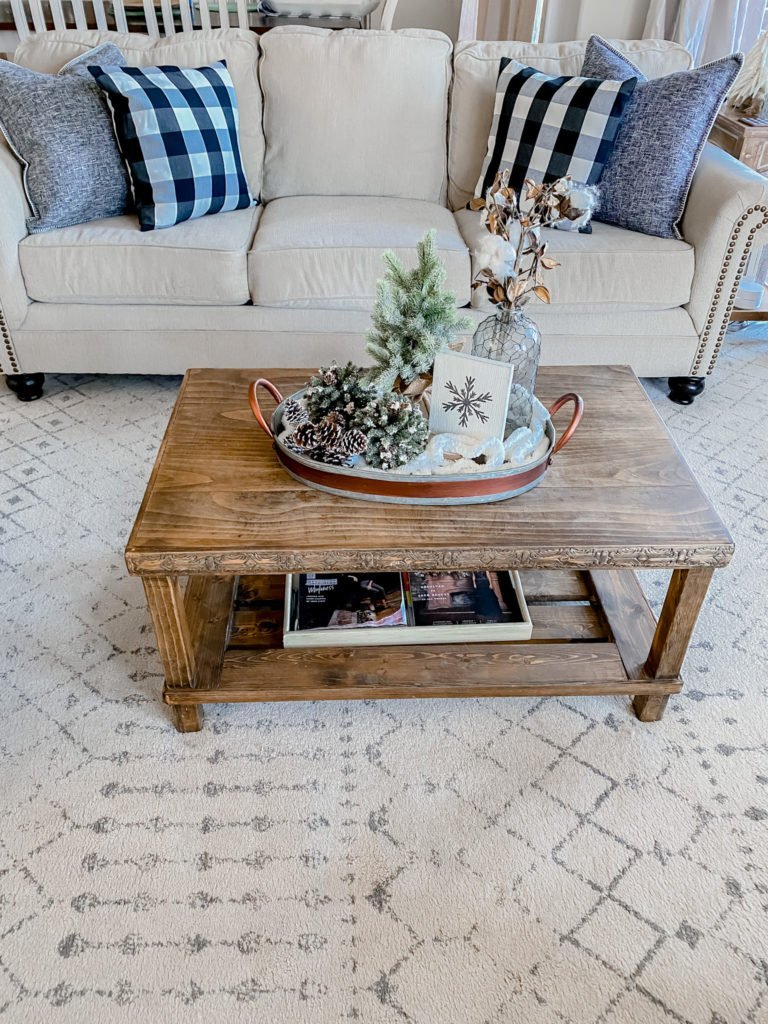 Another area I love to decorate in this room is my media console. I don't have a lot of "display space"j in here, so this gives me a good opportunity to display some of my décor and DIY's. You may even recognize that little house on the bottom shelf that I spruced up on a live?! You can see that FB live here!  (Time to get cozy sign from Hobby Lobby)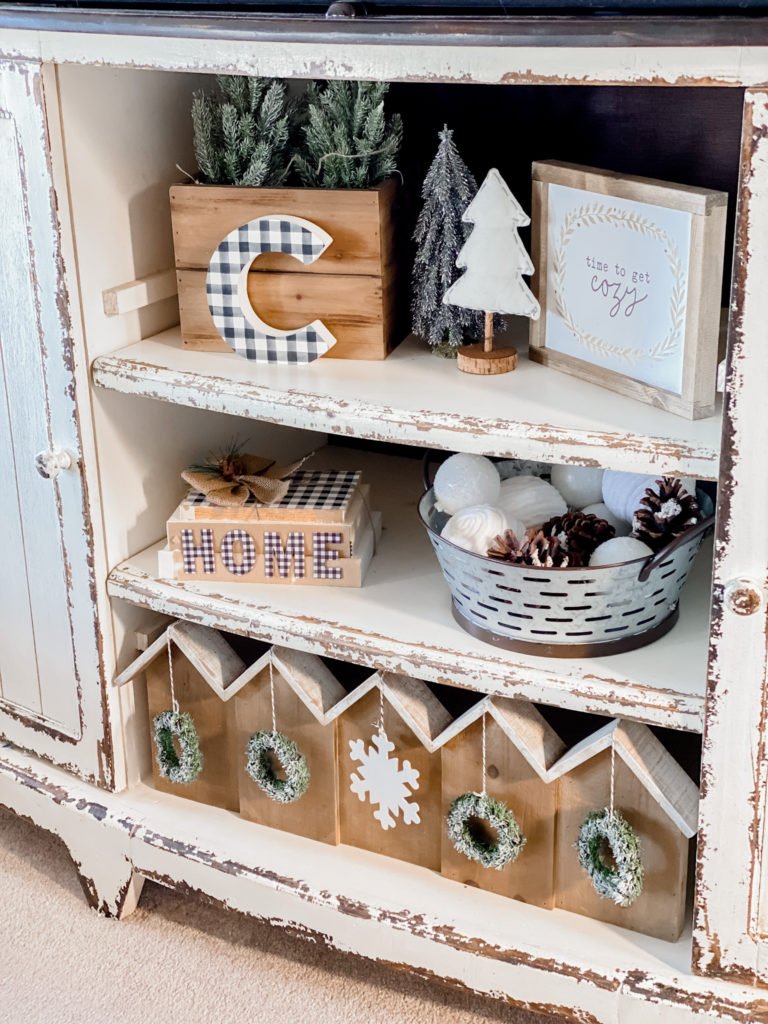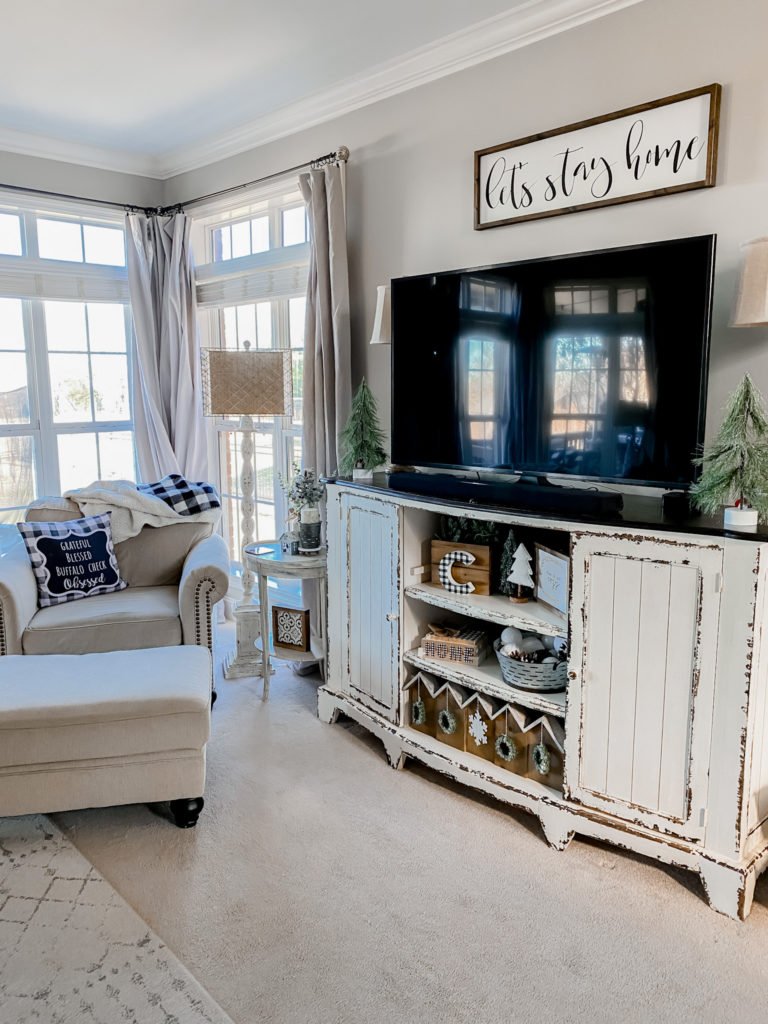 My cozy corner chair is my favorite spot to sit in my winter living room (And all seasons)! You'll find me there every morning drinking my coffee, unless I'm out on the back porch! GET THE BUFFALO CHECK PILLOW COVER FROM MY SHOP HERE!!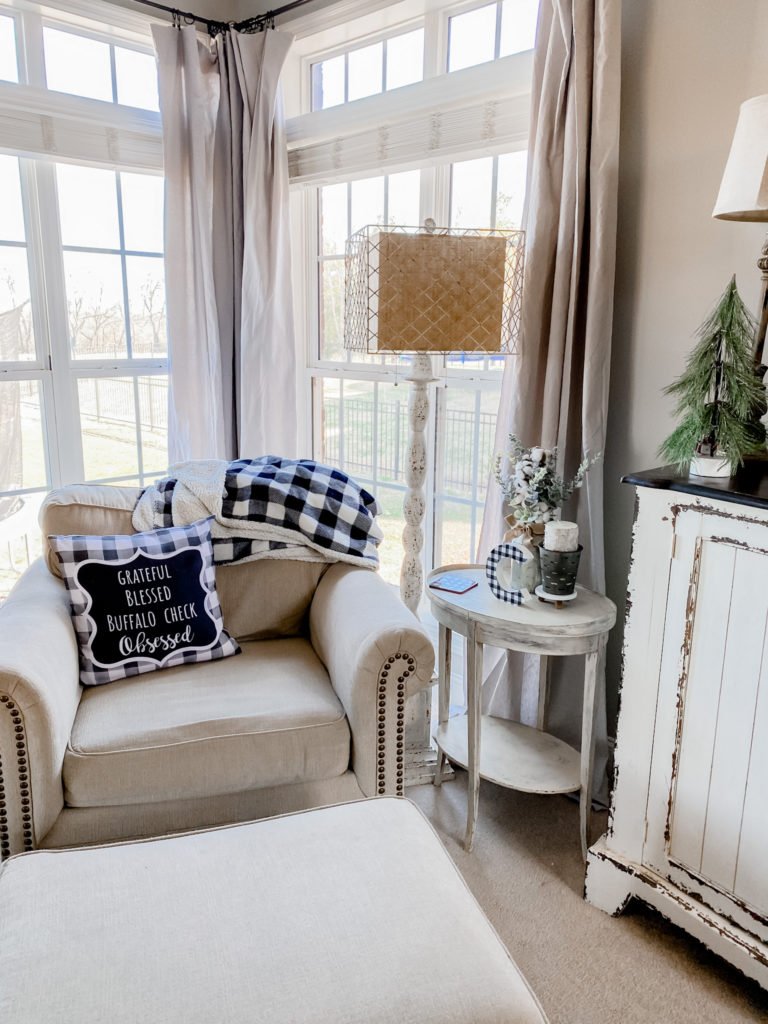 This is always one of my favorite rooms of the house because it's the heart and hub of the home (along with our kitchen)! I ALWAY want people to feel welcome and like they can just come in, sit a while and relax. I may have "pretty things" but comfort is most important to me and I can truly say we are comfortable here! 
My biggest tip for this time of year is just to "neutralize your space." Even if you don't want to do the trees of winter, just try and bring your home back to basics a bit. Bring out those everyday pieces that you love that could go with ANY season! Use it as a time of year to just move things around and play with your décor. It's kind of nice to have a neutralized space after the twinkle and bright colors Christmas can bring. And before you know it…we will have SPRING!
Have you decorated your home for Winter or what are you doing during this time of transition?! I hope this gave you some winter living room inspiration that you can run with! As always…thank you for reading and SHARING this post with your friends! It truly means the world when you do both of those things.
Until next time…
Stacey