You read that right…I said leopard! This is SOOOO out of the box and norm for me, but I was feeling it this year and I'm so glad I went with my gut because I'm absolutely obsessed!
Ready for some Christmas tree ideas using black, white and leopard?! Come see how I incorporated all of that and more into my tree this year!
Last year I put a small black and white tree in my office at home, and I knew then I wanted to do an even bigger one this year. Now that I have Wilshire place, I knew I had the perfect spot to put one down in my crafting area!
Let's start off with the tree in it's raw beauty! I've partnered up with King of Christmas and this is my brand new King of Christmas tree. It's truly gorgeous as is! This one is the 9′ Queen slim flocked with lights. You can shop this Christmas tree and their others here!
They are amazing trees and I HIGHLY recommend them if you're looking for a good investment tree that will last for years to come!
I also had the pleasure of partnering up with my friend Carrie from Trendy Tree this year to pick out the ribbon I wanted to use for this tree. As I looked through her site and was drawn to the stripe, polka dot and plaid, I couldn't help but being totally drawn to the leopard too! You can shop their entire site here!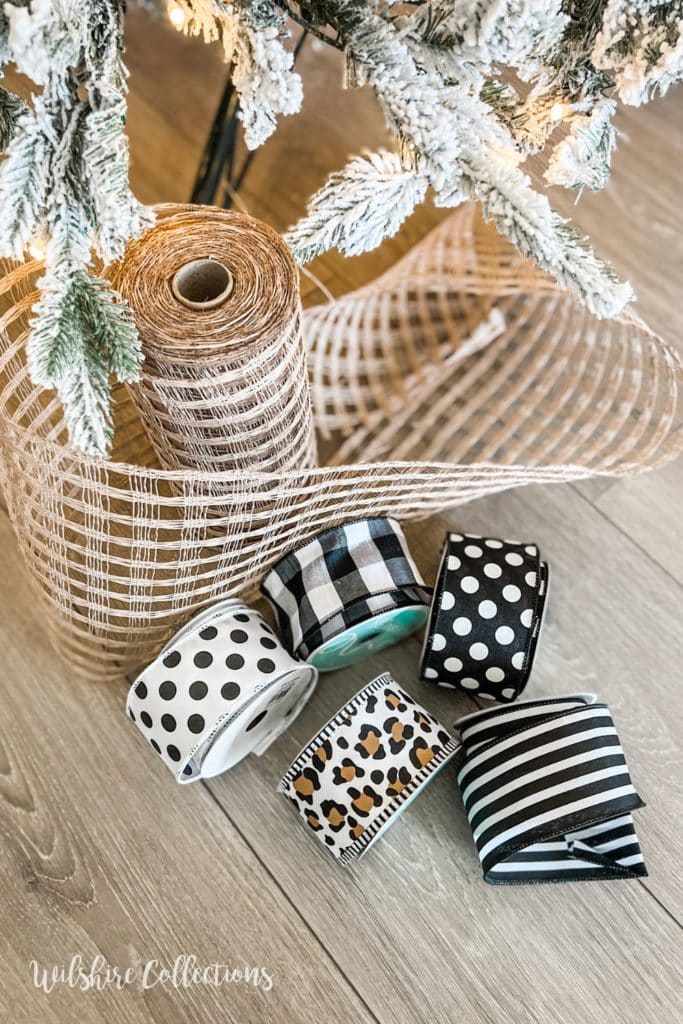 Here are the referral links for each ribbon: Natural burlap mesh, Large Polka Dot White, Black white dot, leopard print, Black white stripe, Black white plaid (I only needed 2 rolls of each to get this look. That does NOT include the bow tree topper, you would need another roll of each one you use for it to do that)
Trendy tree helped me bring all my Christmas tree ideas for this tree to life and I am soooo in love! I have to say, the quality of their ribbon is TOP NOTCH and much easier to work with than what I have used in the past on my trees from Hobby Lobby, etc.
My tree decorating process:
I start with fluffing the tree really well.
Then add my base ribbon. This time I used a 10″ poly mesh and it took me less than 2 rolls to do so.
Next I added my wood bead garlands from Walmart- I used 3 strands!
My favorite part is adding my little ribbon bundles where I mix and match different patterns. I used about 2 rolls of each of these ribbons here. They went a long way since the rolls were bigger!
Next up I start adding my ornaments and some picks for filler. These have come from here there and everywhere over the years! The tree skirt came from Homegoods!
Last but not least, the topper! I CAN NOT take credit for the bow! My new assistant Kellie made that for me, because as you know…I am bow challenged. lol. She did a GREAT job and I love how fun it is and how it truly finishes the tree! (The picks came from Kirklands)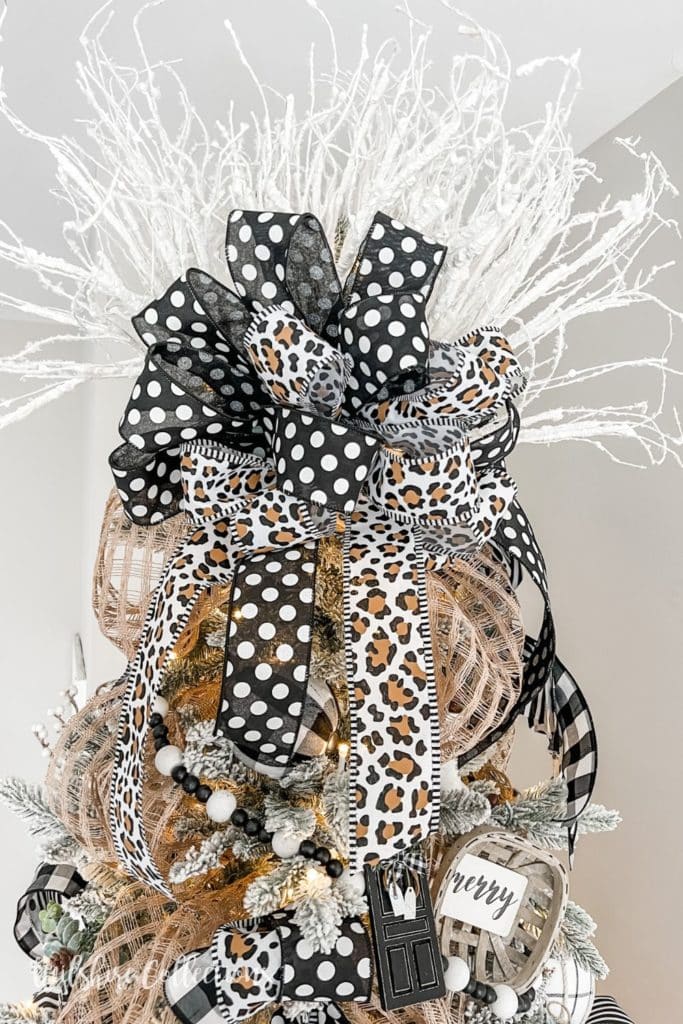 If you're interested in my FULL tree tutorial where I go over how I get a look like this, you can check out the info on my tree tutorial at the button below for even more Christmas tree ideas!
Again, I'm glad I went with my gut on this because here is the end result…which I just truly love!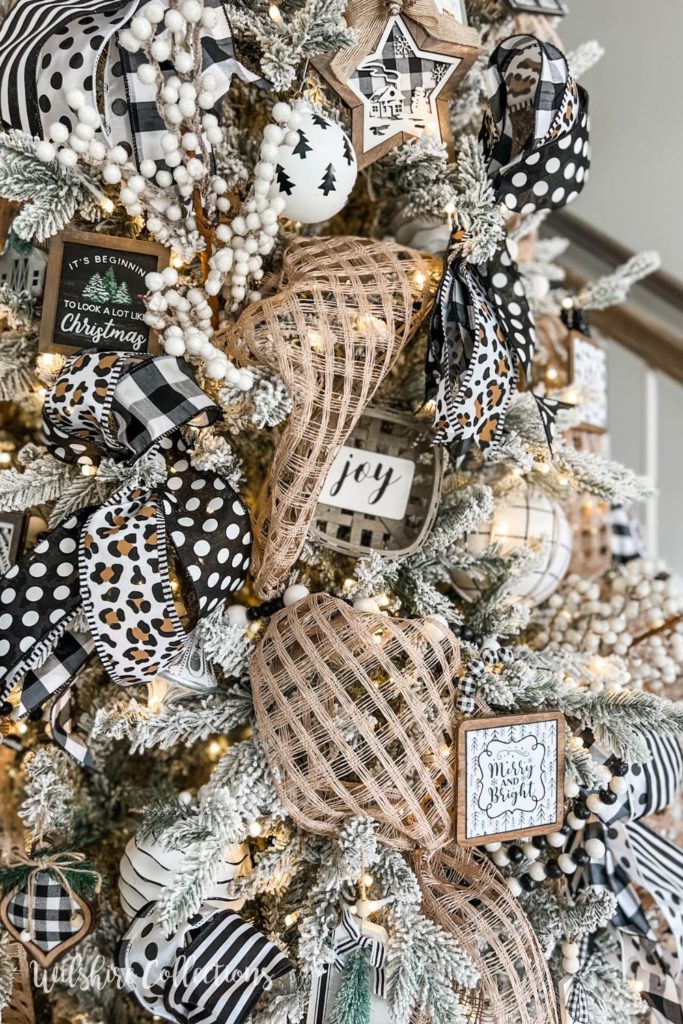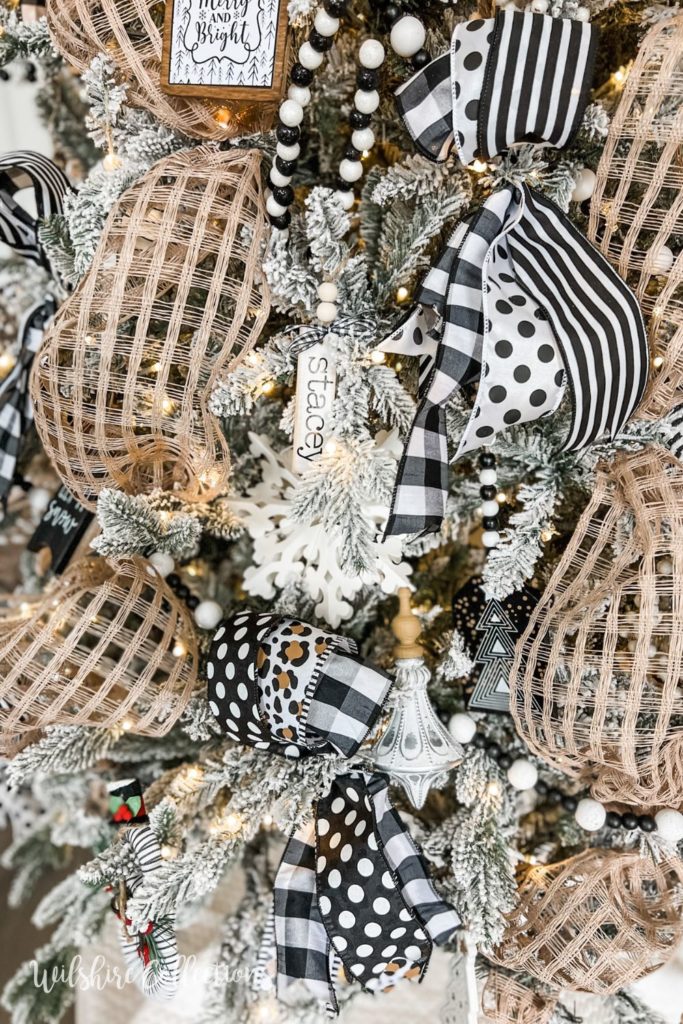 This Christmas tree truly makes SUCH a statement when you walk in the door to Wilshire place, and it makes me sooo happy to see it when I'm crafting there!
SO anxious to hear your thoughts on these Christmas tree ideas! I know leopard isn't for everyone, and that's ok! Either way, I hope it shows you that it's fun to go outside of your norm sometimes because you just might love it!
Until next time…
Stacey
This post does contain affiliate links. Please see my full disclosure page for more details.