If you have a craft room or even just an area that you craft from, I'm guessing you know how hard organization and storage can be! The struggle is often real for us crafty ladies, and I am no exception! But, I'm excited to show you what I've done!
These great craft room storage ideas will show you how I organized my craft supplies! I hope you'll love these ideas and tips.
If you didn't know, I recently had a complete craft room makeover that you can see on the blog here. A HUGE step in me starting to get organized was having pieces that would be super functional for my needs in order for me to do so. I realize that not everyone is going to have this set up (and that is A OK), but I think you will still get some great ideas here.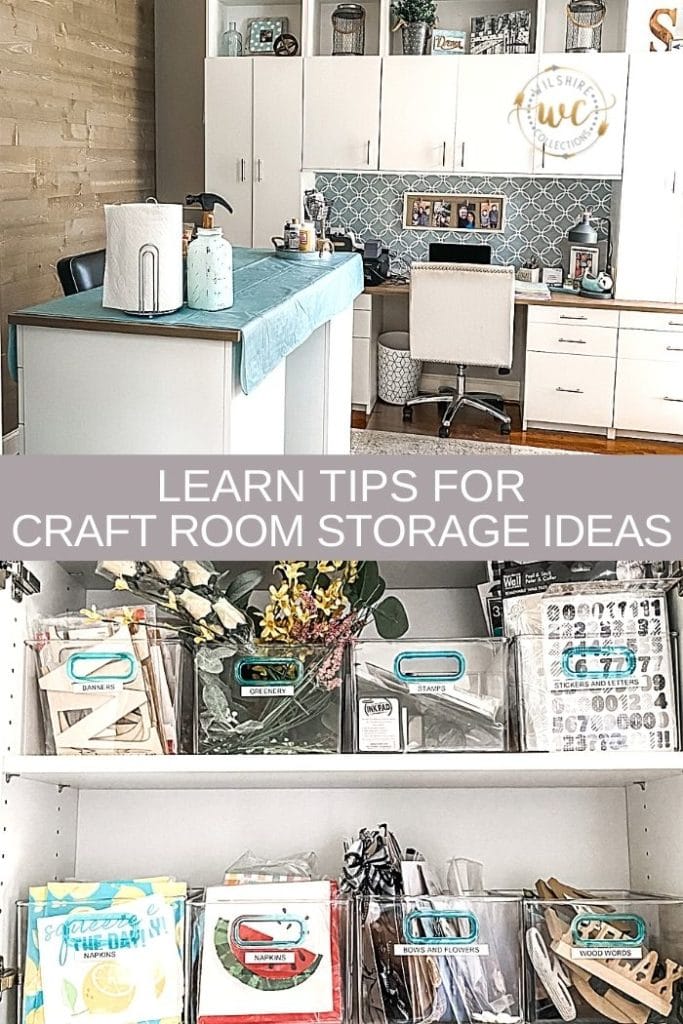 This is the big built in area where my working desk is, but also perfect for craft room storage! I got most of my bins from Amazon, you can find them in my store here. On the right side I kept that for current seasonal crafting supplies. SO, whatever season I am CURRENTLY working on…this is where all the things I buy go for it!
The middle section houses little bins that I labeled with my label maker and I just love how everything has a spot! My sister Styled by Blair is awesome at organizing and came and spent the day with me to help me get things in shape!
Let's just say I have a little obsession with buying wood surfaces for crafting. I knew I needed a place to store all of those, and this was the PERFECT cabinet for that!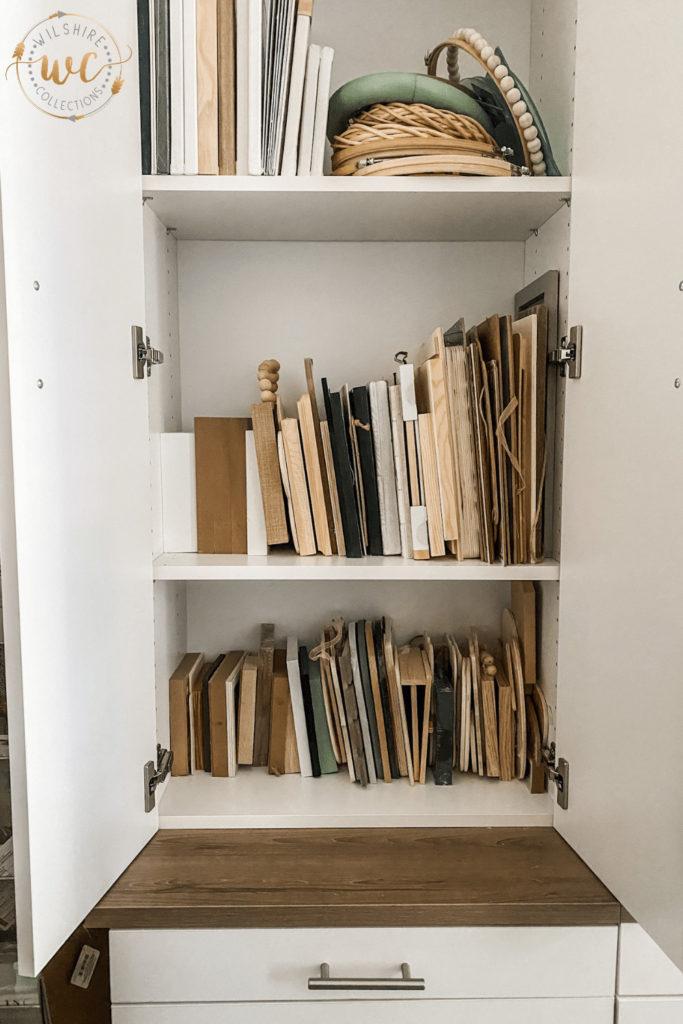 Now moving on to the drawers. I lucked in to a ton of little organizing trays at the Target Dollar Spot and they just worked perfectly for all the little things like this!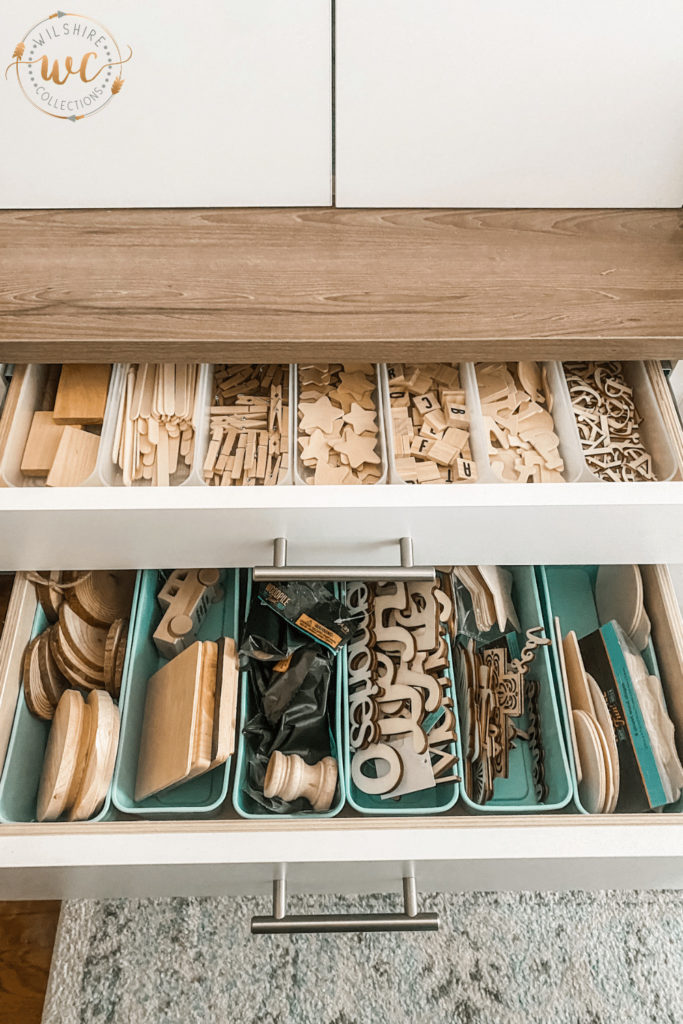 Over on this side of the room is my crafting desk! You can also get info on this peel and stick wood wall that we put up behind it here. I LOVE having a desk that is tall enough for me to stand at and do my FB Lives, but also to have a tall chair for times when I want to sit. And of course…the STORAGE!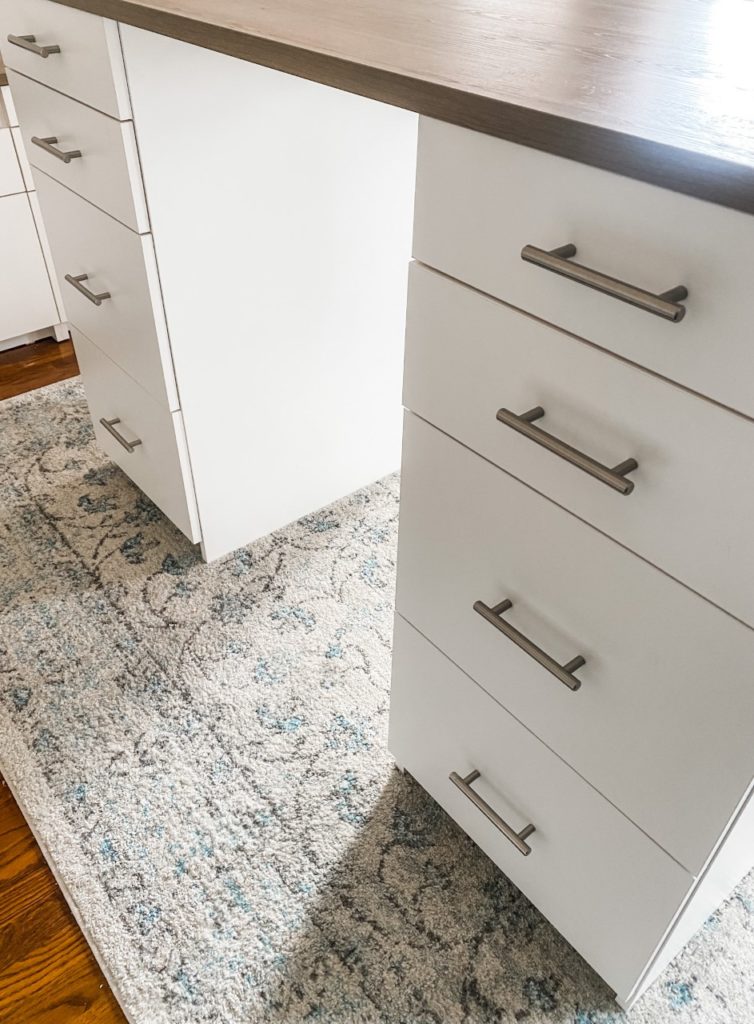 Everything from a scrapbook paper holder from Hobby Lobby, to little bins for wood beads from the Dollar Tree, to a drawer full of paint, wood supplies, glue sticks, etc. It ALL has a spot and a place and I love having it all so handy right by where I craft!
I am still working on getting my ribbon and fabric all organized, so I will share that once I do!
Having this space and dedicated craft room storage has really helped me stay more organized. I feel like I can be more creative in here because I (mostly) know where things are. Does this mean that I never make a mess? ABSOLUTELY NOT! I'm as messy as they get. LOL! But…I try!
What tip or idea idea did you love that can help you with your craft room storage or organization?! I can't wait to hear!
Until next time…
Stacey