This room was one of the things that made me fall in love with the floor plan we picked for our new build, so I'm SO excited to write this blog post today!
Come see our hearth room furniture choices and arrangement! From the fireplace, to the furniture, to the views…I just love this space!
If you haven't heard, my family and I recently built a new house! You can see the blog post on our new house build completion here. We are so excited to be in and getting settled!
Many have asked what a hearth room is…and here in the south we refer to them as a sitting area (that's usually off a kitchen). Think of it like an extension of your living space for conversation and gathering!
Ours is right off the kitchen and is also the room where our kitchen table is as well!
We do have a living room right around the corner also, which is where our TV is, couches, more seating, etc. You can see our living room furniture here!
One thing I was EXTRA excited about with this hearth room was having a fireplace in here that I could decorate for all the seasons and reasons! Here it is for the first time decorated!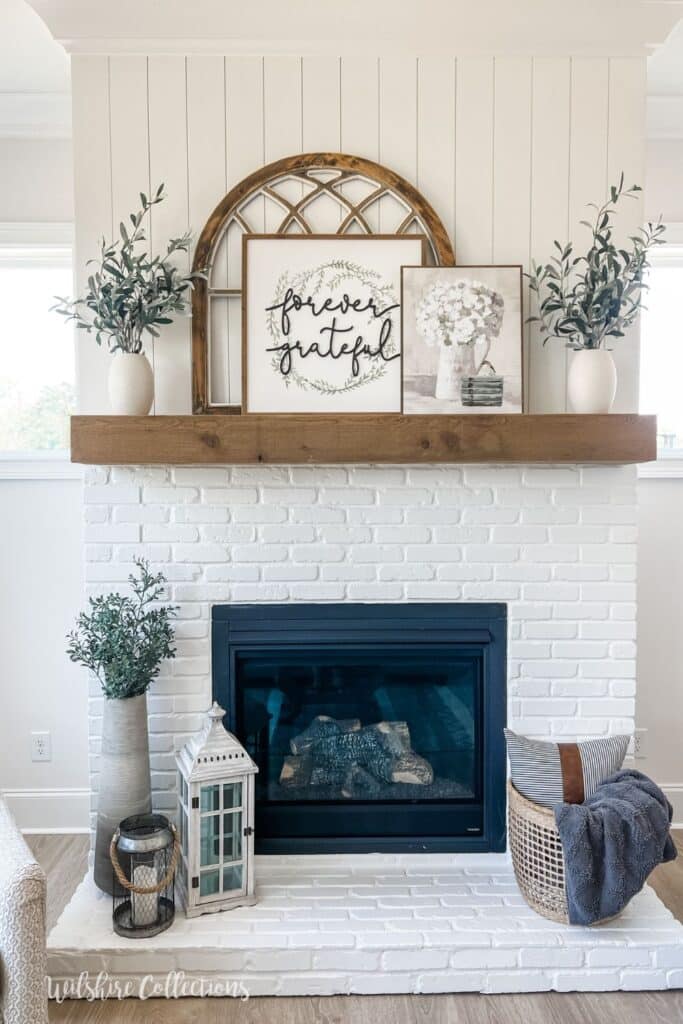 Let's talk furniture! One thing we knew about this room was that it was long but somewhat narrow. I had dreams of having a couch and a couple chairs in there, but there was one problem.
Our current couch was just too big, bulky and long. So, on the search we went for some Hearth room furniture that would work!
We went to one of our favorite local stores in Franklin, TN…. Head Springs Depot!
They have complimentary design services, so we worked with Seth the owner to see what size furniture would fit in our space. I'm such a visual person, so this was SO helpful!
He immediately knew just what we needed and directed us to the PERFECT SIZED COUCH!
Not only was it the perfect size (bigger than a loveseat, still 3 cushions, but smaller than most standard couches)…it was also CRAZY comfortable! We truly couldn't believe it!
The best part?! We were able to customize them and pick out our own fabrics at Head Spring Depot! We loved that they had performance fabrics to pick from which offer extra protection against daily use!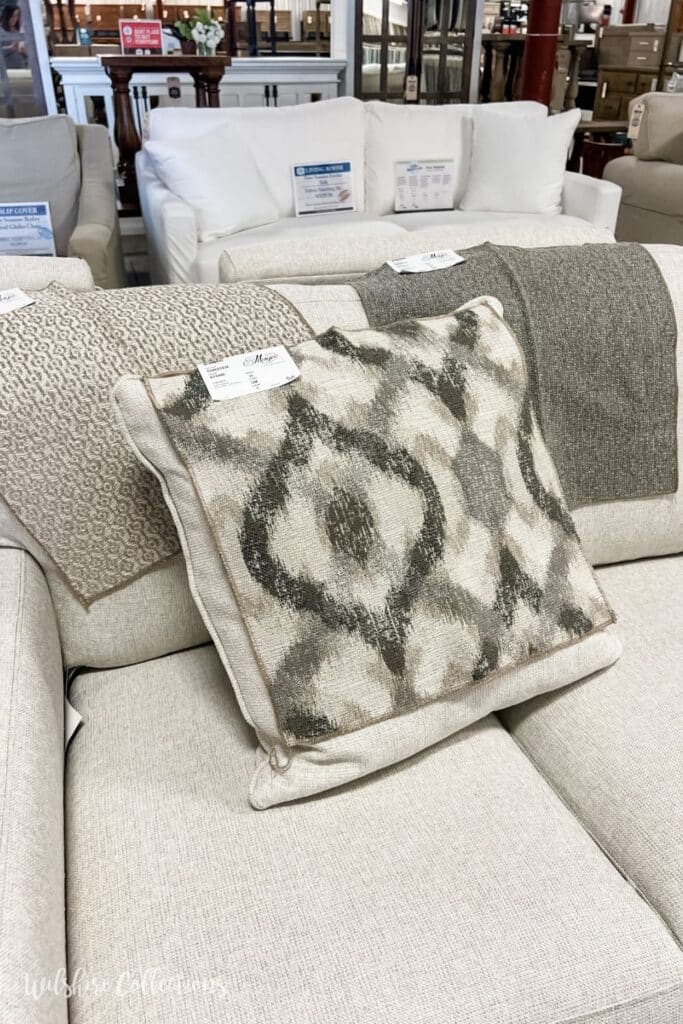 We went with the Mayo 3488 Sofa which was 73″Wx37″Dx36″H. We used Zenith Steel for our fabric which is a darker gray. We also got 2 of the Mayo 4575 swivel gliders with the fabric Cossey Dove.
Stay tuned because I'm going to be sharing more of this process with you soon! It was the best experience all around!
Loved seeing the choices go from samples in the showroom to being on our actual furniture!
Just look how cozy and amazing all of this furniture looks in the hearth room!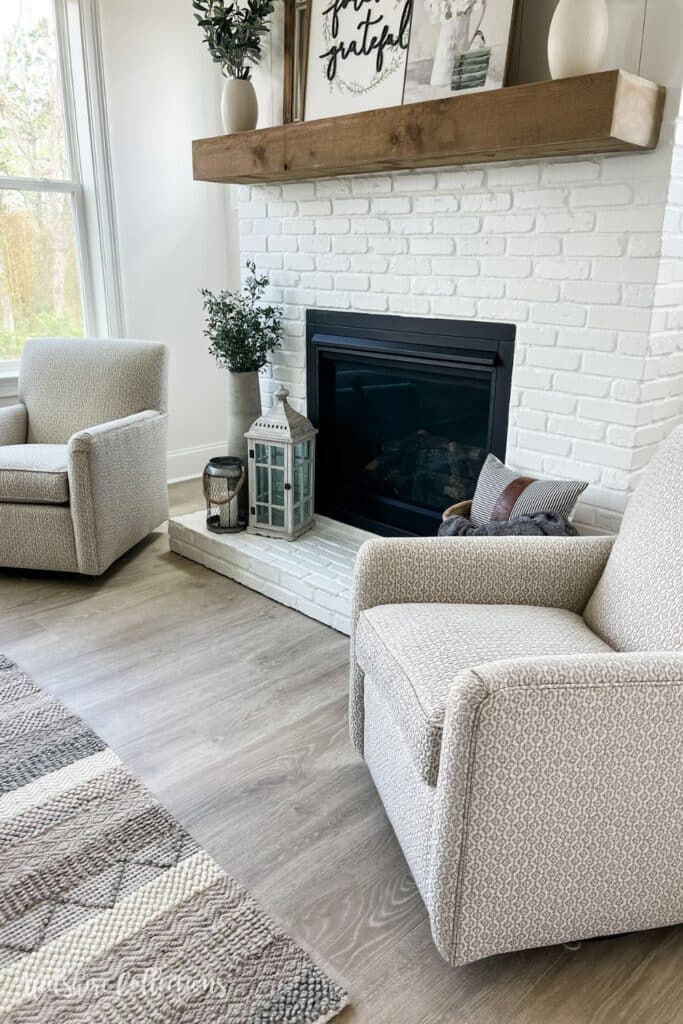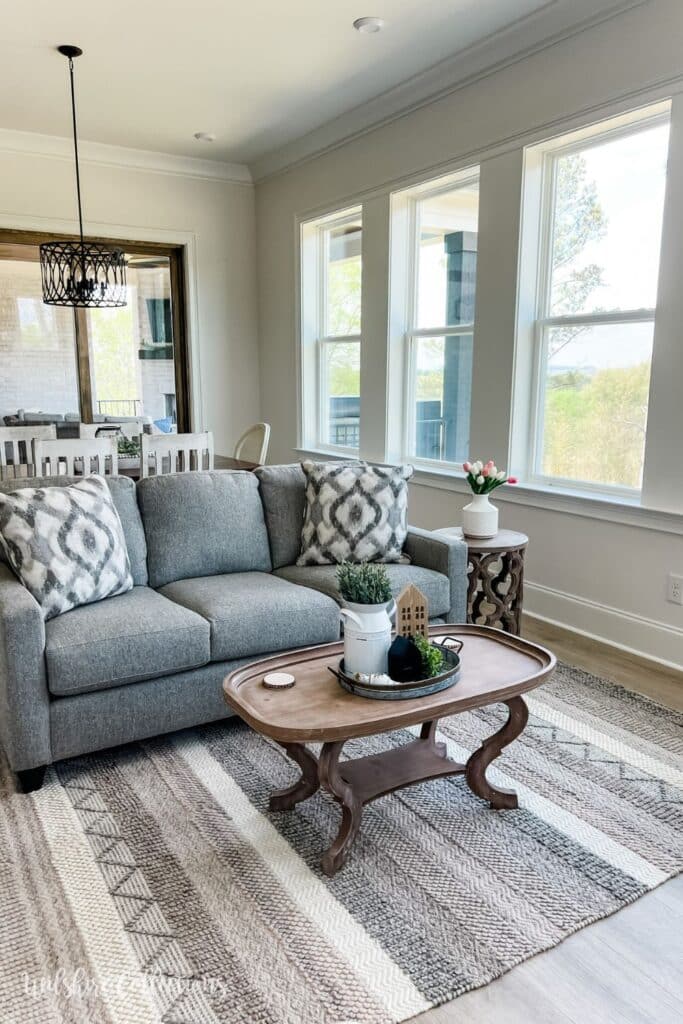 The little end table is from Head Springs Depot as well, the coffee table is from Kirkland's and the rug is from Wayfair!
Moving on to the eat in area! Our table is the same one we had at the old house which also came from Head Springs Depot years ago! All we needed here was a cute rug from Wayfair to complete this space!
This has truly become one of my favorite areas of the house and the views out these windows make me smile daily!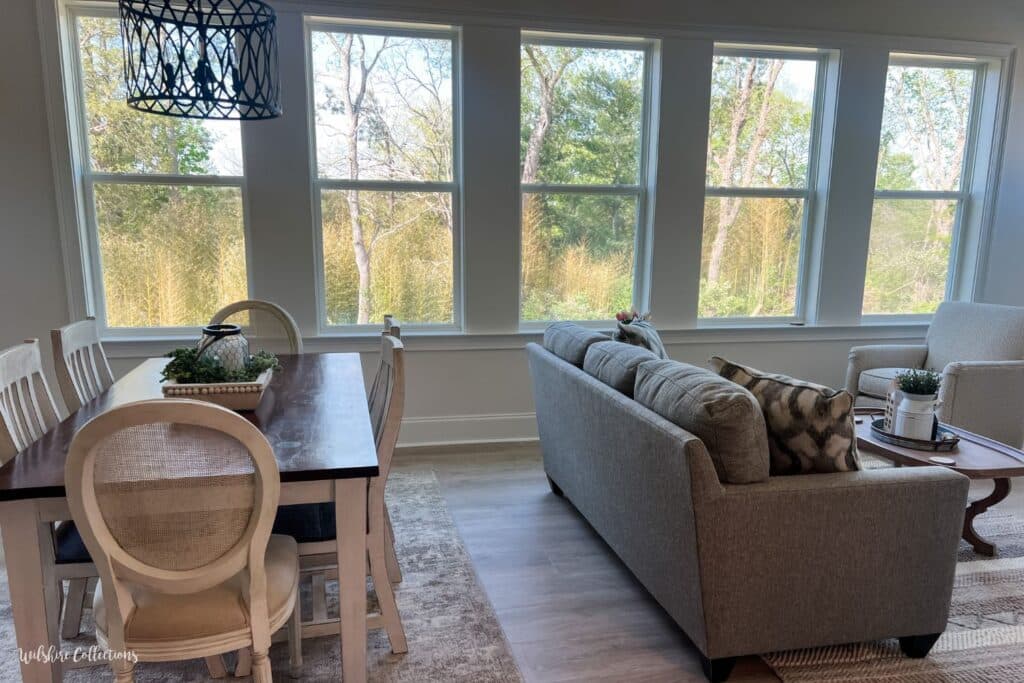 Everyone who has come over so far can't believe how comfy the Hearth room furniture is! I've claimed one of the chairs as my morning coffee spot already and it's just perfect!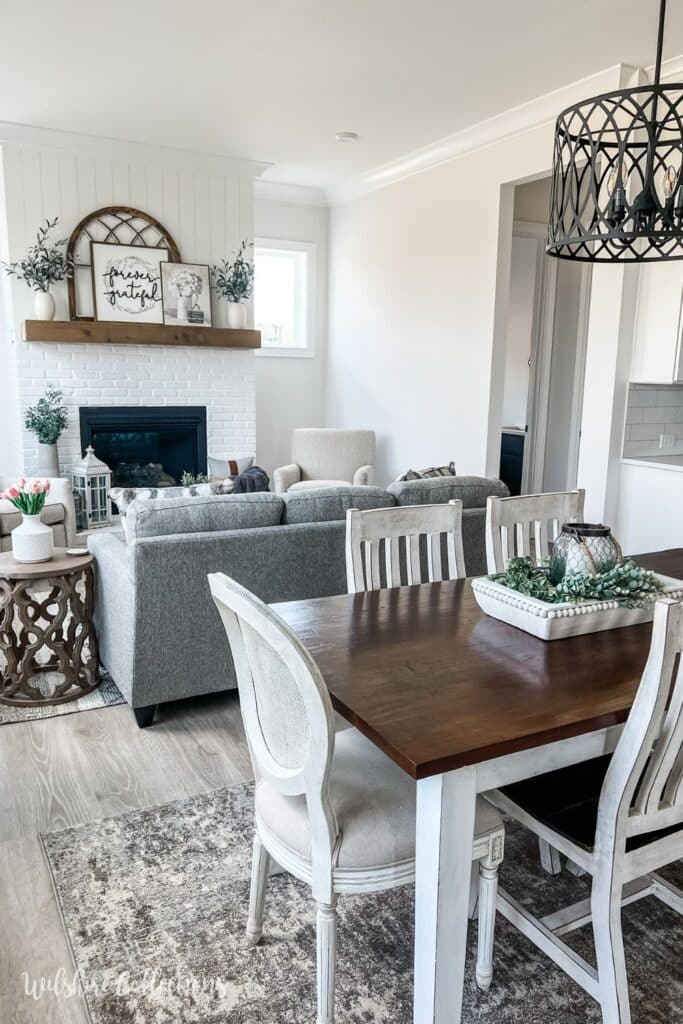 A big thanks to Head Springs Depot for helping us bring the vision for this hearth room to life. Between the design consult, help selecting fabrics and how crazy comfortable this all is…the hearth room has exceeded our expectations!
If you are local to the Nashville, TN area- go check out Head Springs Depot and tell them Stacey with Wilshire sent ya! In fact…if you mention my name, you will get 10% off your first purchase there! WOO-HOO!
Can't wait to share more about this process and experience with you soon! Let me know what your favorite part of the hearth room is so far!
I still have things I want to do in this room, but this is a GREAT start if you ask me considering we have only been here a couple weeks at the time of me writing this post!
Until next time…
Stacey
*This is a sponsored post in collaboration with Head Springs Depot. All thoughts and opinions are my own. See my full disclosure page for more details.*