Decorating a pencil or slim tree looks a little different than directing a full size big tree! A lot of the same rules apply, but I like to tweak it just a bit!
Come find out how to decorate a pencil tree for Christmas! I'll show you what I did to my dining room tree step by step, and you can make it your own by adjusting it to YOUR style!
I have a 7.5 foot flocked pencil tree from Walmart online in my dining room. It's pre lit, so the first thing I of course did was put it together and fluff it out. Once that was done, my first step was to use this chunky yarn from Walmart!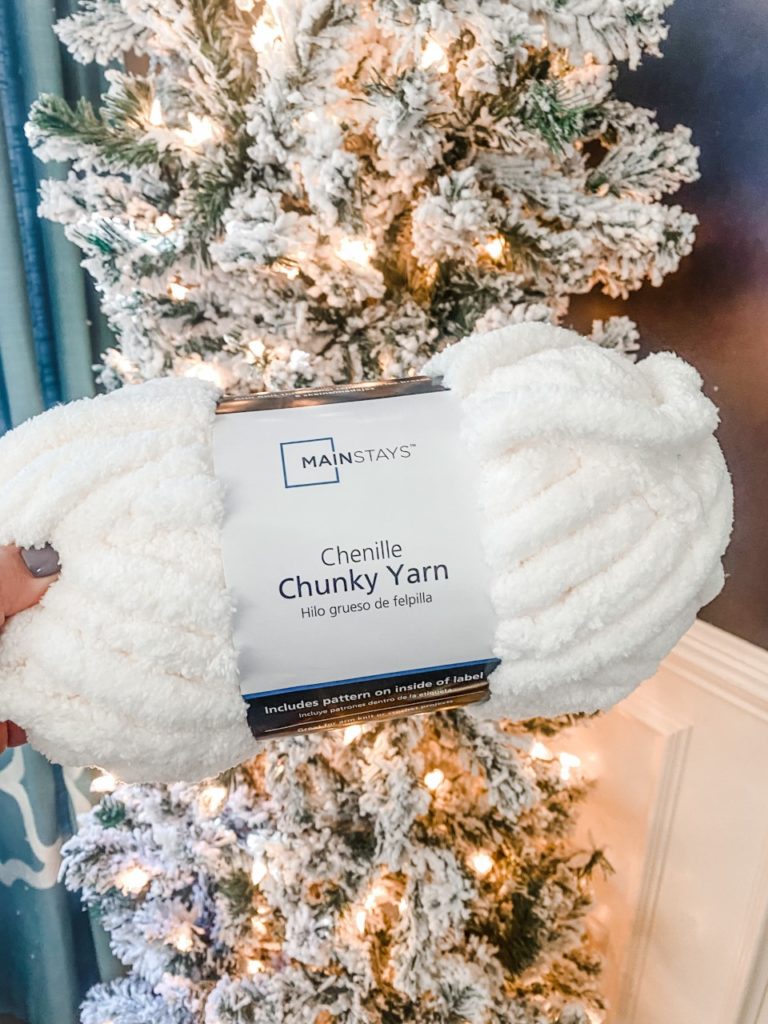 Simply take that and wrap it around your tree, treating it like a garland. I did prefer cutting mine into long sections and wrapping around (just seemed easier to work with). I thought it was a fun addition and one roll was MORE than enough for this!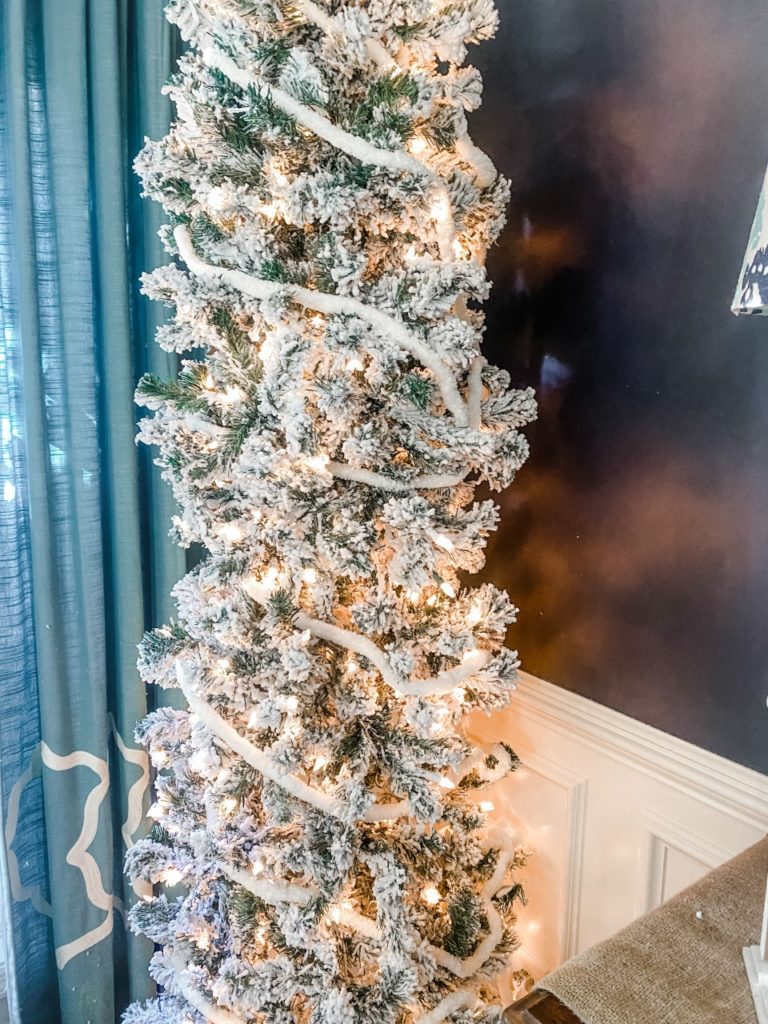 Next up, I found this cute pack of ribbon from Walmart and knew I wanted to use the snowflake one as my "Base ribbon." On my big tree I used a 10″ deco mesh, but I knew I didn't want to use anything as big on this pencil tree.
I simply started up top and tucked the ribbon in going down the tree every so often. I don't measure, because I like it to look not totally uniform. Keep repeating this process until you get your desired amount of ribbon. I only used 2 rolls!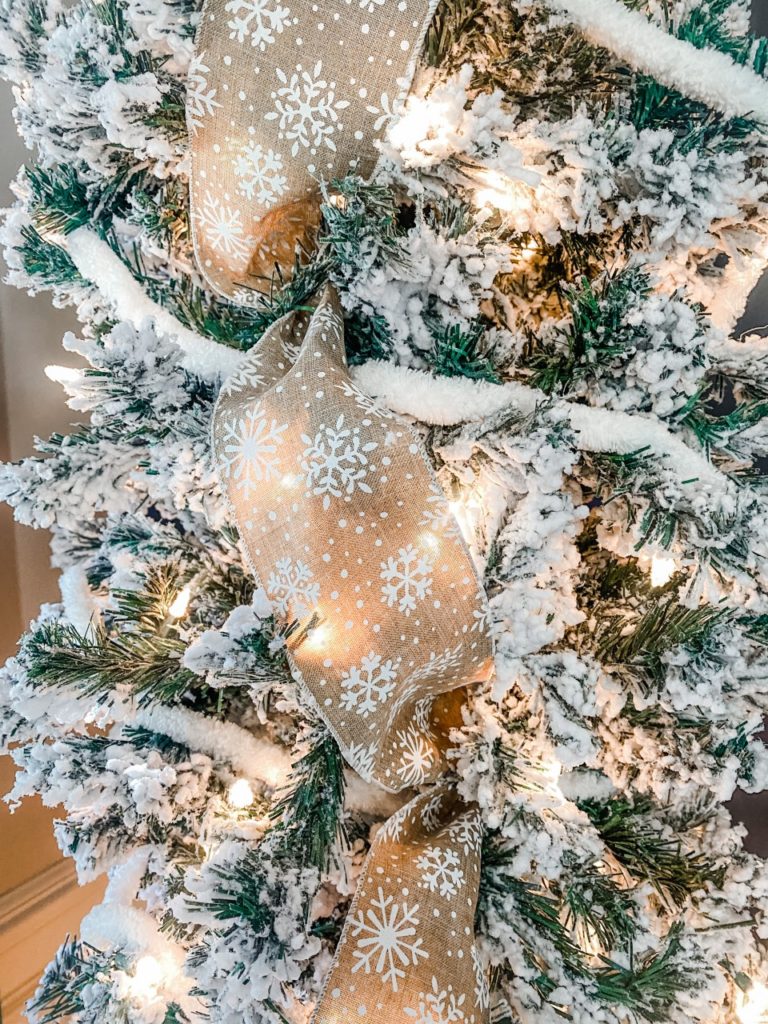 For my topper, I attached this big snowflake I got years ago from Marshall's, then I just added some pics from Hobby Lobby up top. You just "shove them down in there" and make them stand how you want them to stand!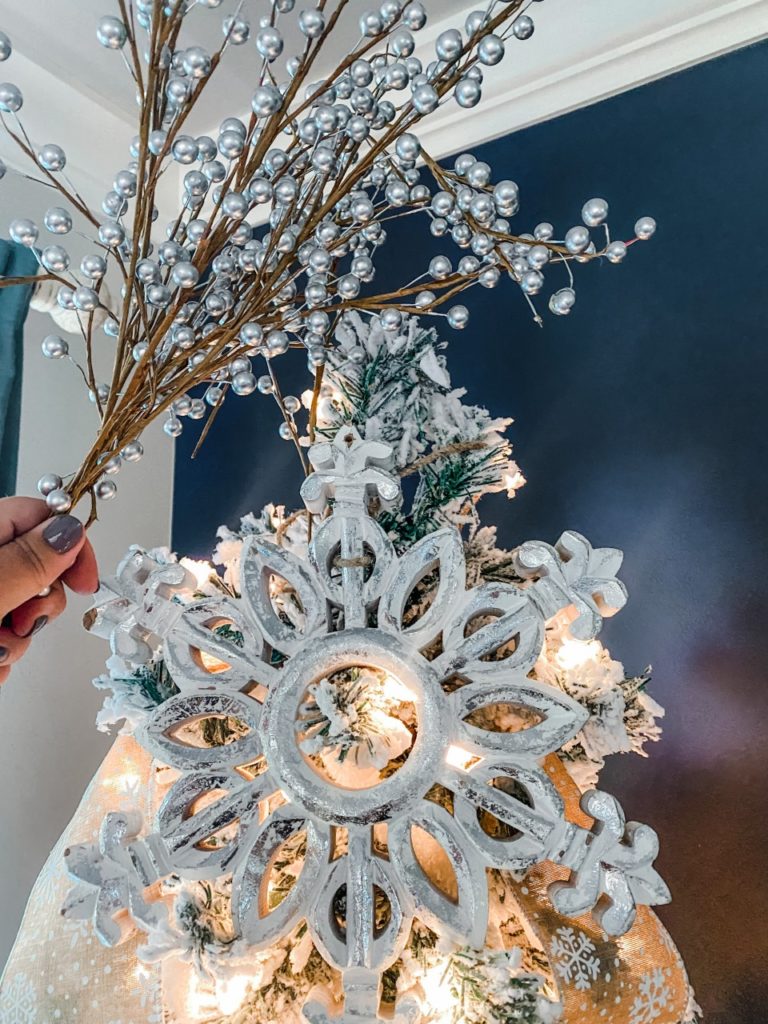 Of course ornaments were up next! I've collected a lot of pretty ball ornaments over the years, so I filled my tree with those first.
Then I added some snowflakes and pinecones to the mix. It was beginning to fill up nice!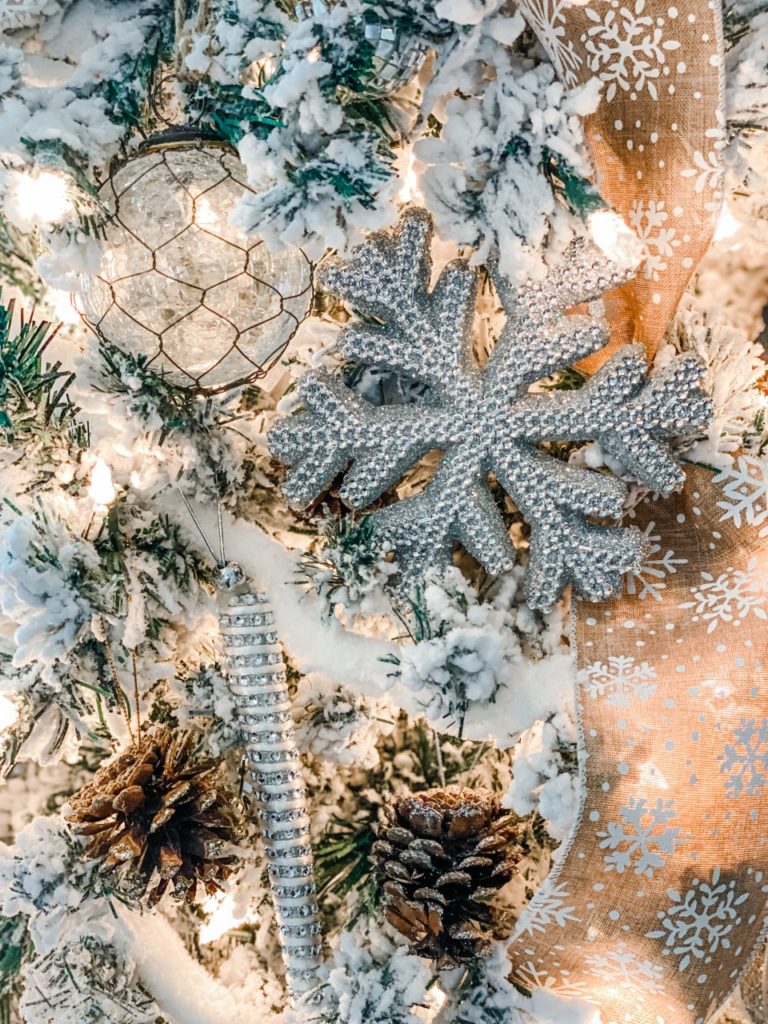 Last but not least, I had these hanging pics from Big lots last year so I added a few of those for filler!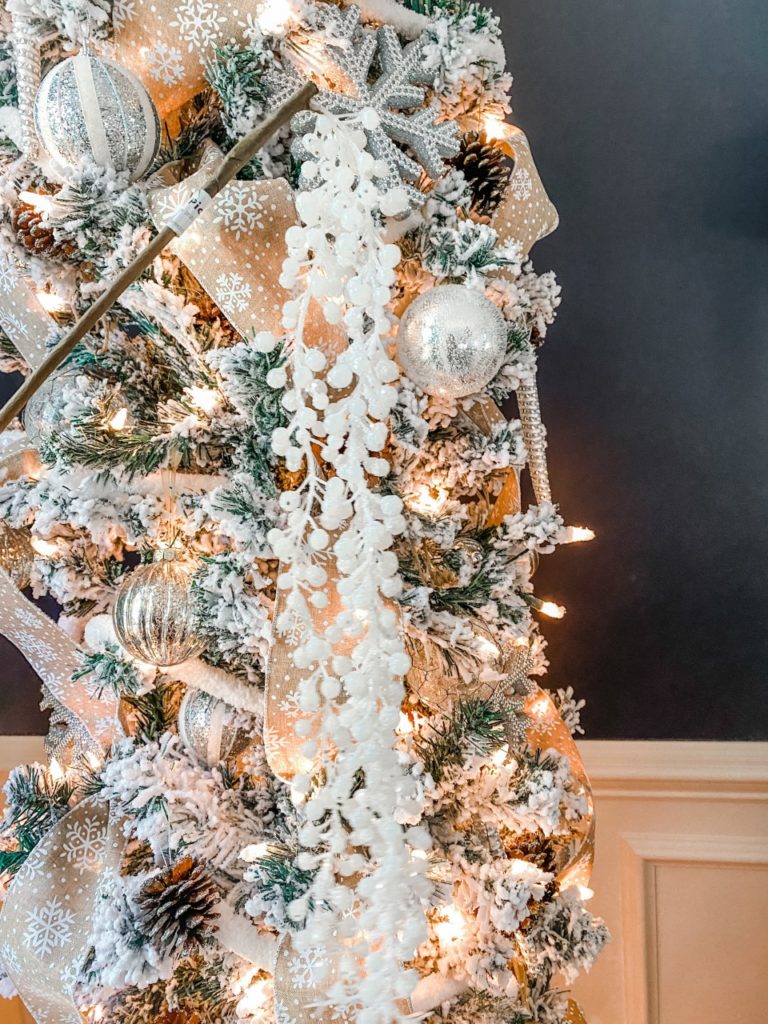 I love the way they hang down off the tree!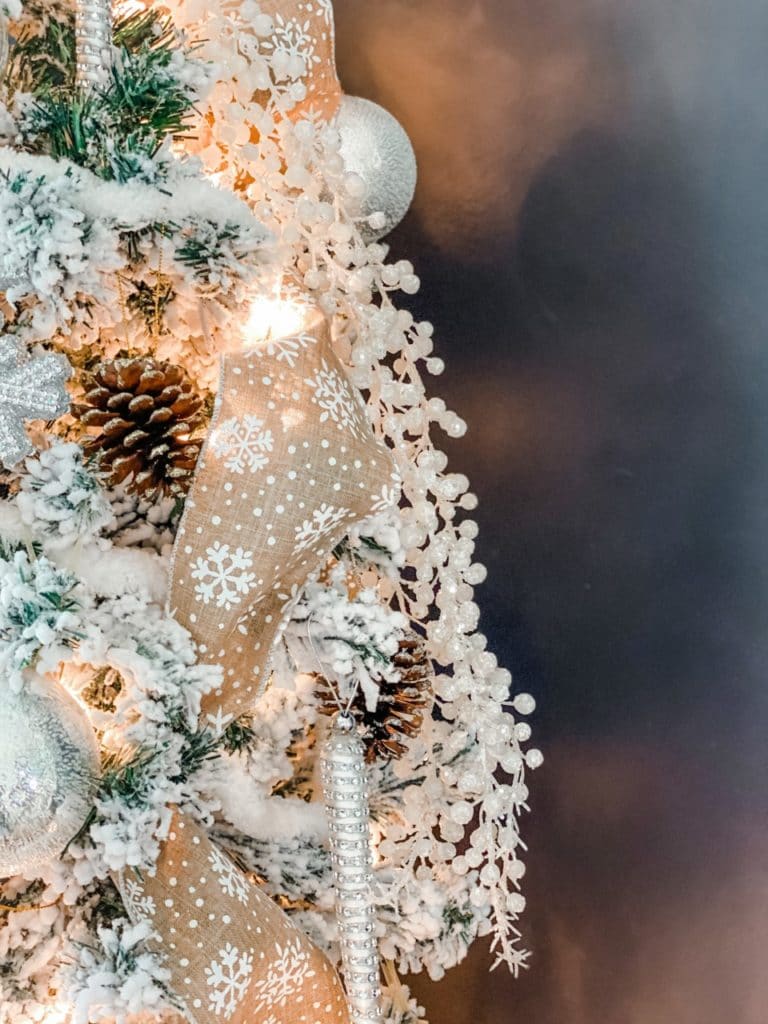 What do ya think of my pencil tree?! I'm so thrilled with how it turned out. It's totally different from my living room tree that you can see HERE!
If you notice…I didn't use near as much ribbon or any accent ribbons on this one! Just goes to show there are SO many different ways to decorate a tree!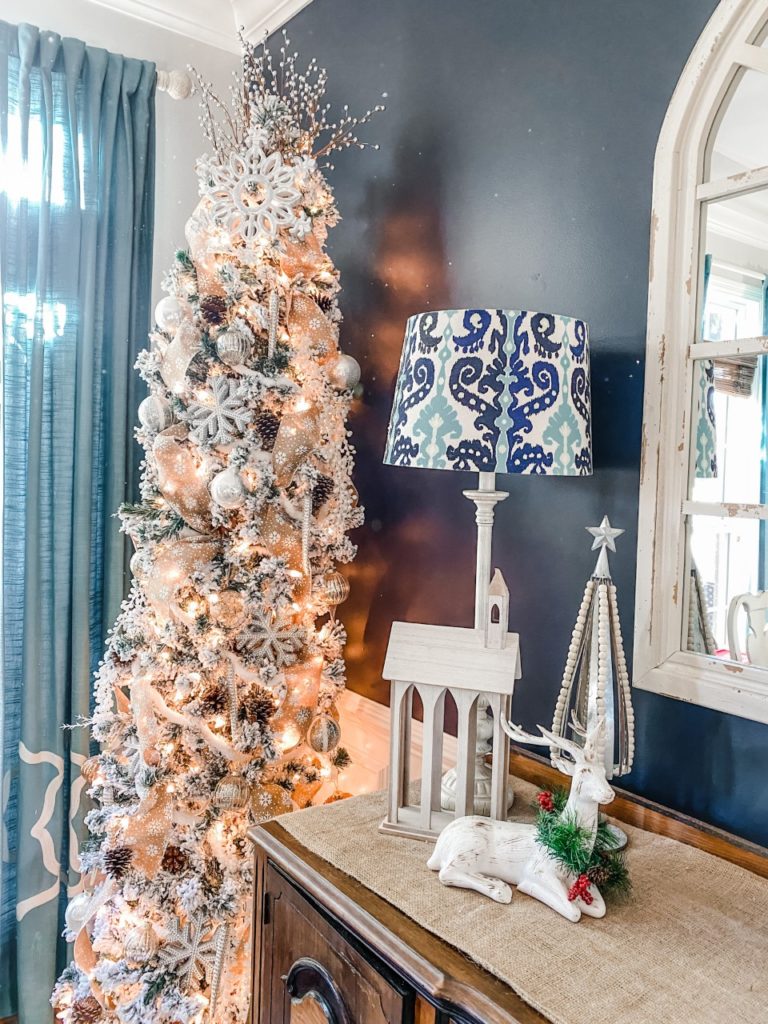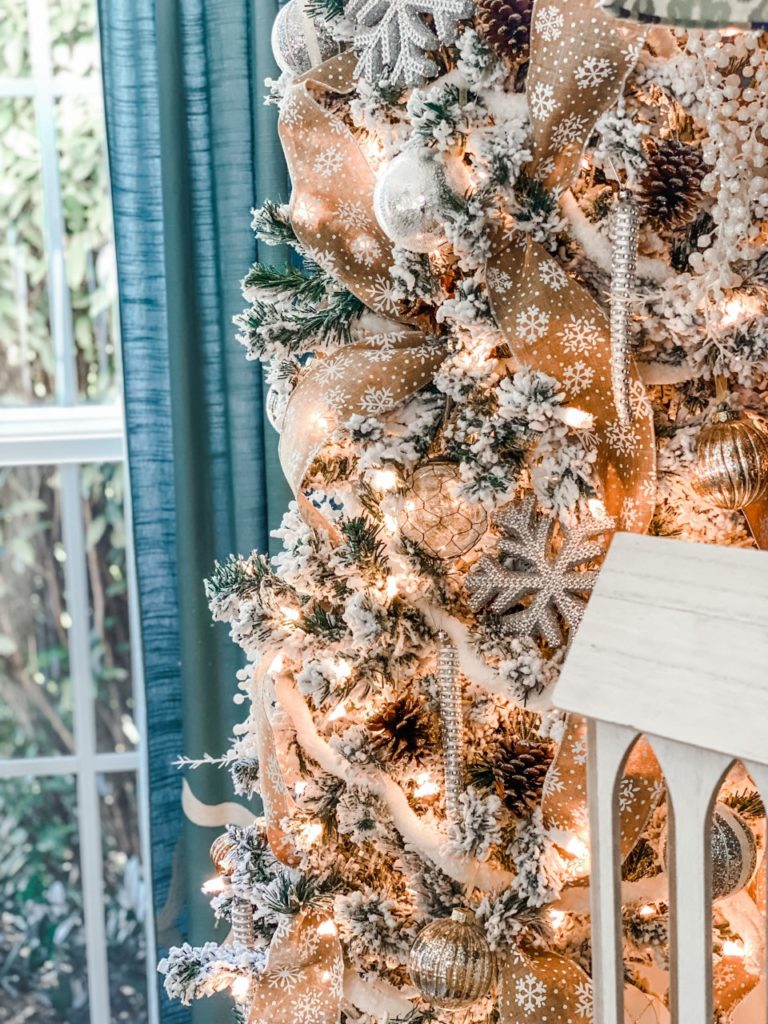 If you want my FULL tree tutorial that shows step by step how I decorated my main tree using ribbon, filler and ornaments…you can get that right here too!
Until next time…
Stacey