I'm so excited to show you our bedding at the new house! I still have a lot I want to do in this room, but it's off to a great start!
My neutral and navy bedding is giving me all the feels in our room and I think this is a timeless and classic look!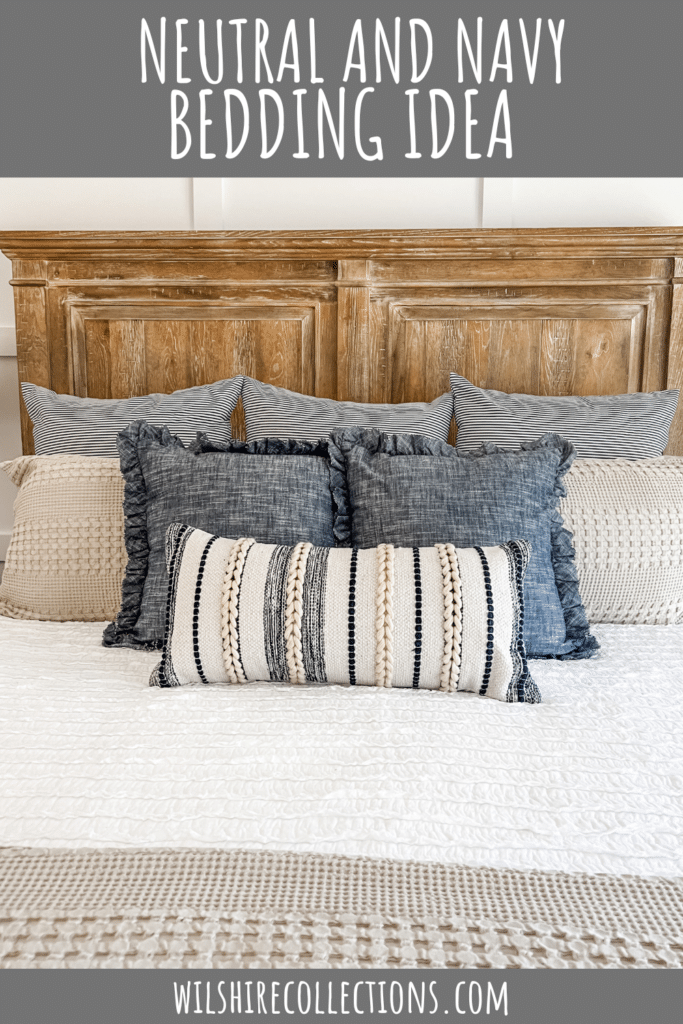 We recently built a new house and I've been having so much fun slowly making it our own! We got all new bedroom furniture from a local store in Nashville, TN called Sprintz. I absolutely LOVE it!
I knew right away that I wanted to incorporate in some Navy into the room, so I got to work searching for all the perfect things!
For me, I didn't want to do Navy in my rug in case I wanted to change up my accent color down the road. It's much easier to change out pillows than it is a rug from under a heavy bed. haha!
I love this neutral rug from Wayfair SO very much!
As for the bedding, I was SO excited to not only use white and navy, but to incorporate in some BEIGE as well! Does this surprise you?! Some might think beige and white don't go together, but I hope I'm here to show you that they sure DO!
I love the white ruffle quilt from Wayfair! The layering of all of these pillows just makes me so so happy! 3 26xc26 euros, 2 king shams, 2 accent pillows and a lumbar pillow for the win!
I have linked up as many sources as I could all in one spot, so be sure to go to this button below to see where I got different things!
If you ask me, the neutral and navy bedding combo is just perfect! The bed blanket from Amazon at the end of the bed just really ties it all together! I decided to use shams that match it instead of the white shams that came with the quilt so that I could bring that beige to the top of the bed as well.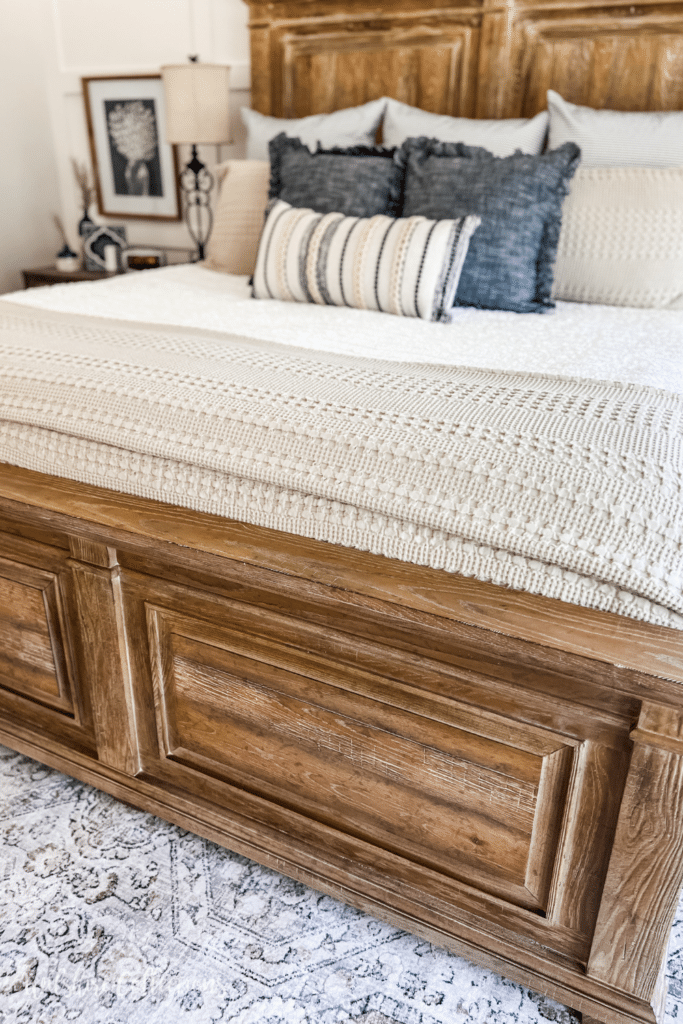 Our nightstands are from Sprintz as well and I just love the prints from Kirklands that we hung above them! Those along with my printable DIY signs and some vases from At Home Store made the look complete!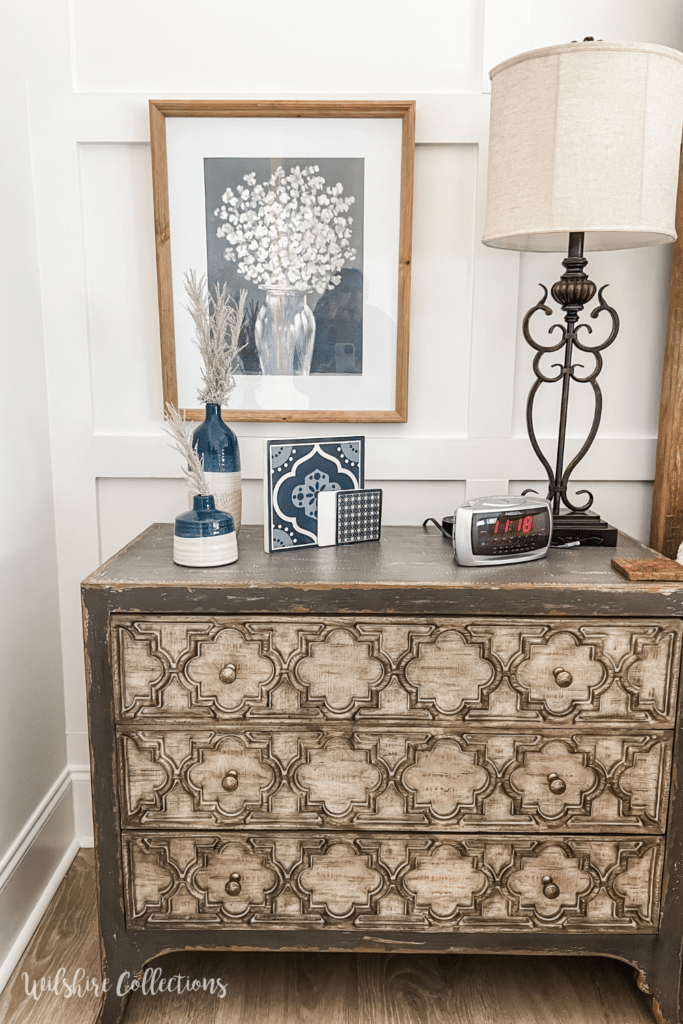 (The nightstands look different colors in these pictures, but it's just the lighting in the room lol)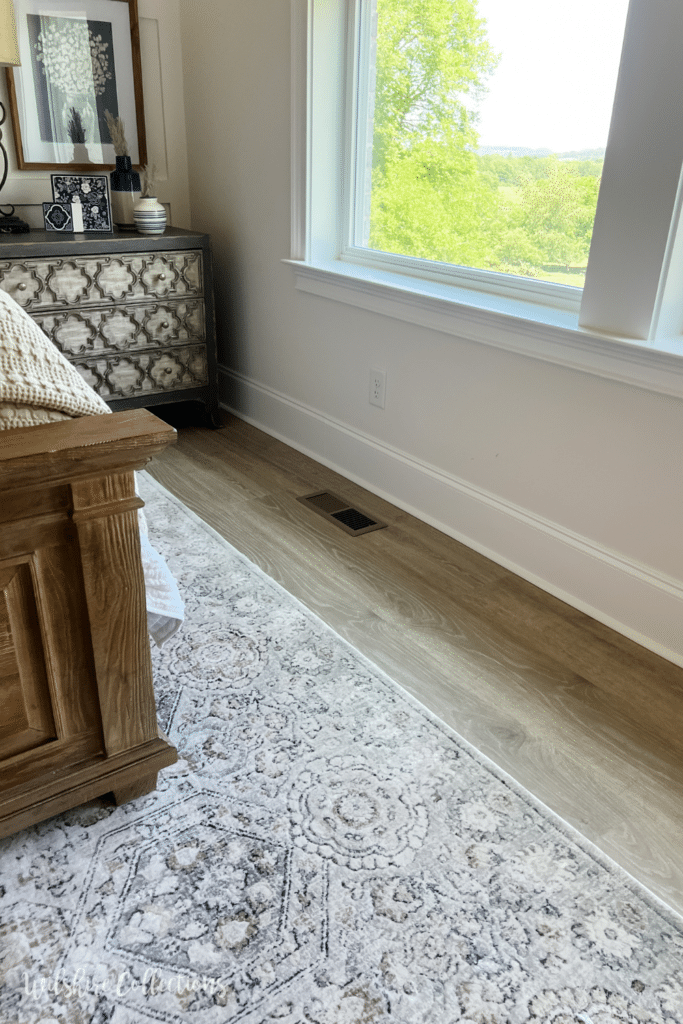 What do you think of the neutral and navy bedding?! I hope you're loving it as much as I am!
Can't wait to show you more of our room as I do more in this space!
Until next time…
Stacey
PS…Who remembers when I put this vision board together for the bedroom while we are building?! It's SO cool to see it come to life now! I will say, the fan is the only thing I regret. While it's SUPER cute, it's too small for our space and I should have gone with something bigger. Oh well, you can't win them all and that's something we can change out at some point down the road!
*This post does contain affiliate links. Please see my full disclosure page for more details.