Man, I feel like this is going to be a super emotional blog post to write. I am writing this for myself as much as I am for anyone else, because it's something I never want to forget. Today I'm sharing about…
Our traditional family Christmas as we celebrate our last Christmas in the home we have lived in for 13 years! Bittersweet for sure!
Our oldest son has spent every Christmas since age 4 here, and our youngest has had every Christmas here. As with every family, we have SO many special memories and traditions from over the years! I won't get into the specifics of all of that, but just know as you read this that those things have ALWAYS been a part of who we are!
I dug through some old photos, and found some pictures to share from our FIRST Christmas as a family of 4 in this house! Cue, waterworks! Let me compose myself before I write anymore…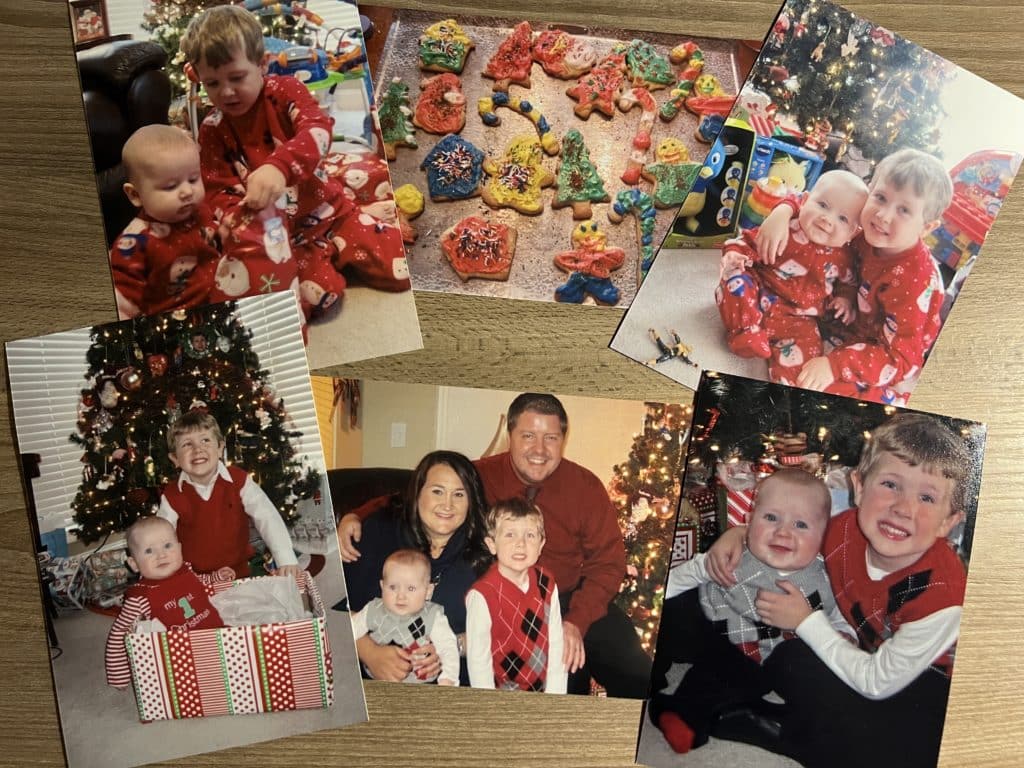 While we are SO excited to be building our dream home and moving this Spring, we are of course wanting to soak up every minute of our last Christmas here. When talking to my family back several months ago about this, both of my boys asked if we could put our family tree (with colored lights) and our special ornaments in the living room this year instead of my "fancy tree" with ribbon. Let's just say it tugged my mom heart strings immediately and I knew right away that was 100% what we were going to do.
We have ALWAYS had a family tree with all the special ornaments, etc. It use to be down in our living room and back several years ago when I started doing the themed trees for Wilshire, we moved the family tree to our Bonus Room and always decorated it there! It was the best of both worlds and I've loved being able to do both.
However, this year…we took it back to our traditional family Christmas living room with a tree full of colored lights, handmade ornaments, ornaments from our childhoods, from our travels, etc. We added a star tree topper that my boys 100% picked out themselves and together as a family we decorated the tree!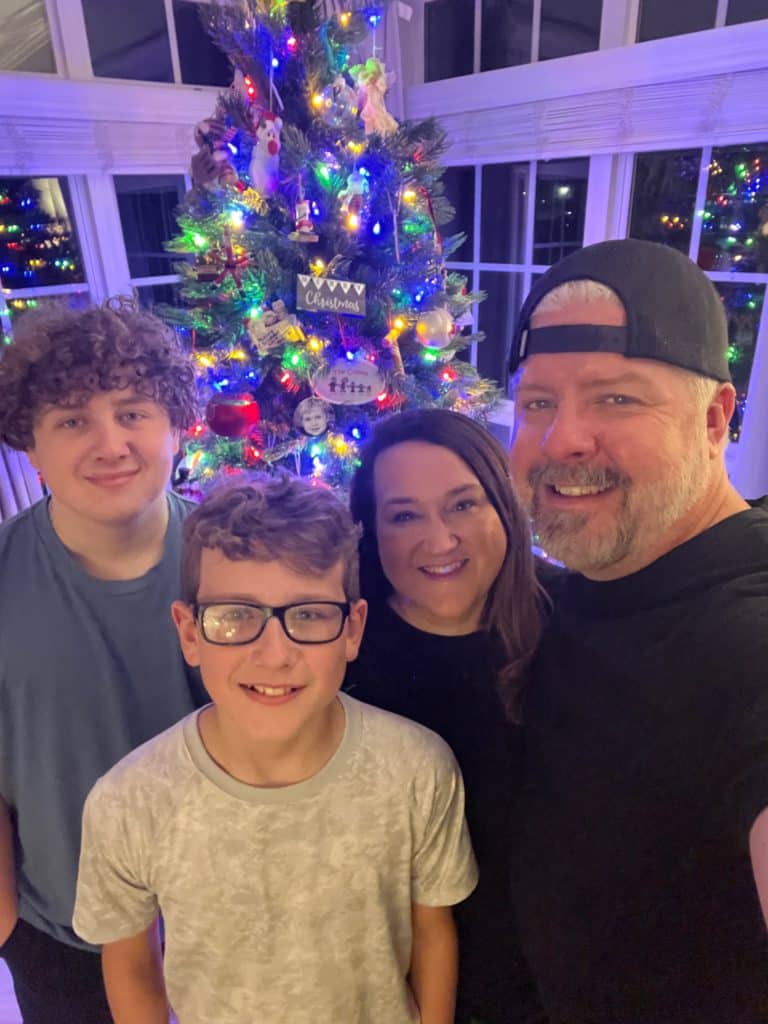 For me as a blogger and content creator, it is my job to give you guys fresh ideas and inspiration every year. This is why I change things up around my home more than the "average bear." If I am being 100% honest, there was part of me that was SCARED to tell everyone my plan. Scared I would somehow let y'all down or not inspire you as much this year.
But then I realized that was CRAZY! And that #1, I needed to do what was best for my family regardless of what anyone thought. And #2, that y'all are AMAZING and supportive followers who would understand 100%. And of course, I was right! Y'all have been so sweet and supportive about it!
And of course…it was fun to still do my fancy trees over at Wilshire place this year! That was another huge blessing! You can see the red and white Christmas tree here and the black and white Christmas tree here.
Anyways, every time I look at my living room I can't help but get the BIGGEST smile on my face. It's a traditional family Christmas…Collins style…and I am 100% here for this!! I have no doubt that this last Christmas in our home will be one of our most special ones yet! And my boys are thrilled too! FAMILY IS EVERYTHING!!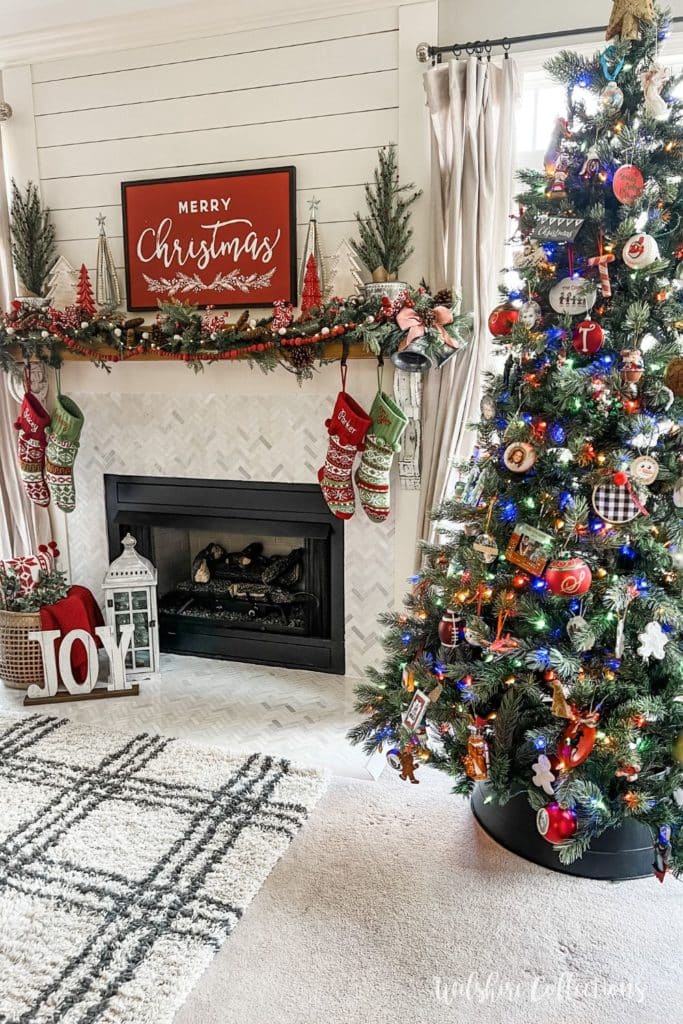 Now…as you can see above, I still decorated my mantel, did a tray, cute pillows and all the things. We did go back to using the stockings that we have had since the first year Tyler was born, and I'm loving having those again!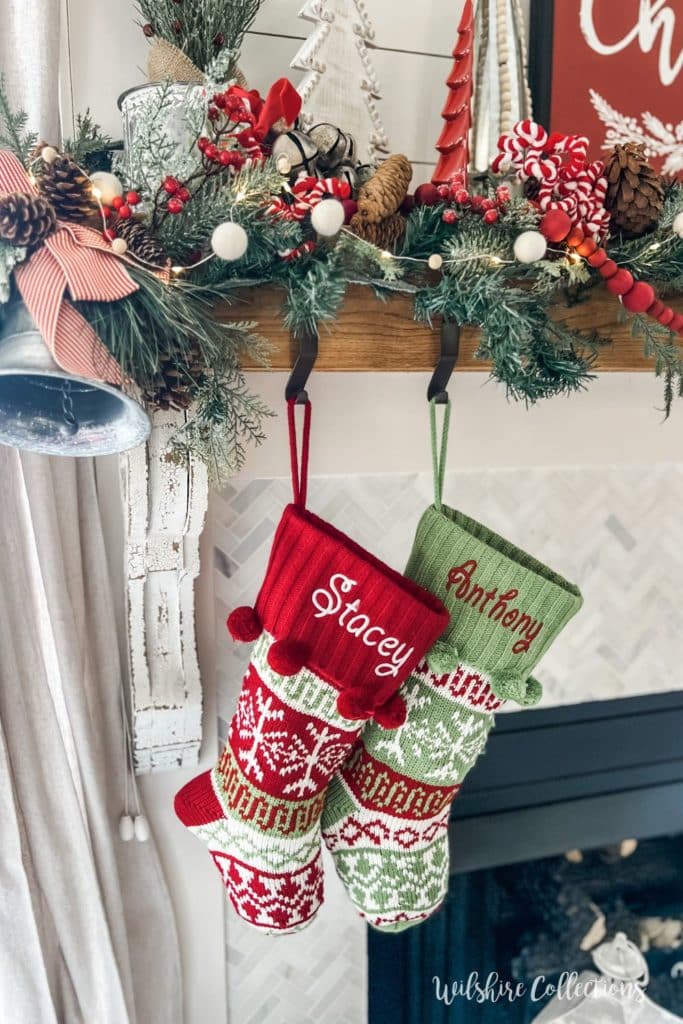 I really worked with a lot of what I already had from years past, minus the Kirkland's sign over the fireplace. Here are some pictures from around the room!
I hope this inspires you in a different way than maybe years past have. I hope it shows you that while, YES a themed tree is absolutely beautiful…a tree full of family memories just can't be beat! We will never NOT have a family tree, no matter how many themed ones I do going forward. Like I said earlier, to me being able to do both is the best of both worlds!
Let me know what ya think about our traditional family Christmas living room this year! And…if you're excited to dream about what NEXT year might look like at the new house! I know I sure am. While the memories at this house might be coming to an end, there will be MANY new ones created soon. And for that, I can't wait.
Until next time…
Stacey