Do you have a dining room that you use, or one that you mostly decorate? We definitely don't use ours all too much, but we do at the holidays and I LOVE to decorate this space!
This winter white dining room Christmas decor is not only perfect for the holidays, but could truly transition on into the winter months too!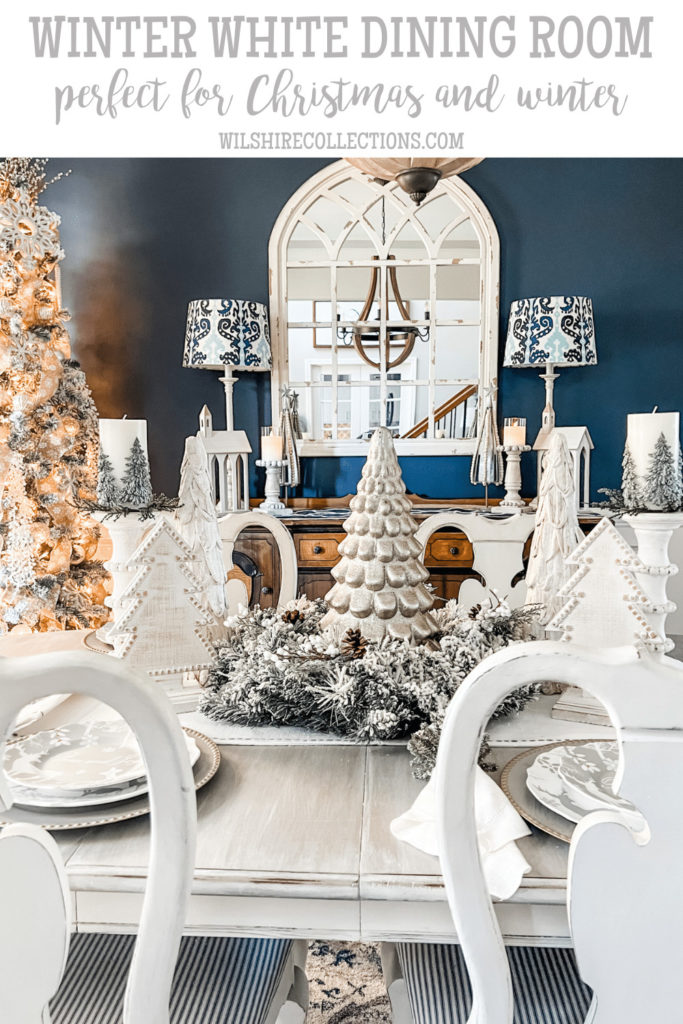 Let's start with the tree! I decorated it almost the same as I did last year, so you can see the blog post on how I decorate my pencil tree here. I always love this tree because it's simple yet makes a statement!
On my buffet, I kept it simple with the churches from Walmart last year, trees Hobby Lobby last year, and my DIY candlesticks with my favorite glass battery operated Amazon candles found here.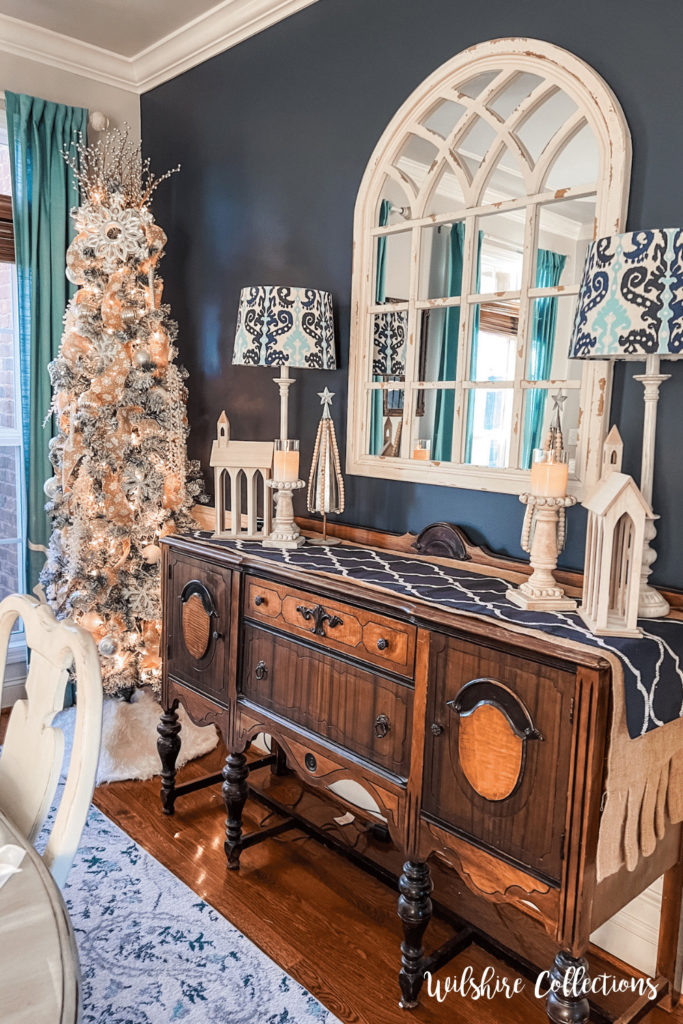 You know I LOVE using my Christmas dishes in here each year, and I am so sorry that I can't give you more info on these because people ask all the time! They were a Marshall's find years ago and I just love them! (Brand on back is 222 FIFTH, peaceful forest)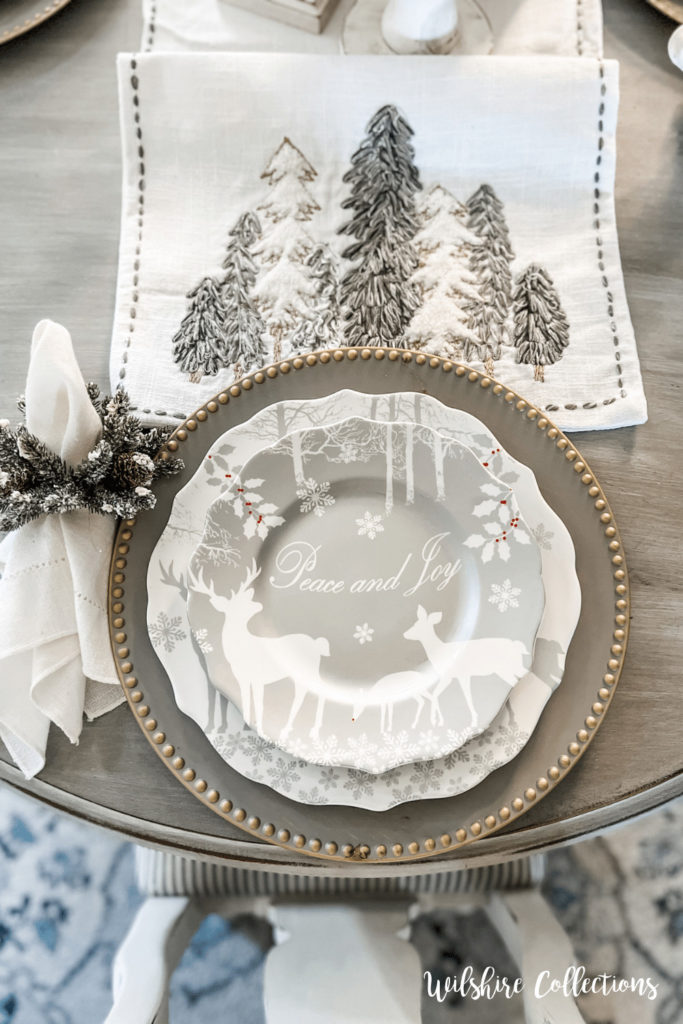 For my centerpiece, I got this sparkly (yes, can you believe I got something with glitter haha) tree from Marshall's this year and put a flocked walmart wreath around it. Then, I added all my winter white dining room Christmas decor around it on each side. You know I love symmetry!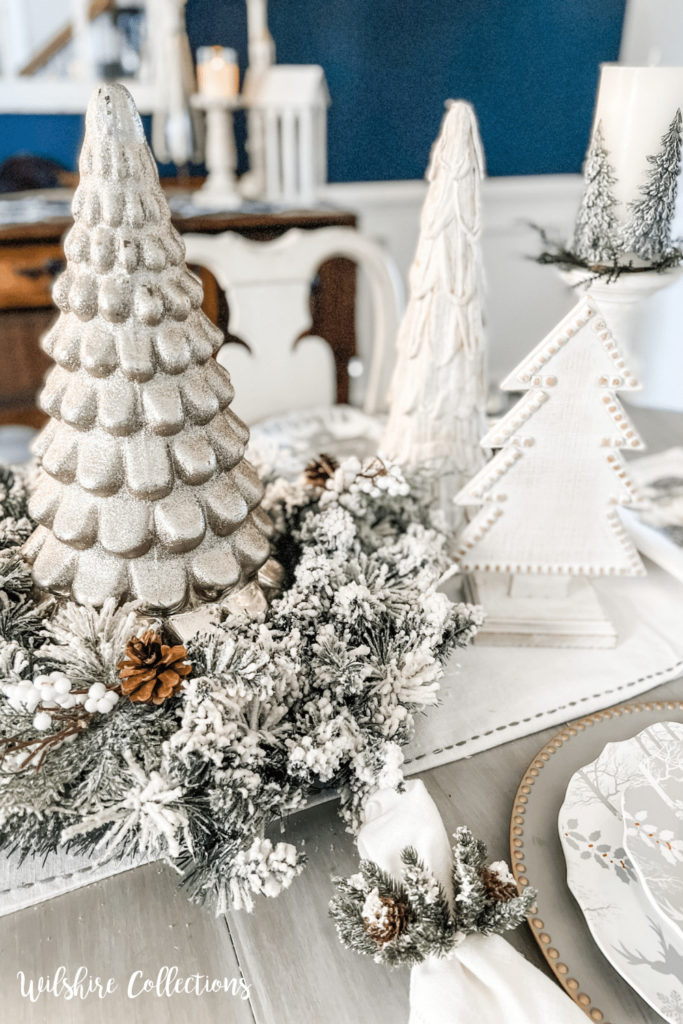 Beaded trees were hobby lobby last year, white tree was TJMaxx years ago and candlesticks and candles are from Homegoods! Table runner…big lots this year!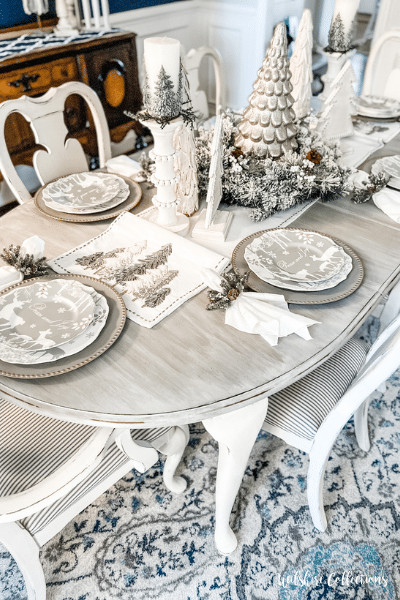 We can't forget my little corner hutch, which is always a fun spot to decorate. I love my snowflake DIY sign, and of course my nativity is super special to me also!
I love how this came together…what do you think?! We will eat in here a couple times over the holidays, so it feels good to have it all set up pretty!
However…I guess I need to clean up this side before we have people over. Haha! This is another real life alert. I'm telling you, I'm the best at moving messes to the side to get the good pics for the blog. (I also didn't edit/brighten this picture, so that makes a difference too)This room is our catch all room, and it's definitely caught a lot here lately!
Until next time…
Stacey