I've fallen in love with GREEN this year! I used it for Fall in my living room, and I knew I needed to use it at Christmas as well.
This neutral Christmas decor with buffalo check is truly a gorgeous combo for the holidays and will go with so many decorating styles too!
You know my love for buffalo check runs deep, right?! Haha! And I have WAY too much cute stuff to not use it in certain places this year.
I knew it would be perfect to use the green WITH my buffalo check in my entry way areas!
Space 1-
This little bench is forever a favorite spot to decorate. I used this lambs ear wreath from Walmart and added a few picks to it, and I had to have this tag sign from Hobby Lobby this year!
The sign above came from Kirkland's and is one of the hand lettered pieces they carry from my friend Danielle with Imperfect Dust!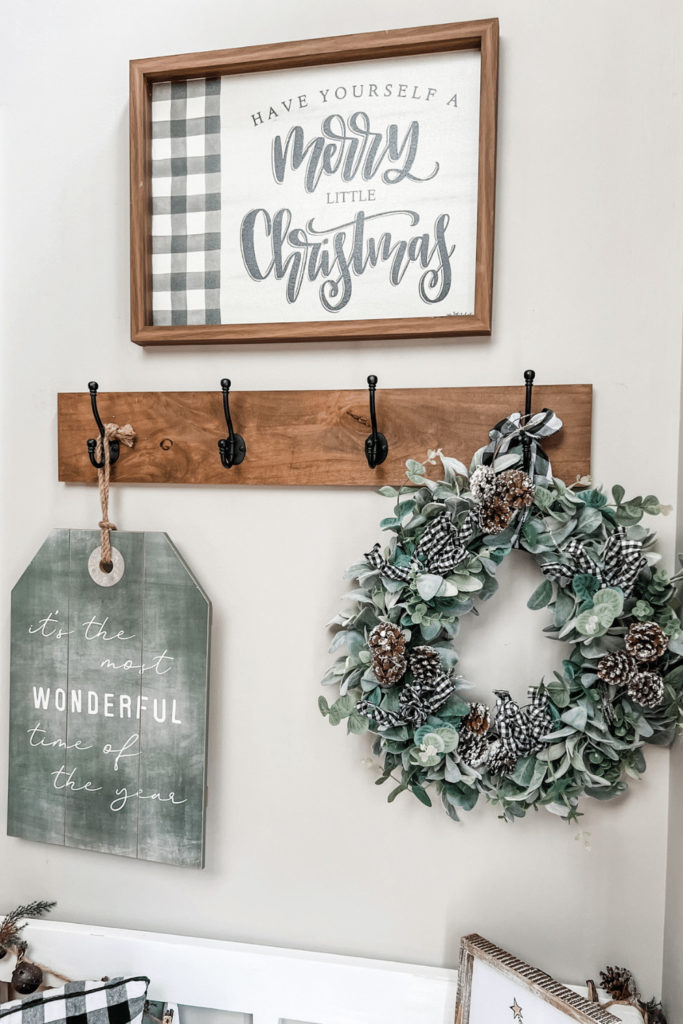 The tree pillow cover is from my shop and can be found here! The other one I've had for years, but I love the buffalo check with it!
The tall sign is new from Hobby Lobby this year, the DIY tassel sign can be seen here and the little tree came from Marshall's years ago!
Space 2–
Next up is my other entry way piece! I went a little bold here hanging a BIG sign on my shiplap piece that always hangs there and I honestly LOVE the bold statement it makes! The sign came from Kirkland's this year.
The little metal buffalo check trees were marshall's last year. I've had the other ones a long time!
Lamp was JCPenney's online years ago and I just put some greenery inside it. The vase was Kirkland's a long time ago and the garland and wood beads added a fun little touch too!
What do you think of all of this neutral Christmas decor?
My Christmas tree this year is so bright and fun and cheery which makes my colorful heart happy, and this is so neutral and cozy that it makes my neutral heart happy. Best of both worlds if you ask me!
And if you've ever wondered where these 2 spots are located in my house…they are right in the entry with my messy craft room right in between them! LOL!
Until next time…
Stacey