Well, I have to say that my little back porch got a pretty drastic Christmas makeover. I'll be honest, it was a domino effect for sure. But since this is a "new to me" space to decorate for Christmas I just had too much fun and couldn't stop. Haha!
My neutral Christmas decor on the porch has a mixture of trees for the natural element, tans and black and white…with of course some buffalo check too! 
First of all, you can see my entire porch makeover here if you haven't seen it before. This will show you why this is all so new to me to decorate and why I was so excited! I've always had the blue door out there and the blue rug and accents, which I do LOVE! Don't get me wrong!
But, when I started thinking about Christmas and winter out here I just couldn't get the idea of a more neutralized space! So, first came the rug! (From amazon- here) I knew when I saw it that it would be perfect. Both the pattern and colors AND the fact that it's plastic so would be great for any winter weather. (In walks the domino effect)
I found some cute pillows (the ones on the ends) at TJMaxx and then I found the one in the middle at Kirkland's (seen here). I fell in love! The 2 plaid pillows on the swivel rockers came from Marshall's.  The birch logs are from Old Time Pottery. (Bailey approves too!)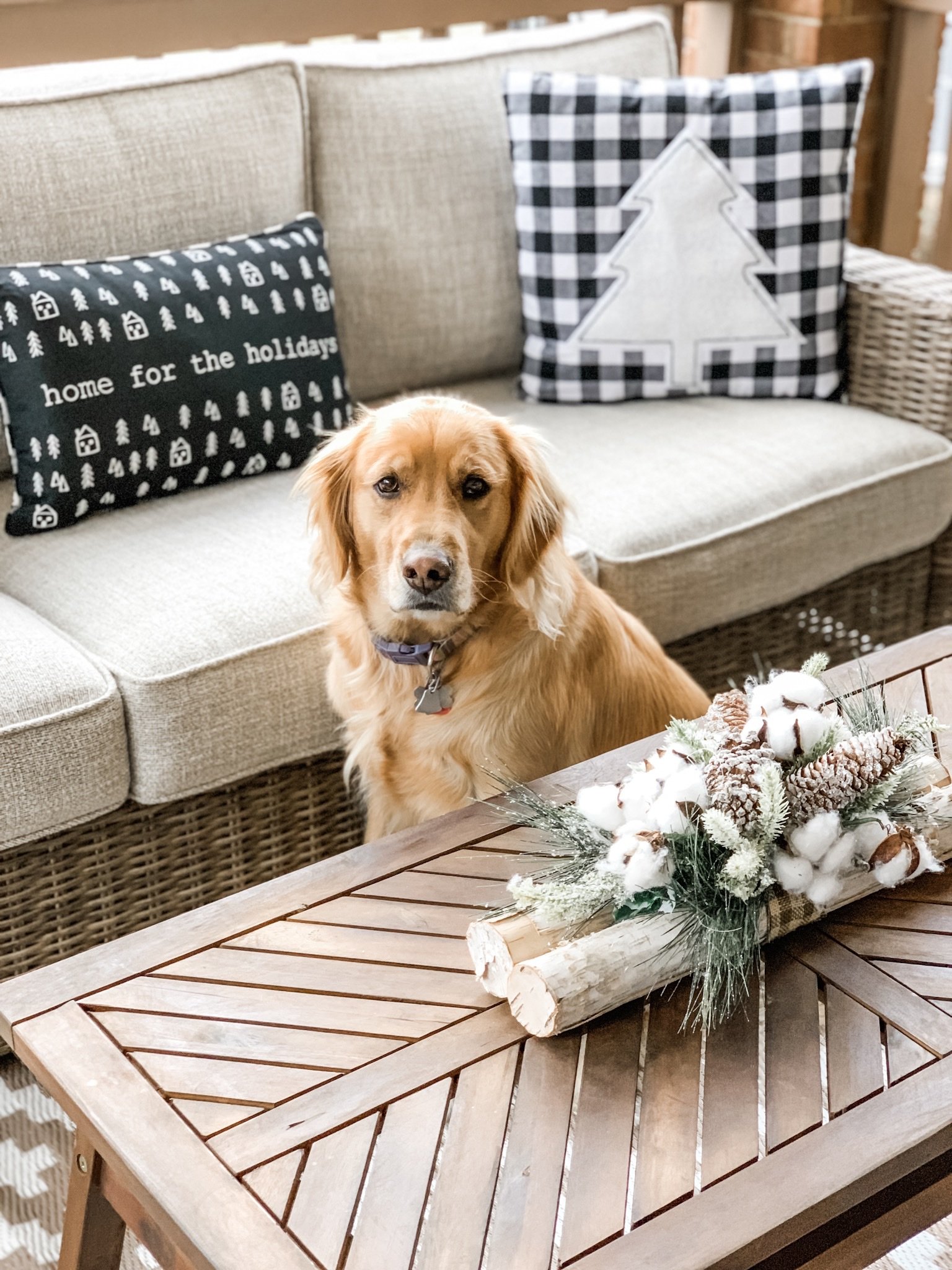 You know I love to decorate this little piece out here, and I fell in love with the Peace on Earth sign from Kirkland's (seen here). Everything else is just from a variety of places over the years…along with my little DIY!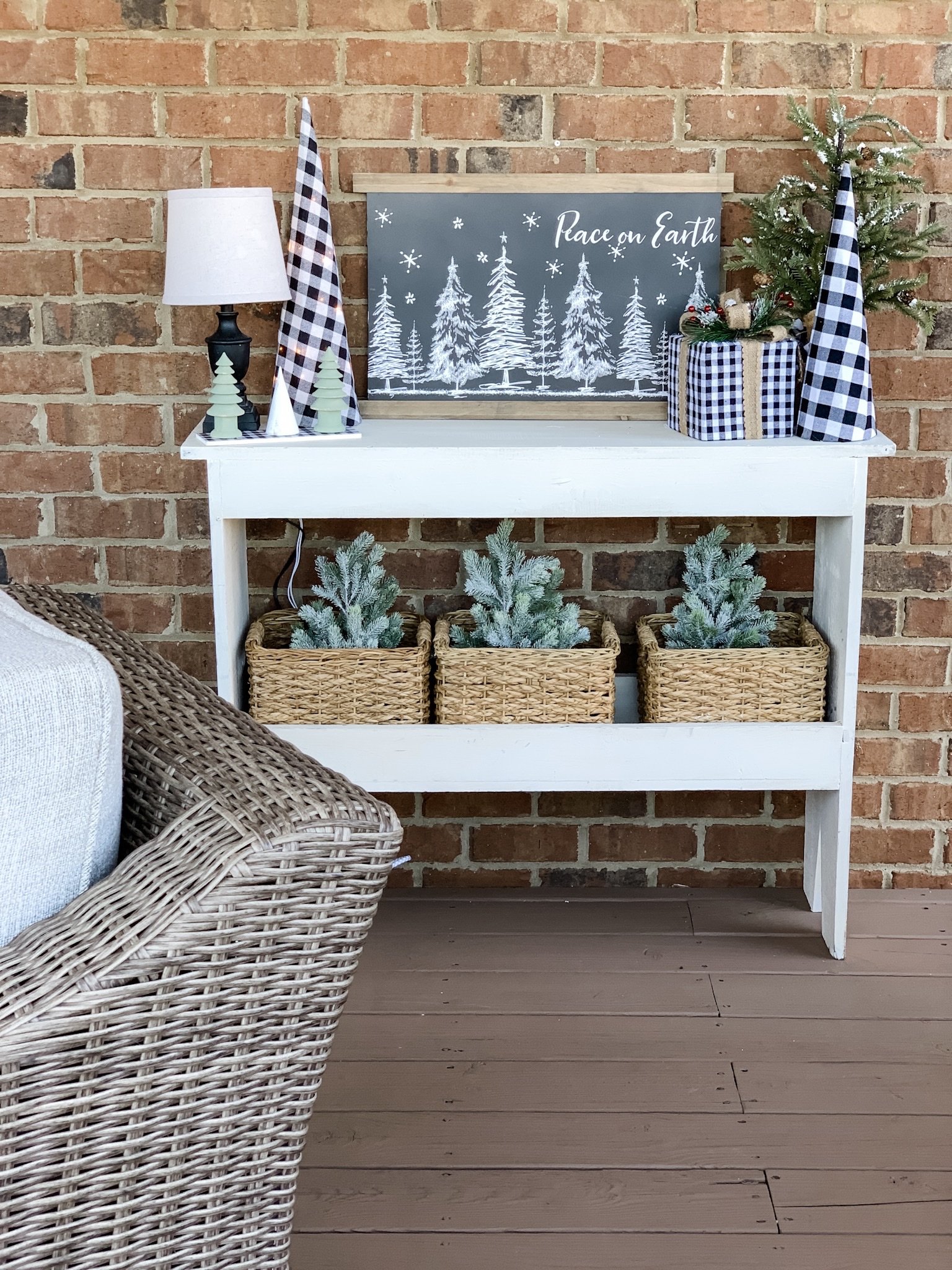 I knew my little cheap Walmart flocked tree would be perfect to put out here in the corner. (You can find this one here) It's on the skimpier side, so I decided to fill it in and "fluff it up" with some lambs ear. I'm LOVING lambs ear with anything flocked. See the wreath I did here using this combo!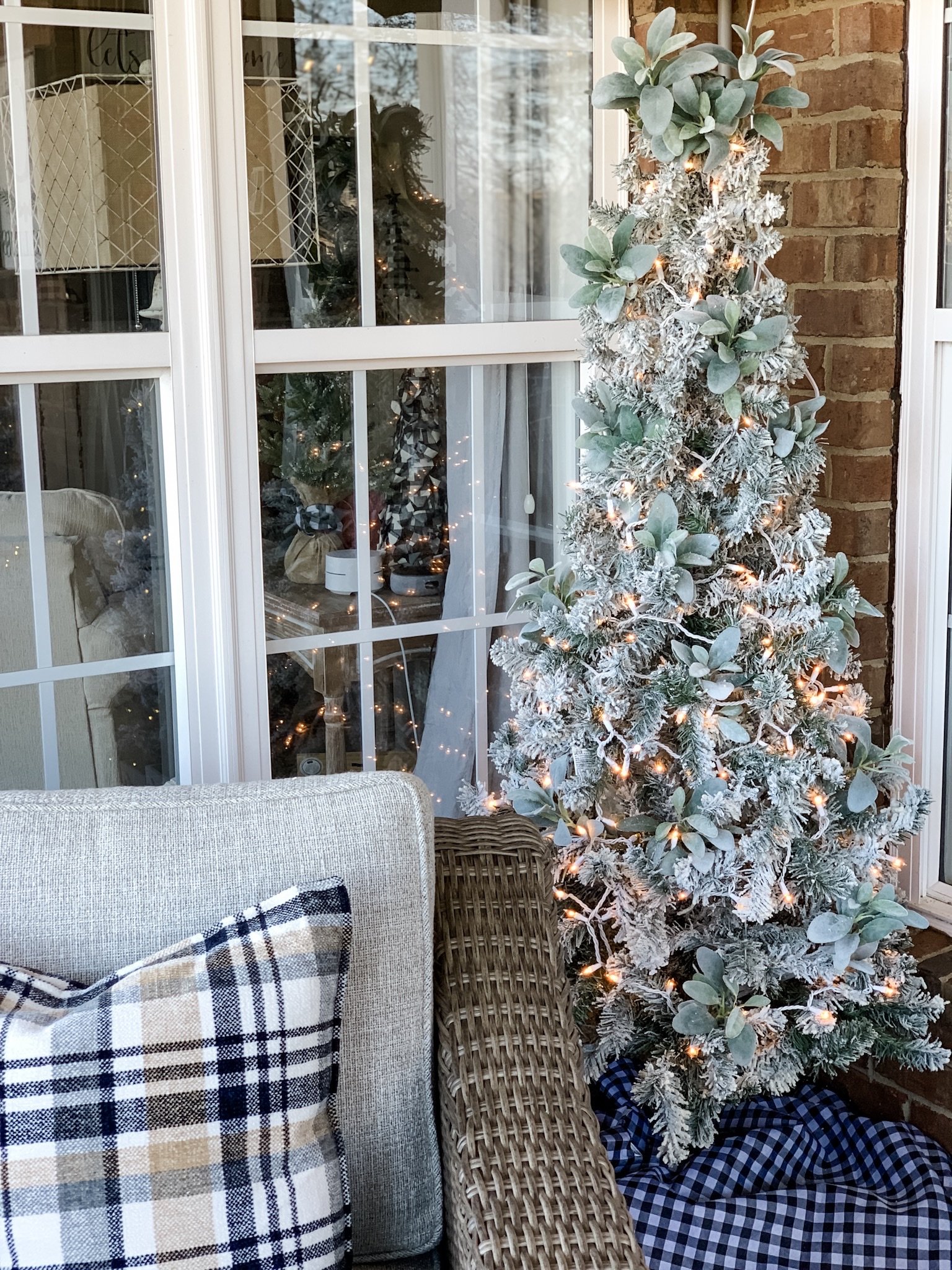 Probably the most drastic thing I did out here was paint my back door from blue to black. Did I have to do this? Nope! But, it's only paint and I was feeling the urge to pick up a paint brush anyways…so it worked perfectly and I was able to complete this transformation in under an hour!
I used Blackberry House paint in the color Cast Iron Skillet. You can shop their website here and use code wilshirecollections for 10% off. You can also read the blog post from when I painted it blue a couple of years ago for the details on how I did it.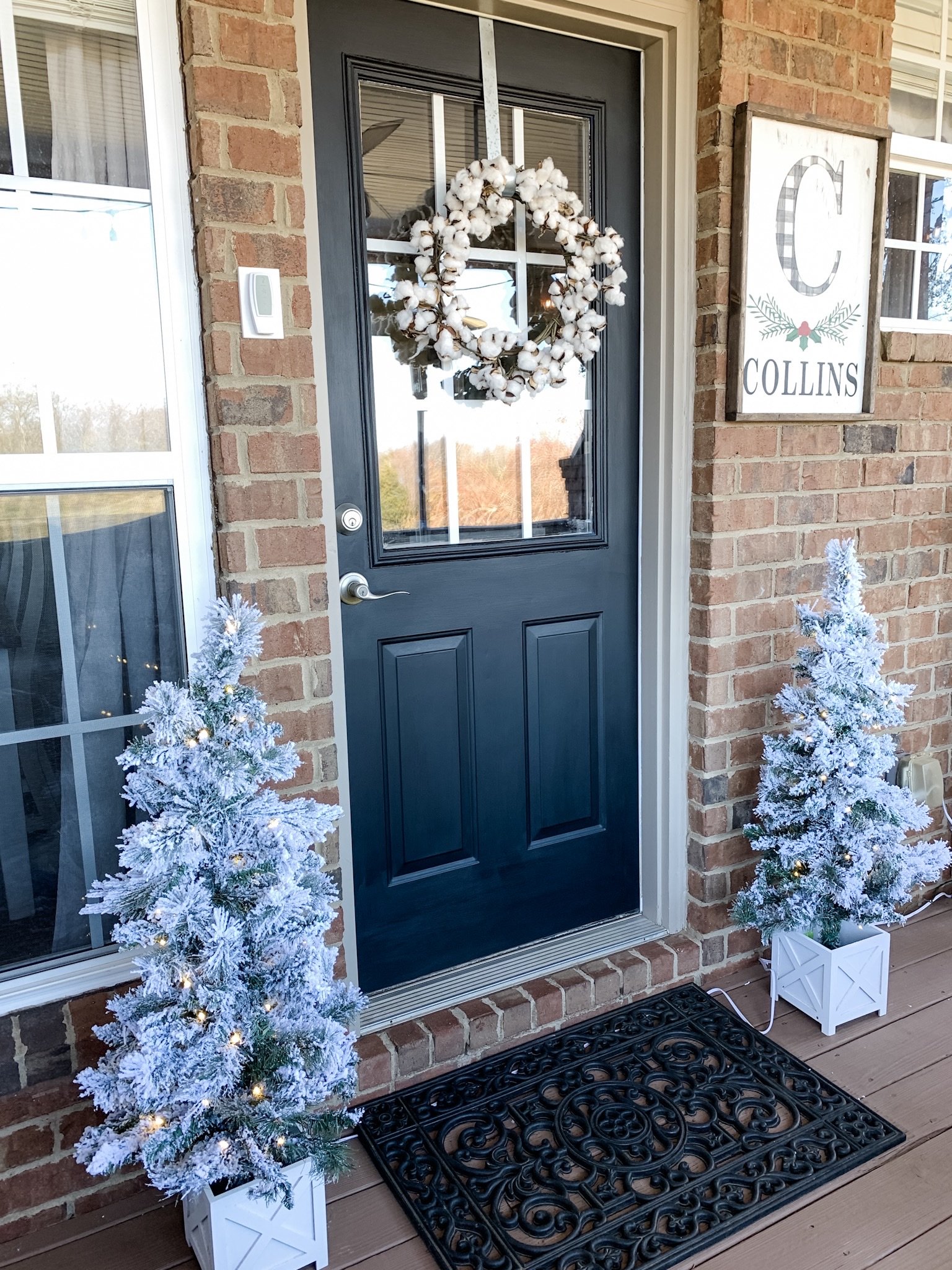 I am LOVING how the black just pops against our brick. It may be neutral, but it's bold and just perfect too. I used a cotton wreath I already had, 2 little trees that came in a 2 pack from Big Lots and my sign is from Junque 2 Jewels!
I can't get over how different this space looks, but I am seriously IN LOVE! What do you all think?!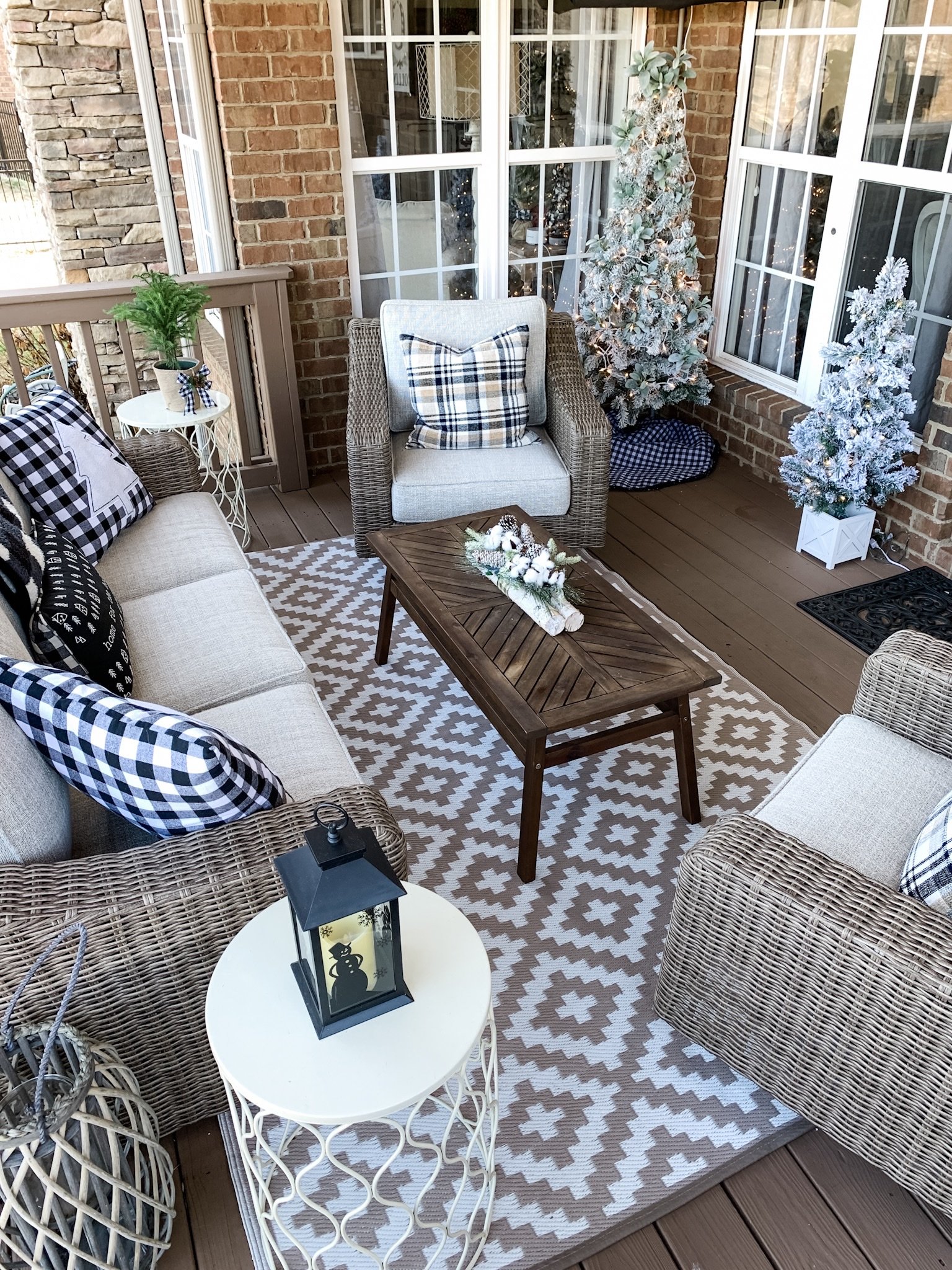 Check it out at night with the twinkle of the lights of the trees and the string lights Anthony and I hung. We've also got our outdoor heater out here from Lowe's, so we are ready to enjoy some chilly nights on the porch. Can't wait! 
Until next time…
Stacey
Our patio furniture came from Ashley Home Store and can be found here.
This post does contain affiliate links. Please see my full disclosure page for more details.